Four positions Zidane is targeting in the summer transfer market
Zinedine Zidane is planning to improve Real Madrid's squad this summer and here are the four positions he is planning to change to make them better.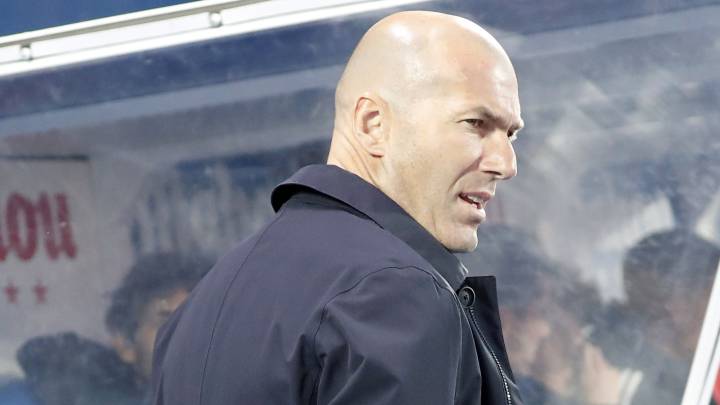 Zinedine Zidane is keeping his cards close to his chest with six games to play in LaLiga. He is five games into his second spell at Real Madrid and the vibes have not been great. Some of that can be put down to lack of motivation with Barcelona streaking clear in LaLiga and a last 16 eliminiation in the Champions League to Ajax. The manager has talked about an evolution rather than a revolution and with reports suggesting they have €500 million to spend in the summer, they have their eyes on the likes of Eden Hazard, Paul Pogba and Luka Jovic.
Zidane is only concerned with four positions in his first choice eleven, however, and while Ramos, Varane and Benzema are undroppable in Zidane's eyes, he is planning on somewhat of an overhaul without.
Left-back
Zidane has already said that he wants Marcelo to continue at the club and the Brazilian has shown a desire to stay in Madrid too. Despite a shaky season, Zidane believes Marcelo at his best is his best option and he plans on getting him back to that level. He is giving the left-back significant minutes to help him get back there. Juventus keep knocking on the door but Marcelo wants to stay and further developments could occur during the summer that could change the situation entirely. Sergio Reguilón proved he can take up the mantle but Zidane has been focused on restoring Marcelo's form. Junior Firpo is another player linked with a move and things could change drastically at that spot over the next six games and coming months.
Left central midfielder
For the last five years, Toni Kroos has owned this position. Casemiro, Modric and Kroos in the middle was the set midfield for big games and they did a fine job. His form has been off this season with former Real Madrid manager, Bernd Schuster saying "Kroos is like a diesel tractor." It all depends on whether they can sign Paul Pogba or not and if the Frenchman does come in, it will mean the German will struggle for minutes. Zidane has requested the club sign Pogba and is keen on rejuvenating the midfield and if that happens, it all depends on whether Kroos will accept a role on the bench or wants to make a fresh start somewhere else.
Left wing
After Cristiano Ronaldo left, Vinicius was handed the starting spot on the left eventually despite a false start under Lopetegui. The Brazilian's fine form was one of the few positives in a season blighted with under performance. Next season, however, Vinicius will have to move aside to accommodate Eden Hazard, who is another player Zidane has asked to be signed. That transfer is imminent and will change things at the club. That signing could see Vinivius demoted to the bench or see Zizou change his system to accommodate a pair of lively wingers with a desite to play on the left wing.
Right wing
The exit of Gareth Bale will mean the right wing is left without a sure-fire starter. Marco Asensio and Lucas Vazquez have assumed responsibility in recent weeks and months at time but that does not rule out the possibility of Real Madrid searching for a replacement in the summer. Hazard prefers the left but Vinicius could play there or, again, Zidane might opt to play two strikers with a more functional right-winger needed for the role if that is the case.