Cardiff-Liverpool
Liverpool knock City off top spot with win in Cardiff
Georginio Wijnaldum and James Milner, from the spot, provided the goals as Liverpool edged past Cardiff to return to the top of the table.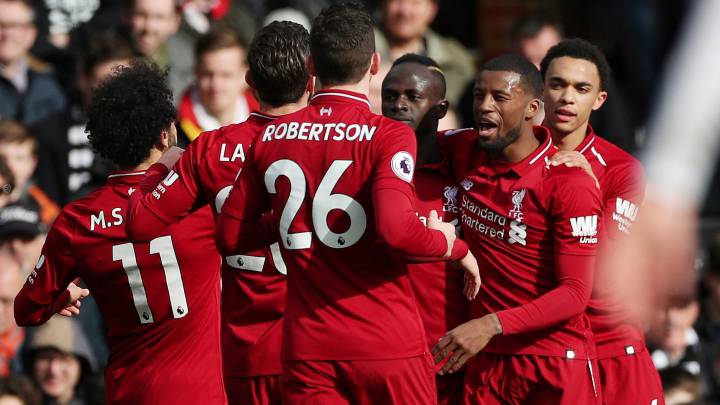 Cardiff vs Liverpool live online: as it happened
90'+3' And that's it! Liverpool regain the leadership of the table with a two-point advantage over Manchester City after a grafting rather than sparkling 2-0 win in Cardiff. 
90'   This is now Liverpool's longest winning streak in the Premier League since 2014. 
90'   Three minutes added.  
89'   Salah! He's through on goal and his shot is a tricky one to pull off, drawing a fine save from Etheridge. 
87'   Cardiff come forward again and Murphy has a chance to cross but skews it horribly behind for a goal kick. 
85' Final change for Liverpool as TAA goes off for Joe Gomez. 
84'   He looks for Morisson at the far post and Alisson comes out to punch. The Cardiff defender had been flagged anyway. 
83'   Cardiff have not given up on this and Mendez-Laing wins a free just outside the area. Camarasa lining this up... 
81'   We imagine Neil Warnock will have a few words to say about that decision and it is a little cruel on the Bluebirds, who have their chances to level. 
80'   Goooooooooooooal! Milner, probably with his first touch, buries it and Liverpool have surely wrapped up the three points now. 
79'   Salah goes down un der pressure from Morisson and Martin Atkinson points to the spot. A little harsh perhaps but the defender did have his hands all over Salah. 
78'   Penalty! Liverpool! 
77' Ralls hobbles off for Cardiff, clutching his hamstring, with Leandro Bacuna on to replace him. 
76'   Mendez-Laing picks up a quick free kick on his chest in the Liverpool area and gets a shot off but Henderson is there to make sure Alisson isn't tested. 
75' And Fabinho has indeed gone off, Milner on to replace him. Tough break for the Brazilian, but it's better safe than sorry with concussion. Right decision absolutely. 
74'   Liverpool, temporarily down to 10 men, sportingly play the ball back to Etheridge. 
73'   He's getting treatement and looks to be ok, but whether he'll be allowed to contine remains to be seen. 
73'   Meanwhile, the recently introduced Fabinho is down in a heap after what looked like a crack to the head. 
72'   Van Dijk gets his head to a TAA corner and claims another but the ref is having none of that and signals a goal kick. 
71' Keita off for Liverpool, Fabinho on. 
71'   Mané bursts into the area but runs himself into rings and a Liverpool chance goes begging. 
70' 75 percent possession for the visitors so far and they'll be happy enough to stroke it about in their own half for as long as possible for the last 20 minutes, looking to hit on the break for the second goal. 
69'   Liverpool looking to take the tempo of the game down a notch now... 
67' Niasse off for Cardiff, Kenneth Zohore on. 
66'   Mané twists and turns and manages to squeeze the ball to Salah, who puts a snap shot into orbit. 
64'   Morisson! How did he miss that?? The Cardiff defender has an open goal at the far post but manages to head the ball away from the onion bag! What a miss, and how costly might that prove for the Bluebirds? 
64'   Camarasa almost breaks through from a fine ball from Gunnarsson but Henderson turns on the after-burners and makes an excellent stop to concede a corner. 
63'   Another corner to Liverpool... 
61'   Great move from Liverpool as Keita nicks the ball and feeds Mané. He finds Henderson but the captain can't keep his shot down and Cardiff have a bit of a let-off there. Should have been two. 
60'   Cardiff get forward and work the ball to Hoilett, but the forward's shot is poorly struck and Alisson simply has to hold his paws up and catch it. 
60'   Gunnarsson is under it though and gets a solid head to the delivery. 
59'   Another free kick to Liverpol, out on the far side. Salah over it... 
57'   That puts Klopp's side two points clear at the top as it stands, and leaves Cardiff in the last relegation spot, three points from safety. 
56' The Dutch midfielder absolutely batters a right footed shot past Etheridge to give Liverpool the lead! 
56' Gooooooooooooooal! Wijnaldum! 
55'   It's cleared as far as TAA, who has a pop from outside the area. It's way off target. 
54'   Liverpool corner as Hoilett makes the intervention to halt another Reds attack. Fifth for the visitors. 
52'   Robertson has a chance to square into the box but the Scotland full back gets too much on it and it's out for a throw on the far side. 
50'   TAA gets into the area but slips just as he was shaping to shoot. Liverpool come again and Mané bends one over the bar. 
49'   Salah again gets a sniff of goal but his shot is low and tame, giving Etheridge no trouble at all. 
48'   The long throw sows a bit of panic on the Liverpool back line. Cardiff try the same thing again and Morrison gets a head on it but can't guide it on target and it lands on the top of Alisson's net. 
47'   Cardiff win a thrown on the right and Gunnarsson will sling this one in long again. 
We're back underway in Cardiff! No changes on either side. Liverpool had 79 percent of possession the first half but 0-0 it remains. 
45'+2' TAA straight into a wall of blue. And there goes the whistle. Not a classic and as it stands, a result that does neither side much good in the overall scheme of things. 
45'+1'   Free kick to Liverpool in a very dangerous area. This will be the last chance of the half... will it be the chance? 
44'   Two minutes added for that Niasse scare. Etheridge belts another goal kick out of touch. 
43'   Alisson! What a save! The Liverpool keeper gets his fingertips to Camarasa's on-the-turn volley and tips it over. What a strike that was and what a stop from the Brazilian to keep the score at zero. 
42'   Cardiff win a corner as the clock ticks down to half time. 
40'   That will go down as a shot on target as TAA finds Firmino at the far post but the Brazilian's header is apologetic at best. 
39'   Keita wins a corner as he cleverly lets a ball into the area run past him and off a Cardiff defender. 
38'   Salah, who is not having the best of halves, runs the ball out under no pressure at all, to the delight of the Cardiff fans basking in the sun on the far side. 
37'   Liverpool hit on the break again but Mané is hauled up for offside. 
35'   Salah again! This time, the Liverpool forward makes a right old mess of an excellent ball from deep that had him in a foot race to go one on one with Etheridge again. He hesitated though and gave two Cardiff defenders time to catch and dispossess him. 
34'   Salah! What a move from the Egyptian, who slips his marker and is clean through on goal! Etheridge is out like a whippet though and makes a great stop! First proper chance for either side and you would have bet on Salah burying that. 
33'   He's ok to continue and Etheridge hoofs the ball upfield to get us back underway. 
31'   Spot of bother for Cardiff as it appears Niasse has done himself a nasty. A fairly lengthy pause in the game as he receives treatment. He's been effective at both ends for the home side so Warnock will hope he can continue.  
30'   And to mark the 30 minutes Mané whacks another effort over the bar. Have Liverpool been practicing conversions this week? 
29'    No real sweats for either keeper as we approach the half hour mark. No shots on target from either side. 
27'   Salah overthinks a chance in the Cardiff area and ends up dropping it on Henderson, but the Cardiff defence are all over the Liverpool captain. 
23'   Cardiff solid at the back again as Salah attempts to glide in to the area. From there the Bluebirds break and almost carve out a decent chance of their own at the other end, TAA sold a complete kipper by Hoilett who crosses. Liverpool clear but not very convincingly. 
20'   Nice move from Liverpool and Firmino finds himself with a chance to shoot. The Brazilian goes for the top corner but can't quite get enough bend on it. 
17'   Firmino gets a sniff and has a go but it's well blocked by a Cardiff side who are only too awarer of what could unfold if they concede early. 
15'   Liverpool try and break immediately from the corner but Salah runs into trouble with Firmino legging it up to offer support. 
14'   Hoilett! The Cardiff winger almost gets a shot awat after great work from Niasse but Robertson is across to make a timley challenge and deny the Canada international. 
11'   Mané tries his luck from outside the area but he practically hits Swansea with that one. Not the sort of effort we've become accustomed to this season. 
8'   Mané wins the ball in midfield and leaves Camarasa in a heap, much to the chagrin of Neil Warnock. The ref waves play on though. 
6'   A little nervy at the back from Liverpool as Niasse bursts into the box but he'd run it just over the byline. 
5'   Some good defending from Niasse sorts that out though and the Senegal international earns his side a goal kick off Firmino. 
4'   Etheridge is forced to come out and punch as Henderson chips a ball into the box. All Liverpool so far.... the visitors have a corner. 
2'   Close! Alexander-Arnold hammers a shot and it flies just wide of Etheridge's far post. Early advisory from the visitors. 
1'   Liverpool get us underway and the sun is still shining on the Cardiff City Stadium. Will it still be shining on Liverpool's title challenge in 90 minutes? 
Ok, here we go! 
Mind you, in their three Premier League meetings with Liverpool Cardiff have conceded 13 times. 
Half an hour to go until kick off at the Cardiff City Stadium. Will Liverpool get over this obstacle? Always dangerous to go to a side fighting relegation. 
Still waiting for teams but Harry Arter has been ruled out for Cardiff while Aron Gunnarsson will be assessed at the last minute. Joe Gomez should start for Liverpool after making a comeback from injury during the midweek win at Porto. 
Lovely stuff from Cardif boss Neil Warnock, as quoted on the BBC: "We just want to give a good performance and not get a battering really."
Pep Guardiola's side redressed the balance from their Champions League exit at the hands of Tottenham by beating their European conquerers on Saturday as they look to retain the Premier League title. 
Hello and welcome to AS English's live coverage of Cardiff vs Liverpool from the Welsh capital as Jürgen Klopp's side see to restrore a two-point lead over Manchester City at the top of the Premier League.