Borussia Dortmund signs a 16-year-old American promise
The son of former USMNT captain, Claudio Reyna, follows in the footsteps of Christian Pulisic by signing with Borussia Dortmund at the age of 16.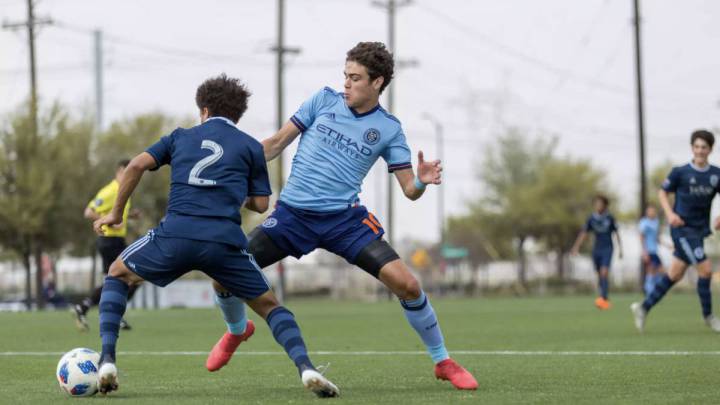 Gio Reyna could be Borussia Dortmund's new sensation after showing, since the age of 16, he has the technical and tactical ability to shine in Europe. He is also smart with the ball, as Patrick Viera, his coach in the NYCFC youth set-up for two years, has mentioned on several occasions.
Gio was born in November 2002 and is the son of two former players, Claudio Reyna and Danielle Egan Reyna, so football runs through his veins. His father played for Bayer Leverkusen and Wolfsburg, in addition to being the first American captain of a European team, while his mother was part of the USWNT.
Gio Reyna's career started at the NYCFC academy, where he met Patrick Viera. At the age 14, he led his team to win the Generation Adidas Cup, a tournament for under 17 players. He was also a key player for the U-15s to win the Delle Nazioni tournament; a competition where he chipped in with four goals and four assists.
At only 15, he was part of NYCFC's U-18 team in the 2017/18 season. In that tournament, Reyna 13 goals in 17 games, with his outstanding season drawing attention from Dortmund at the end of the campaign and seeing him incorporated into the black-and-yellow institution.
Trezeguet comparison
In the years Vieira had at the New York club, he mentioned that Reyna reminds him of the way David Trezeguet played since he has a great ability and a great shot.
"Reyna is an SUV, blessed with rhythm and a good eye for killer passes. He is also dangerous on set pieces, particularly direct free throws. He has a physical presence, and his gameplay is excellent. He can score goals, tactically understand the demands of the game. He is a brilliant child and shows some really good things," were Patrick Vieira's words.