Rodri: Manchester City to break transfer record for Atlético star
According to reports in the UK, Pep Guardiola has identified the Atlético midfielder as Fernandinho's heir and is willing to meet his release clause.
Rodrigo Hernández (Rodri) has been identified by Pep Guardiola as the perfect replacement for Manchester City's 33-year-old midfield fulcrum Fernandinho and the Citizens boss is ready to break the bank for the Spain international, according to a report in The Telegraph.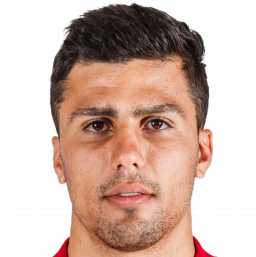 The UK broadsheet states that Guardiola is happy to go above the current club transfer record for the 22-year-old, who has a minimum release clause of 70 million euros included in his contract at the Metropolitano. City's most expensive player in history remains Riyad Mahrez, who joined the Premier League champions from their predecessors, Leicester City, last summer for a fee of 68 million euros. Behing Mahrez are Aymeric Laporte (€65m) and Kevin de Bruyne (€61m).
Rodri could follow Lucas Hernández but Atlético will cash in 
Atlético have perhaps shown their hand in terms of release clauses by agreeing to sell Lucas Hernández to Bayern Munich at the end of the season for a fee of 80 million euros. However, the bean counters at the Metropolitano can hardly complain about the profit margins if Rodri should follow suit: Hernández came through the academy while the Spain midfielder, who also spent his youth career at Atlético, was bought back from Villarreal for €25m last summer.
Rodri has fitted seamlessly into Diego Simeone's blueprint at Atlético, making 29 appearances in LaLiga and eight in the Champions League in his debut season at his formative club.