Manchester United 0-2 Manchester City
Alexis Sánchez: Manchester United forward hits rock bottom
The Chile international epitomised United's problems against Manchester City, playing just 12 minutes and getting his boot on the ball once.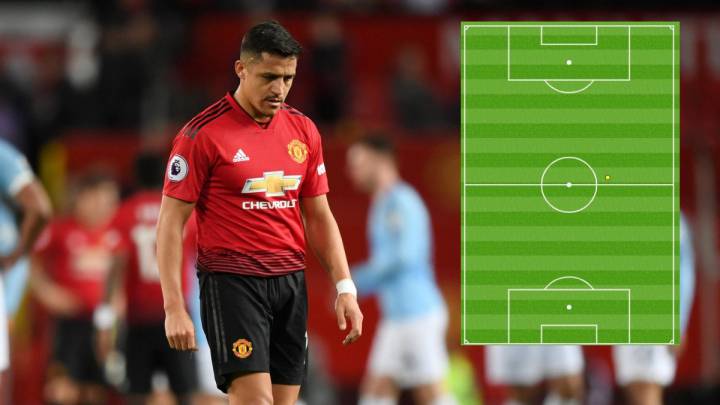 Manchester United lost again as they hosted Premier League champions Manchester City at Old Trafford on Wednesday evening with Ole Gunnar Solskjaer admitting that his side "were beaten by a better team" as Pep Guardiola closed in on another title.
Solskjaer enjoyed a honeymoon period at United after replacing José Mourinho in December but in recent weeks the wheels have very much come off any upturn in fortunes and his players have come in for scathing criticism for a perceived lack of effort, with Paul Pogba bearing the brunt of fan and pundit opprobrium.
Alexis Sánchez is a slightly different story. The Chilean has always been the sort of player with whom "mercurial" is synonymous and he has rarely been noted for lung-bursting runs to help out his defence, at least not since his time at Barcelona playing under the demands of Guardiola and Luis Enrique.
Sánchez a marker of United's need for structure
Against City, the structural deficiencies of United's medium term planning was laid bare as the Premier League's best-paid player - who was signed partly to keep him out of the clutches of Manchester City and handed a contract worth 400,000 pounds a week - made a 12-minute appearance with the game beyond salvation. During that time, the attacking midfielder touched the ball once at an estimated cost to United of 86,000 euros.
Added to the reported 75,000 pounds Sánchez receives as a bonus for every appearance he makes, United can consider the 48 million euros they paid Arsenal for the Chilean and the accumulated cost of keeping him on the books as something to have a look at this summer as the club attempts a rebuild while blocking out the probable celebrations of their increasingly noisy neighbours.