Real Madrid have only won LaLiga 4 times in Florentino's 15-year reign
Since Florentino Pérez returned to the presidency in 2009, Real Madrid have only won the league twice compared to the eight which Barcelona have won.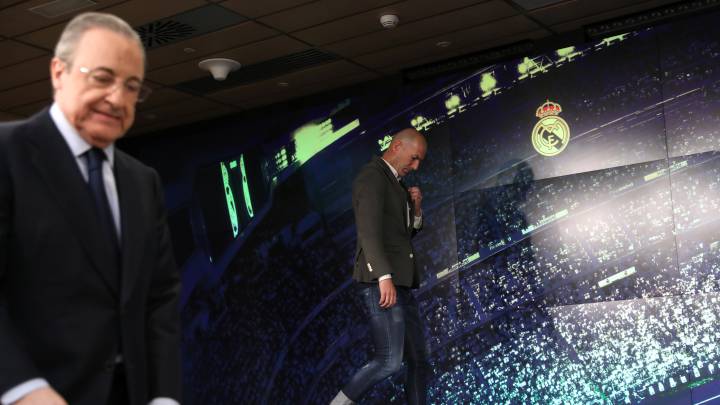 Winning LaLiga is Florentino Pérez biggest shortfall during the 15 years of his tenure as Real Madrid president. In his two spells in charge, the club has only been crowned champions four times and since he returned to office just over a decade ago in 2009, Madrid have only lifted the league twice.
Florentino's Madrid lifted the league in 2000-01 and 2002-03 but things started to go downhill after he decided to get rid of Vicente Del Bosque. There was no improvement under a succession of coaches and he stepped down in February 2006, admitting that his galático model had been a failure and adding that perhaps he had "ruined the players".
Europe's league champions since Florentino's return (2009-10)
Juventus 8*
Barcelona 7
Bayern Munich 7
PSG 6*
Benfica 5
Porto 4
Manchester City 3
Chelsea 3
Real Madrid 2
Manchester United 2
Borussia Dortmund 2
Atlético 1
AC Milan 1
Inter Milan 1
Leicester City 1
Monaco 1
Olympique de Marseille 1
Montpellier 1
Lille 1
*Consecutive league titles
Back-to-back league titles
Between 2006 and 2009, and with other presidents in charge, Madrid pipped Barça to the league title twice. In 2006-07, Fabio Capello's Madrid staged a remarkable comeback to clinch the league on the final day, level on points with Barça but with a superior head-to-head record. Madrid successfully defended their title the following season, this time, having LaLiga sewn up with three games to go.
Since Florentino returned to the president's office in 2009, Madrid have been unable to break Barcelona's grip on LaLiga - regardless of huge amounts of money spent on the squad. Los Blancos have spent 929.5 million euros on 47 players and seven coaches (Pellegrini, Mourinho, Ancelotti, Benítez, Zidane, Lopetegui and Solari); eight changes to the coaching post including Zidane's return during the past decade. During that time, Madrid have won the league just twice - four times less than Barcelona (8) and Bayern Munich - if they go on to win this season's Bundesliga, which is looking likely. In France, PSG have won six leagues on the trot and Juventus have won eight in Serie A.
League champions during Florentino's reign at Real Madrid
Bayern 12

Juventus 10

Barcelona 9

Porto 7

Benfica 6

PSG 6

Chelsea 5

Olympique Lyon 5

Real Madrid 4

Manchester United 4

Borussia Dortmund 3

Valencia 2

AC Milan 2

Inter Milan 2

Arsenal 2
Well off the pace
Madrid ended last season third in the table and 17 points behind champions Barcelona. They go into tonight's game at Rayo in a very similar position - nine points behind Atlético and 18 behin Barça, who were crowned champions last night.
Madrid's downturn in the league is an issue that Zidane says needs to be urgently addressed.It was one of the reasons he left the coaching post at the end of last season and it's clear nothing has changed since then. He brought the matter up recently, telling reporters: "I'm more interested in winning LaLiga than the Champions League". Next season it will be a priority.