Single Agüero goal enough to put City back on top
A second half goal from the Argentine striker was enough to see Manchester City regain top spot in the Premier League with just two games remaining.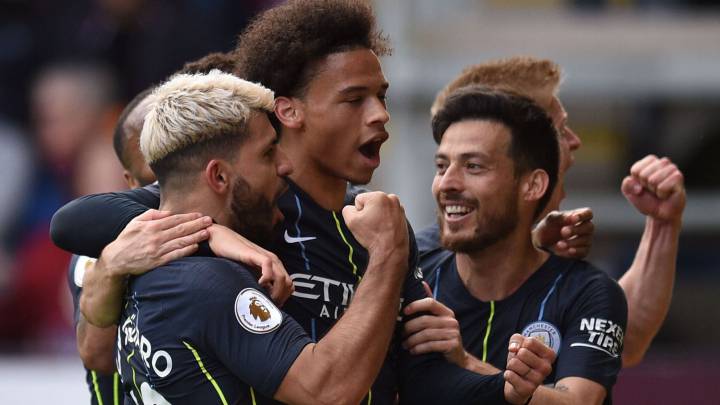 Burnley 0-1 Manchester City: as it happened
All over at Turf Moor. City win and regain top spot at the Premier League summit.
Gundogan carded for time wasting 
City fans calling for the full time whistle....
93'   Silva wins a free and takes the sting out of the action. Guardiola frantically giving instructions from the bench.
92'   Can they deliver from a dead ball situiation?.. no is the answer as City clear 
91'   The home side win a dangerous free kick as City bring on Otamendi with Sterling making way. 
90'   4' of time to be added on. 
88'   Burnley failing to give Liverpool fans any hope with it looking very unlikey that the home side are capable of delivering a surprise. Solid display from Dyche's side in defense but toothless in attack.
87'   City win a free deep inside the Burnley half as Lowton is carded. 
84'   Into the final 5'. Will there be any late drama at Turf Moor? Both teams looking very tired now. 
Stones on-Aguero off for City 
80'   Into the final ten minutes with Burnley stepping up and enjoying more possession in the City half
Mee was the Burnley player who saved the ball on the line. How importaant could that clearance be from the former City academy player ? 
Hendrick off-Gudmundsson on for Burnley 
77'   Off the line ! Burnley clear from an Aguero effort  
74'   City celebrate Aguero's opening goal 

Change for Burnley: Wood off-Vydra on 
70'   City bossing the game now with the peace of mind of having bagged the opener. Burnley have yet to really trouble Ederson so far today.  
Sane off-Gabriel Jesus on for City 
Aguero's 20th EPL goal this season

Aguero with the goal which edges the Manchester side closer to the title 
Gooooool City go ahead 
60'   30' remain for City to find a way through the Burnley rear-guard. Liverpool fans nerves must be jangling too now praying for the men in claret to hang on.
56'   A scramble in the Burnley box and the ball is bundled away for a corner. Desperate times at the back for the home side. 
Heaton has been great for Burnely today in goal stopping and parrying everything thrown at him 
51'   It's wave after wave after wave of City pressure now as balls are hammered on goal but every shot finds a man in claret to block the efforts.   
Added intensity it's plain to see in this early stage of the second half from Guardiola's side.
48'   Danger for Burnley as Aguero fires on goal and forces a fine save from the Burnley stopper.
Both Burnley and Man City will be facing both Norwich City and Sheffield United next season after both clubs were promoted to the Premier League this weekend.
We're poised to start the second 45'. Burnley start the action...Can City find a breakthrough ?
HT: Burnley FC 0-0 Manchester City
45'+1'   Burnley push forward and win a throw deep in the City half. It's been a quiet day so far for Ederson as the whistle blows for the interval.
45'   2' to be added 
44'   Sane fires off a shot laden with frustration which is straight at the Burnely keeper. 
43'   Backs to the wall affort from Burnely so far today with little going forward for Sean Dyche's men. The Clarets have looked more than solid in defence.  
40'   Into the final 5' of the half. Guardiola will demand more from his side in the second period as Aguero rifles a right footed effort just wide of the Burnley post.  
38'   Cheers ring out from the home fans as, once again a ball looking for Sane is over-hit and Burnley win a goal kick.    
34'   Zinchenko zips a dangerous ball across the face of the goal but no-one in navy can get anything on the ball. Sterling takes down Barnes and is not cautioned for what was a poor foul. Aguero is the danger man for City !
32'   Two chances fall City's way as Silva and then Zinchenko both see shots smothered by men in claret. Gundogan looks for Aguero but just fails to secure contact on the ball.
This Aguero pic pretty much sums up the afternoon to date for the Manchester side.

28' Bernardo Silva gets a shot on target following good build-up play from Aguero. Sterling and Silva (both) have yet to get into the action so far today. 
26' A few errors now from City as Zinchenko misses the ball and it drifts out for a throw. Little in terms of goal-mouth action so far as we head towards the 30' mark. 
Manchester City's David Silva (R) during the English Premier League soccer match between Burnley FC and Manchester City 

24'   Walker leaving the field as we get underway again. City down to 10 momentarily
23'   Wood breaks free into the box but his first touch is shocking and Ederson gathers. Walker getting medical attention after a falla dn stamp from McNeil.
20'   Burnley win a dangerous free as Kompany leans into Barnes and the ref. whistles....Possibly too far out for a strike on goal. McNeil over the ball and finds Mee who finds row Z.  
18'   Burnley break into the City box and as the ball is whacked into Kompany's face, fans appeal for a penalty kick. Better passage of play from the home side.
17' Still nothing resembling a goal scoring chance yet after just under 20' of action this afternoon at Turf Moor.
17'   City possing the game new keeping Burnley pegged back in their own half. 
15'   Possession after a quarter of an hour: BFC 30%-70% MCFC
14' Nothing from his side to excite the Catalan coach just yet at Turf Moor
13'   Guardiola and assistant Mike Arteta look patiently-on from the Man City dugout
11'   City enjoying the bulk of possession now after the initial bright start from the home side.
9'   A cross is just overhit as finely groomed David Silva lurks at the back post for City. There is an urgency when City get the ball which could translate into frustration during the game, as long as Burnley keep the side in navy at bay.
8'   First corner of the game goes to City after good work from  Zinchenko 
6'   City piling on the pressure now after a quiet start from Guardiola's side. 
4'   Sterling appeals for a corner but match official Paul Tierney awards a goal kick for the home side 
2'   Burnley enjoying early possession as both sides ease their way into the action. 
So it's 15th (Burnley) vs 2nd (City) as the visitors get us undeway today
Burnley in their classic claret & sky with City in their navy away kit this afternoon. 
Pep takes his seat as kick-off looms

This is how the run in for both Liverpool & City looks

So what's in store this afternoon for us at Turf Moor? Can Burnley dent City's title aspirations or will the scorelines from earlier meetings this season in the Premier League & FA Cup (5-0 in both games) be more in line with the outcome....    
The early Premier League match has just concluded with Leicester City beating Arsenal 3-0. 
A cloudy and overcast afternoon in Lancashire today with a temperature of 13C at kick-off. 

Merch. stand outside Turf Moor

Read more about Reds fans and their hopes that Ashley Barnes is the man to keep the Liverpool title dream alive .
Turf Moor pitch in immaculate condition as we head towards kick-off 

Hello and welcome to our live coverage of Burnley-Man City from Turf Moor where the action gets underway at 15:05 CEST.    
Burnley vs Manchester City: preview
Burnley are set to play a major role in the title race as they welcome Manchester City to Turf Moor today.

The reigning champions make the short journey to Lancashire aware that fate is in their hands and that three wins from the final three games will be sufficient to retain the Premier League.

Previous two meetings between both sides this season augers well for the visitors with City romping to a 5-0 Premier League win at the Etihad Stadium and administering another 5-0 corrective to Burnley in the FA Cup.