Status quo maintained as United and Chelsea draw
The shoot-out for a Champions League-place at Old Trafford proved inconclusive as a spate of injuries blunted an entertaining 1-1 stalemate.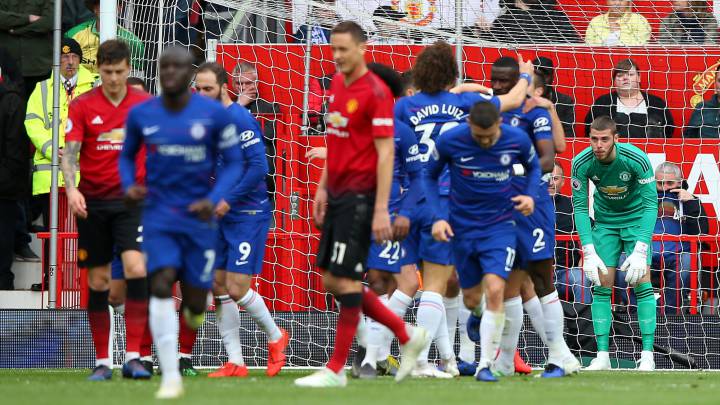 Manchester United 1-1 Chelsea: as it happened
90'+7' And that's it! 1-1 it ends. Not a result that suits either side. 
90'+7'   Higuaín! The Chelsea striker tries to lift it over De Gea and the Spaniard makes the save! Redemption for the United keeper... 
90'+6'   Young to the rescue this time as he prevents Higuaín from getting on the end of a Pedro cross with Chelsea three-on-three. 
90'+6'   Hazard whips in a lovely cross that Lidelof gets a vital head on with Pedro coming in on the far side. 
90'+5'   Shaw penalised for a foul on Pedro. Looked like they just slid into each other, as the United defender suggests in rather fruitier terms. 
90'+4'   Lukaku called offside again in a challenge with David Luiz. That's about four or five now for the United striker. 
90'+3'   Off the line! Pedro saves Chelsea as Rojo rises above the defence to head goalwards. Kepa was beaten, His compatriot, stationed at the far post, had to be very sure about that. Excellent from the substitute. 
90'+2'   Corner to United... 
90'+1' Lukaku! It seemed as thought the Belgian might have done there. Through on Kepa, he hits a shot that ricochets off the keeper and loops up and just wide. The flag was up anyway. 
90'   Seven minutes added, for the various injuries sustained this half. Seven minutes for someone to nick the winning goal.... 
89'   Chelsea again on the front foot, Hazard trying to pull something out of his bag of tricks, but United stand firm. 
87'   Decent move from Chelsea, who whip the ball about and find Pedro on the right. The winger's shot is blasted into the stands though. 
86'   Eric Bailly currently leads United in terms of shots. The entire side have had six, four of them on target. 
85'   Pogba leaps to head down for Lukaku, who squares for Alexis, but the lino's flag is up. 
84'   There have been few clear cut chances in this half and United have really stepped off the gas. Chelsea will be happy enough with a point but it does Solskjaer's side little good. 
83' Willian is off after that challenge, still limping, to be replaced by Pedro. 
82'   Alexis battles in midfield again and wins the ball, looking to release Lukaku. Chelsea close down the Belgian though. 
80' Another change for United, Mata off, McTominay on. 
79'   Willian limps gingerly back on. 
78' Chelsea have a promising attack as Higuaín and Willian combine to win the ball in midfield but the Blues play it out as the Brazilian goes down under a terrible challenge from Rojo.  He goes in the book but the defender's afternoon could have been cut short for that. Willian limps gingerly to the touchline. 
77'   A beautiful ball from Herrera deserves better from Young but Alexis, to a huge roar, tangles with Alonso and manages to win a corner when the Spaniard dawdled a little too long. 
76'   United pressuring on the far side, Alexis involved as Chelsea struggle to get the ball clear. Kepa eventually falls on a cross and the denager passes. 
75' RLC comes on finally, Kovacic the man to make way. 
73'   United fail to deal with it but Christensen can't keep it in on the far side. Goal kick. 
73'   Corner to Chelsea as Willian bursts down the right and Rojo cuts out his cross. 
71'   Chelsea prepare to take the free-kick... Willian has a go and it's not far off! 
70' Rojo on to replace him, the Argentinean coming back from a nasty injury himself. 
70'   And Bailly goes off, fortunately with the aid of the medical staff and not on a stretcher, to warm applause from both sets of fans. 
69'   Solskjaer signals to Marcos Rojo to strip off. 
69'   The game is still on pause as Bailly receives treatment. The stretchers are coming out and it looks like he will play no further part this afternoon. 
67'   Hazard drives towards the area and finds Kanté, whose cross is cut out but falls to Higuaín. The striker turns and shoots but it's blocked. Now Bailly is down in a heap after a clash with Kovacic, who is also feeling the effects of that. 
65'   Luiz is back up but he's not moving freely. It was of the ball, possibly a muscle twang. Let's see if he can continue. RLC still waiting for his opportunity, his yellow bib back on. 
65' Alexis Sánchez replaces Rashford. 
65' Christensen on for Rudiger, and David Luiz is now down injured! 
64'   A cut-out from Kanté that should be framed and hung in a museum prevents Herrera from finding Mata.  
63'   Chelsea temporarily down to 10 as United look to build an attack. 
62'   And the Germany international won't be able to go on as he is helped from the pitch on one foot. Looked like he may have twisted his knee there. 
61'   Ruben Loftus-Cheek preparing to come on for Chelsea but Sarri may be forced into a rethink as Rudiger goes down clutching his leg. 
60'   Rashford nutmegs Alonso to the delight of the home crowd but then crashes into David Luiz, which pretty much sums up the United forward's afternoon. 
58'   Hazard is dropping deeper and deeper in search of the ball and he picks it up and plays it to Higuaín, whose control lets him down. 
57'   De Gea makes some amends as he smothers a decent effort from Willian. Chelsea slightly on top at the moment. 
55'   Hazard decides the scruff of the game's neck needs a word and tries to make something out of nothing with an effort from distance. It's out for a corner... 
54'   Young fires it into the box and it falls to Bailly, who fails to get any power on his shot and Kepa gathers gratefully with his defence concentrated on the far side of the area. 
52' Kovacic this time as the on loan Madrid midfielder clobbers Herrera and then kicks the ball away. 
51' Wonderful work from Matic to play his way out of a corner and get United on the front foot and Willian has little choice but to take Mata out to prevent a dangerous break. The ref jots down his name as a result. 
49'   Kepa! It's well-hit by the England international but a fairly comfortable save for the Chelsea stopper. 
48'   Hmmm, the ref has pulled it back a fair way from where it seemed the foul had occurred. Rashford still considering it though... 
48'   Free kick to United as Kanté floors Bailly. Decent area for a pop this. 
47'   A terrible clearance from Kepa gifts United a throw. There's little invention with it though and back to the halfway line the home side go. 
46'   Chelsea get the second half underway. 1-1, a result that doesn't really suit either side. 
We're about to get underway for the second half. De Gea retains his place. 
45'+2' And that's the half! De Gea's blunder gifts Chelsea an equaliser on the stroke of the 45 and that could prove crucial in the battle for fourth. The Spain keeper trudges off shaking his head. 
45'+2'   Chelsea come again and Hazard does well to ping a cross in but there are no blue shirts there to meet it. 
45'+1'   Chelsea think they've cleared it but it lands on Pogba's boot inside the area. The ref blows though, the ball had gone out over the bar and back in. 
45'   United go straight up the other end and win a corner through Mata. Two minutes added. 
44'   De Gea is furious with himself. Maybe he was unsighted but it was not a fierce effort from Rudiger and should have been comfortably dealt with. 
43'   De Gea guilty again as he fails to deal with Rudiger's speculative effort and the Spain full back is there to prod in the rebound! 1-1! 
43'   Gooooooooooooooooal! Alonso! Out of nowhere! 
42' Herrera goes in the book for a scything challenge on Alonso. 
41'   It's nicely worked and Young puts in another good cross but it's just too high for the onrushing red shirts. United very much pressing for a second. 
40'   Pogba, who has been lively this half, wins a free out on the left, and this will be whipped into the mixer.... 
38'   Free-kick to United out on the right, it's worked out to Mata who plays a lovely ball to the far post for Lindelöf but Alonso reacts quickly to nod it out for a corner. 
36'   Azpilicueta is not happy as he gets a clout in the face from Matic, who then goes down to detract attention from his infringement, as the Spaniard is rather animatedly pointing out to the ref. No cards brandished though. 
35'   A complete list of Chelsea's away Premier League victories since the turn of the year: Fulham, Cardiff. And Sarri's side are 1-0 down at Old Trafford. 
34'   Rashford, not for the first time, finds himself inside the area and facing goal but runs out of ideas and allowd Chelsea to close him down. 
32'   Mata! Great move from United and the Spaniard is on the end of it. The angle is tight though and he can only crack his shot straight into Kepa's waiting paws. 
31'   Free kick to United as Pogba is floored skipping skillfully through a couple of tackles. Kovacic with the first attempt to bring him down, Jorginho finishes the job.  
29'   Close! Great delivery from Young and Bailly meets it with a fine glancing header that inches wide of Kepa's upright. 
28'   Corner to United... 
27'   Lukaku goes on a storming run and finds Rashford, who can't control in a decent position in the area. Great work from the Belgian there, who is practically unstoppable when he's in full flight. 
25'   Five attempts from Chelsea, none on target yet. 
25'   United get the ball out of their half and win a throw on the right. Chelsea's press sends them scurrying back to the halfway line and Jorginho wins the ball back in midfield. 
23'   Chelsea gradually getting on top of United but the home side are dropping back in numbers when not in possession and there are not too many gaps in their defence for Chelsea to exploit. 
22'   Chelsea try a corner to volleyed goal routine, but Jorginho ain't Paul Scholes. 
21'   Chelsea probe for an opening but United are closing down the spaces well. The visitors do get a corner though as Willian's cross is deflected out. 
19'   It's worked out to Jorginho who tries to side-foot it in from about 25 yards but it's mishit and De Gea watches it fly safely wide. 
18'   Willan and Hazard combine on a training ground routine corner and it's out for another as the Brazilian's fizzing cross pings out. 
17'   It's Alonso but it's a good few feet over De Gea's bar. 
16'   Willian, Alonso and Luiz all mulling this one... 
16'   Hazard darts through the middle and is taken out by Herrera. No card, which is fortunate for the Spaniard. He probably deserved one. Free-kick to Chelsea on the edge of the area... 
15'   United in almost complete control at the moment, Chelsea chasing shadows. 
12'   United were already pretty settled but a cushion should allow them to play even more freely now. Up to Chelsea to react with the Red Devils now level on 67 points in the table. 
11'   Lukaku chips a ball into the box, Luke Shaw squares and Chelsea fail to deal with the danger, leaving Mata to crack the ball past Kepa at the far post. 
11'   Goooooooooooooooooal! Juan Mata! United take the lead! 
10'   Free kick to United wide on the right as Pogba is tripped. 
10'   Willian look to release Higuaín but the Argentinean is called offside. 
9'   United putting on a bit of show as they probe Chelsea's back line, a few flicks and one-touch passing delighting the home fans. 
7'   Kanté goes on a lung-bursting run but messes up the final ball, although in fairness there was a wall of red bewteen him and the run of Hazard. 
6'   Rashford with some neat footwork out on the right but Kovacic shadows him well and snuffs out the danger. United growing in confidence and the Old Trafford is in full throat. 
4'   Lukaku! Big Rom powers through and that's a decent chance but Kepa stands firm and makes the save. 
3'   Willian delivers and United clear, not too convincingly, with Higuain looking to make a nuisance of himself. 
2' United looking to impose themselves early on with a period of possession but Chelsea pinch it in midfield and immediately look for Hazard. Young concedes a free-kick on the right as he clips Willian. 
1' And we're off! United get the ball rolling in Old Trafford! 
A none-too Ole's at the wheel stat from the BBC: Manchester United are trying to avoid suffering an eighth defeat in 10 games, something they haven't experienced since 1961.
The teams are in the tunnel... we're about to get underway at Old Trafford! 
Just 10 minutes to go until kick-off in the chase for the final Champions League place. Who will come out on top in Old Trafford? 
Alexis Sánchez did not exactly enjoy his finest hour in that defeat and it will be interesting to see hwo much time, if any, the Chilean is handed today. 

United's last outing was a 2-0 derby defeat to Manchester City, which laid bare the rebuilding job Solskjaer faces before his side can compete with the reigning Premier League champions. 
Arsenal lost again earlier in the day at Leicester, handing the advantage to Chelsea who are in fourth on 67 points. United can leapfrog the Gunners anf go level with Chelsea on points with victory today. 
Hello and welcome to AS English's live coverage of the Premier League clash between Manchester United and Chelsea from Old Trafford. Kick-off is at 17:30 CEST.