Tottenham - Ajax: Van de Beek helps Ajax beat Spurs
A first half goal from Donny van de Beek helped Ajax past Spurs in the Tottenham Hotspur Stadium on Tuesday night in the Champions League semi-final.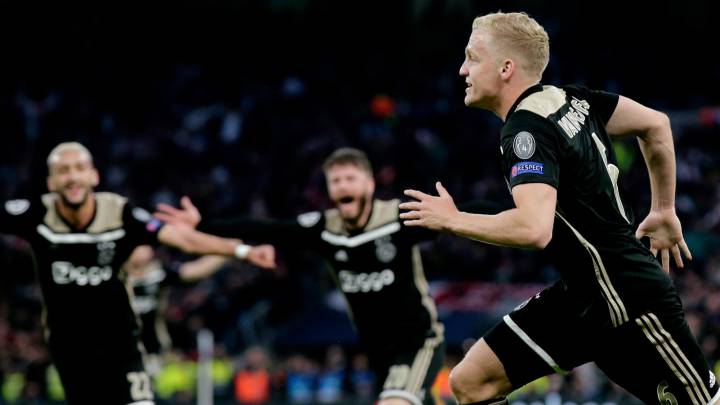 Tottenham Hotspur 0-1 Ajax: match report
Ajax landed the first blow in their Champions League semi-final against Tottenham Hotspur on Tuesday night. After their ebullient start, which bore a goal from Donny van de Beek, a nasty injury for Jan Vertonghen and a change of system from Mauricio Pochettino, they were on the backfoot for the remainder of the game. A team that has wowed crowds from Turin to Madrid were happy enough to soak up pressure after that opening strike as they showed a maturity beyond their years, something their manager asked for, at the Tottenham Hotspur Stadium.
In the Battle of the Unlikely Lads, Ajax arrived in London with the same swagger that has brought them this far. They pressed Spurs and pinned them into their own half after Pochettino had chosen to play a back three with two wing-backs because of the depth of his injury crisis. Rose and Trippier started on the wings with Victor Wanyama minding the house as former Ajax player Christian Eriksen went off in search of assists. The middle was never stable enough for Spurs to continue and it wasn't long before Pochettino was plotting a change of system.
The goal came first though and was straight out of Ten Hag's playbook and while we might not have seen an exact replica of it before, the underlying traits of many of their Champions League goals were there.
Starting out on the left, Neres kept his composure and after a stepover that bought him a yard, sent it into the middle for Schone. He played it to Ziyech in close quarters and the attackers slashed and sliced holes in Spurs defense for the attacker to exploit.
Through on of those holes, between Rose and Vertonghen, Donny van de Beek had peeled off. With the Belgian stepping out in a failed attempt to catch him offside and Rose making a doomed effort to get his big toe on the ball, the Ajax midfielder took the ball, shimmied, yawned, had a look around, shimmied again, looked at his watch and finally when Lloris went to ground he slotted home to give Ajax the lead.
It was about to get worse for Spurs too as Jan Vertonghen caught the back of Toby Alderweireld's head from a lobbed free. He continued for a matter of seconds before having to be carried off the field as the debate over concussions and head injuries looks set to rear its head again.
After that, with Sissoko sprung from the bench, Poch returned to four at the back and Spurs grabbed a hold of the kicking and screaming visitors and nearly suffocated them.
As the half-time whistle drew closer, Spurs were getting closer too. A chance from Alderweireld found the roof of the net and Sissoko drilled one wide as Ajax retreated and Spurs smelled fear.
They couldn't find the goal and while they dominated the second half, they only ever really threatened to threaten. They were close to being close to an equaliser but they could never get the ball into central enough positions where they could hurt Ajax. Fernnado Llorente tried hard but didn't have room to turn a sweet in his mouth as he drifted into docile positions in search of space.
Onana caught six crosses in his box as Spurs tried to attack down the flanks when they couldn't gain any traction in the middle. Lucas Moura looked dangerous on the right and linked well with Eriksen at times but ultimately, Spurs were handcuffed due to injuries.
The closest we came to a goal in the second half was when David Neres, a constant pest for the home side, popped up at the back post and sent a shot flying off the base of the post.
Smash and grab football and Ajax are not regular bedfellows but on this occasion, they scored and retreated even if that was not always the plan. Spurs were the better side overall but that slow start, crucial opener and away goal that Van de Beek scored after 15 minutes could haunt them as they get ready to travel to Amsterdam having learned a lot about their opponents and themselves in London.
Tottenham Hotspur vs Ajax live online: match updates
90'+3'   Ball sent forward and it's headd out as Matru Lahoz blows the final whistle at Tottenham Hotspur Stadium.
90'   Three minutes of added time.
86' Klaas Jan Huntelaar comes on for Ajax. Off goes Ziyech.
84'   Onana with another catch from a cross. 
82'   Free clippeed in and Alderweireld geads it onto the roof of the net. 
82'   Moura fouled now after a lovely touch to Eriksen. He has been magnificent tonight.
80'   So close again. It was close to being a chance not quite a chance. Spurs have so often threatening to create something but nothing really.
79' Ben Davies coming on for Rose. Foyth comes on for Trippier. Double change for Pochettino and Spurs.
79'   That could, and maybe should have been it. He hits the post after it's worked across to him on the left-hand side. 
78'   Trippier is tripped by Neres. 
77'   Frustrating night for Spurs but they have reason to believe. After that initial change to a back four, they have been by far the better side.
76'   Eriksen with a cross from the left now and that's a mile over everyone.
75'   Eriksen plays it into Rose's path and he crosses. Blocked for a corner. Spurs continue to grow into this one.
74'   They can't figure out how to trouble Onana nevermind score on him.
73'   Ajax work it across the box and Spurs get a lucky break and clear. More pressure from them but you get the feeling it's going to be more of the same. 
72'   Trippier gifts it to Ajax but the shot is blocked. 
70'   Llorente with a foul on Veltman. 
69'   Free for the keeper if he hadn't grabbed it. Rose limps away from it. Much better again from Spurs.
69'   Ball sent in from Sissoko and Rose jumps with Onana.
69'   Way better from Spurs. They've had five chances to Ajax' two in this half. 
67'   Sissoko absolutely clatters Tagliafico in the back with the ball in the air. Free. 
66'   Ajax threatening now. Or at least trying to. 
65' Sub for ajax. Mazraoui on for Schone.
64'   Free sent in and it's better than the first one but Llorente can't reach it. Onana grabs it. The pressure continues and increases.
63' Yellow for Veltman as he pulls down Alli and grabs him around the neck.
63'   Rose crosses and Moura heads down tamely to Onana.
63'   Lucas Moura with an exquisite turn and cross. Ajax just about get it away.
62'   Trippier with the cross and it's grabbed by Onana. What a waste! 
61'   Moura battles hard and wins a free off Blind after is looked like he had lost out. 
59'   Sissojo throws himself about and fouls De Jong. Fairly clear foul and not needed either. Ajax have the chance now to calm things down again.
57'   Spurs have been much better but still no ideas on how to properly trouble Ajax. Another cross into the arms of Onana.
55'   Lovely move. Moura out to Trippier and he sends it into the back post where Alli just can't get over it. He heads over. 
55'   Pochettino plotting on the sideline.
55'   Ajax rarely look flustered and they don't yet but Spurs keep pushing here. 
53'   Llorente touches it on to Moura but he can't control it.
52'   Trippier scurries forward and his pass to Moura is way too heavy. Onana glad of that pass. 
52'   Ball wouldn't really sit down for anyone.
51'   Danger for Spurs. Ajax attack after a mistake at the back. A couple of players have chances but Rose slides in and gets it away fro Ziyech. 
51'   Another good chance. Moura leaps and heads to Alli. He hits a volley quit awkwardly and Onana saves.
50'   Rose tries to find some space moving forward but it falls to Eriksen and he wins a throw.
49'   Spurs lose it and Ajax attack but the cross from the left in search of Van de Beek is too strong. Throw for Spurs.
48'   Cross in from the left and Onana comes out of nowhere to grab it. His kick out the field is dreadful though. 
47'  Rose down the left now and it's out for another corner. Spurs continue to pile on the pressure.
47'   Tagliafico drives one low and hard but it's always drifting away from Lloris. 
46'   Spurs kick off as a cheer goes around the stadium. Llorente has a chance and his run is stopped but it falls to Alli! Another good chance and his shot is blocked. 
Ten Hag takes his time to go back to his spot. We are ready for action! 
Spurs first out and Ajax ready to emerge now as they wait for everyone.
Teams back on the field. Can Spurs start as they finished, with a flurry?
45'+5'   Spurs might wish this half continued forever! Or at least utntil they got a goal. They're getting closer. Sissoko hits it lovely after Llorente lays it off. Drifts wide.
45'+4'   Free sent in. Alderweireld loops the header onto the roof of the net.
45'+3'   Foul on Tagliafico now as he catches Moura with a sneaky little push on the back just as he goes to jump in the air. 
45'+3'   Spurs knocking on the door. Nice ball inside from Eriksen. Nice flick from Alli but it's cleared. 
45'+2'   Throw for Spurs as Sissoko takes down Neres. No free though as the Brazilian feels at his ankle. 
45'+1'   Five minutes to be added on at the end of the first half here.
45'   Onana to take a free now after Eriksen makes a mess of a flick and Moura has to foul. Still no jot for Spurs.
43'   Neres races forward and Sanchez chases him back. Offside from Neres but he wanted a penalty. Instead he gives away a free. 
42'   Trippier sends it in and Onana punches away. 
42'   Moura wins a corner. He is looking dangerous for Spurs and has been their shining light in attack. A nice run by him. No penalty either. 
41'   Free for Van de Beek and it's clipped in but somewhere in the sea of bodies there was an offside.
39'  Moura races down the right and into the penalty area. He cuts it back but Onana saves it.
39' Sissoko off for Vertonghen.
39'   Vertonghen on again but he can't continue. He's in considerable amount of pain. He's in absolutely no state to play. 
38'   Sanchez forced to put it out for a throw. 
37'   Cross in from the left and Lloris calms it down. He wants to give Vertonghen a chance to come back on. He's changing his shorts and jersey on the sideline. Blood everywhere! 
36'   He's eventually up now but not back on the field. He has a fairly sizeable cut on the side of his nose. Medics feeling his face for any broken bones. Never a good sign.
34'   Spurs had just started to improve too.
33'   Pochettino might be forced into an early change here and not a wanted one. 
32'   Another free for Spurs in a decent position. Sent in and Onana comes out to punch awat. Alderweireld and Vertonghen are on the ground. Really nasty knock for Vertonghen. Blood everyone. 
31' Yellow for Tagliafico. He chops down Eriksen as he tries to break. 
29'   Ajax have eased off here but only slightly. They still look dangerous. Spurs starting to at least battle for the ball in the middle.
28'   Sissoko out warming up. Pochettino has to make a move.
27'   Rose heads to Alli. Spurs forces all the way back by Ajax' press. 
26'   Free is sent in and Llorente gets a header on it. Free header but his body wasn't positioned right and it's slightly behind him. He heads wide! 
25'   Moura is bundled over now by Blind. He caught him late as his leg came down looking for the ball. Free for Spurs. 
24'   That would have been the best goal of the season. A lovely move involving a stepover from Van de Beek as he continues his run, gets it again and forces a save from Lloris.
24'   Veltman and Rose being spoken to now after an altercation earlier. Lahoz tells them to knock it off.
23'   Neres with a cross now and Vertonghen deflects it into the air. He tries to prevent it going out for a corner but he can't. 
22'   Trippier with a cross but Alli is muscled out of it. 
21'   Llorente looks for Eriksen after Ajax cough it up. But his pass is poor and Ajax clear it with ease. Alderweireld with a foul on Tadic now. More Ajax attacking.
21'   Ajax with 133 passes to Spurs' 40. 66% possession for the visiting side.
20'   Corner from Ziyech. Falls to Neres after a nice move. His shot is blocked. Spurs chasing shadows at this stage.
19'   Free comes in and Veltman heads off Sanchez. It's a corner as Ajax continue their onslaught.
18'   Neres thrown to the ground by Rose. Ajax are playing some absolutely wonderful football. A proper joy to watch.
18'   It's just all Ajax at the moment. Poch looking concerned on the sideline. 
17'   Ziyech to cross it in. 
17'   Spurs really need to respond. Neres sends one across from the left and Rose drives it out for a corner. 
16'   A quick look at Matru Lahoz but no offside. Perfectly timed run and the goal stands, of course.
15' GOAL! GOAL! GOAL! Van de Beek breaks through and scores. What a lovely move from Ajax. Ziyech finds him and he has all day to score. 0-1 to Ajax. 
14'   Neres out on the left and he absolutely launched one over everyone. Rose heads it out but it lands to Ziyech. Never shy of shooting, he tries to curl it and it's deflected out to an offside Neres.
13'   Ajax with more possession so far.
13'   And Harry Kane in the crowd too. He's out with an ankle injury suffered against City in the first leg.
13'   Lloris to Rose and Veltman puts it out for a throw. Rose looks up and says he had no options in front of him.
12'   A look at Son in the crowd there. He is missing tonight through suspension, of course, after getting a yellow against City.
11'   Ajax throw it around out on the left and Ziyech takes it down and sends it inside. It catches a Spurs heel and it's out but Ajax press and win it back. They've been ambitious so far. 
11'   Still a very cagey affair, however, as neither team have had a chance yet.
10'   Eriksen evades two tacklers and plays it to Llorente. His one-touch pass to Moura is off target though.
9'   Schone has his heel clipped by Alli, he says, and he gifts it to Llorente. Llorente plays it forward to nobody. A bit of a communication breakdown there.
8'   Ajax getting into their stride now but De Jong loses out to Eriksen. Llorente causing problems as he holds off Blind and then tries to play it forward. 
7'   Ball sent diagonally towards Lloris but he grabs it.
6'   Moura taken out of it and the referee plays advantage. Sent forward and Ajax win it back. Blind with the foul on Moura but no card as Lahoz laughs it off.
5'   Van der Bek drives forward after a mistake by Sanchez. He thinks he was fouled. The Ajax man pulls it back and it's out for a corner.
4'   They have a chance to bring it down and play it now. But it's sent out to the left, too far out to the left, by Schöne. Throw for Spurs.
3'   Lloris with a poor clearance and Veltman gets it. He loses it and Spurs attack. Llorente wins it and clips it forward to a running charging into the penalty area. But that's cleared by Ajax.
3'   Three at the back for Spurs. 
2'   Ball sent down to Onana from the right and he grabs it.
2'   Ball launched forward to Ziyech but Sanchez covers across and sends the ball forward himself. Spurs win a throw and they bring it into the middle in search of some luck.
1'   We are underway at Tottenham Hotspur Stadium.
    Ten Hag with a long chat as they meet before the game in front of the dugouts. 
    Lloris and De Ligt meet in the middle as Mateu Lahoz waits for them. 
    Teams in the tunnel. 
    We are getting ready for kick-off now in London. A real party atmosphere as Spurs' fans wave flags in their new stadium.
    Jan Vertonghen missed Spurs loss to West Ham at the weekend but is back to play in the middle tonight. He has played 31 times and scored twice this season for Pochettino.
    Frenkie de Jong has already signed with Barcelona but he has unfinished business with Ajax and is hoping for a happy farewell at his boyhood club.

    Eriksen starts tonight and is one of the best players in Spurs' squad. He has gone from Ajax to Spurs and Real Madrid are keen on him too. Daniel Levy will, however, try to capitalise to the last cent on the talent he has on his hands!

    The clash of the underdogs.

    De Ligt is the youngest ever captain in a Champions League semi-final at 19 years and 261 days. 
    The average age of Ajax's starting XI in the Champions League this season has been 24 years and 257 days but Ten Hag says his side have to show maturity tonight.
    Spurs XI: Lloris, Trippier, Sanchez, Alderweireld, Vertonghen, Wanyama, Rose, Eriksen, Dele Alli, Lucas Moura, Llorente.
    Ajax XI: Onana, Veltman, De Ligt, Van de Beek, Neres, Tadic, Blind, Schöne, De Jong, Ziyech, Tagliafico.
The weather forecasters are predicting overcast skies in the Tottenham area at the kick-off time of 21:00 (CEST), but with almost no chance of rain. Expected temperatures of around 13 degrees, which is about perfect for an evening kick-about.
The other semi-final of course is Barcelona against Liverpool, and there's some good news for Klopp on the injury front.

    A look at Spurs newly opened stadium. Well, fairly newly opened stadium.

    Tottenham v Ajax: Eight hits and misses to play for both teams.

    Hello and welcome to our live online coverage of Tottenham Hotspur versus Ajax. The Kingslayers face each other in an exciting showdown in London with kick-off at 21:00 CEST.
Tottenham Hotspur vs Ajax live online: preview
All eyes will be on Tottenham Hotspur Stadium on Tuesday night as two of the most unlikely Champions League semi-finalists play each other for a spot in the decider in Madrid at the start of June. Spurs, having beaten Borussia Dortmund and Manchester City, play Ajax, who have already seen of Real Madrid and Juventus. They did it in emphatic style too. Spurs, a team who didn't spend a single penny in the summer are proving that being competitive with good coaching and Ajax, a club built on their youth academy have been doing that for years but just not on this stage. Regardless of who wins this one, it's a victory for the underdog.
Spurs have no Harry Kane after Mauricio Pochettino ruled out the possibility of a return despite Lucas Moura hinting that he might be back on time. Meanwhile, Harry Winks underwent groin surgery and is also out. They went through a crises in the build-up to the City game and things haven't really improved since then. They are also without Erik Lamela and Serge Aurier through injury and one of their heroes against City, Heung Min-Son is suspended. Davinson Sanchez should start and another hero against Guardiola's side, Fernando Llorente, should replace Kane in the starting line-up.
Ten Hag has made a realy name for himself with his excellent style of play and he has asked for that same maturity on Tuesday night. They showed it off against Real Madrid and Juventus on their way to victories over both European heavyweights. Reading back over this year's Champions League knockout stages in 10 years, you might think they scraped their way to wins but they really didn't. They pummeled Real Madrid at home and away and did largely the same against Juventus. The only absence for Ten Hag is Bandé, who is out with a calf injury along with Mazraoui, who could potentially miss out with an ankle problem.