Barcelona stun Liverpool at the Camp Nou temple
Barcelona take a solid advantage back to Anfield after Suárez and Messi got the goals in their Champions League semi-final first leg. Messi scored his 600th goal for Barcelona.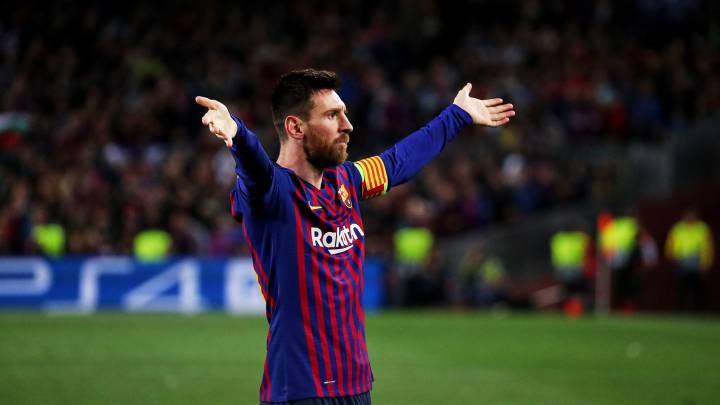 Barcelona 3-0 Liverpool: match report
Barcelona have a foot and four toes in the Champions League final after beating Liverpool 3-0 at the Camp Nou on Wednesday night in an utterly enthralling encounter between two confident sides looking to do damage when they had the ball and win it back in order to attack when they didn't.
It was tight, at times terse, tense and relentless. Two of the best teams in Europe duking it out for all they were worth. Neither side taking a step backwards and attacking every chance they got. Klopp said a draw would be a fine result before the game but for all intents and purpose, the Reds came to Barcelona looking for goals.
Then Messi, like a pin piercing a ballon, deflated Liverpool with a quick-fire double and as good as ended Klopp's hopes of a second successive Champions League final. "Would we suffer?" Klopp had said. "100%" was his rhetorical reply to himself.
A Luis Suárez goal helped Barcelona settle after a somewhat sloppy start. Gerard Piqué might have been lucky not to concede a penalty after bundling into the impressive Sadio Mané in the area early on. Mohamed Salah was causing problems on the right and so was Andy Robertson on the right. They couldn't capitalise on that opening momentum though.
They were their usual dynamic selves with cutting runs and incisive passing. Naby Keita went off injured after 24 minutes, however, and everything changed. Jordan Henderson did not provide the attacking threat Keita had been offering and Liverpool looked more blunt for their misfortune.
Two minutes after that change, Jordi Alba sent a perfectly placed, if not entirely hopeful, pass into the box and Luis Suarez somewhow managed to turn his foot into an almost unnatural position to send it arching over Alisson. The perfect parabola caught the Brazilian entirely off guard and he likely wasn't the only one such was the Uruguayan's feat as he engineered his foot into an impossible position.
Liverpool stuck to the plan but that goal, after they had largely dominated, left a bitter taste at the break. To their credit they came out swinging, as Klopp's sides are wont to do, and not only dominated but had Barcelona chasing shadows for even longer spells of the second half with Lionel Messi admitting after the game that "we were a little bit breathless as we're used to having the ball."
As Liverpool's confidence and desperation grew in equal measure, Messi knew his chance was coming. He was quietly assessing the terrrain, the weakness in Liverpool's cover and how to inflict maximum damage once that opportunity came along.
On 75 minutes as Liverpool's knocks on the door got a little bit louder with less space in between them, Messi picked up the ball in the hole in front of the penalty area. He played through to Sergi Roberto, who couldn't quite control it and it landed to Suarez, who volleyed against the crossbar.
Messi, who had stayed involved in the play, chested it down and rolled it home as he told the fans in the Camp Nou not to whistle Coutinho after the Brazilian was heckled when Nelson Semedo replaced him earlier in the half. Suarez was unlucky not to score another incredible goal but such is the telepathy of the two men involved, he might claim an assist as it feel perfectly into Messi's lap.
Liverpool figured they'd pick up where they left off and that Messi's magic had come and gone. But when Fabinho obstructed him 35 yards from goal, he both placed it and slammed it into the top corner all at once. Alisson was at full reach and everything was in place. No other player in the world could have placed it where he did and Liverpool were left to rue the fact that Lionel Messi decides games. Even on quiet nights at the office, or the temple, if you'd prefer.
Messi says "it's not decided yet" after his two goals as good as crushed Liverpool's dreams. But they do have to go to Anfield in a week's time and while everything could and maybe even might go to plan, there is never any planning for the greatest footballer currently operating in the Champions League and beyond.
Barcelona vs Liverpool live online: match updates
90'+5' That's it! Difficult result for Liverpool but, you know, Messi.
90'+5'   One last chance for Liverpool. Aleña tackles Gomez and it's out for a corner. Barcelona attack and Dembele makes an absolute mess of it... 
90'+5' Aleña on for Sergi Roberto too.
90'+4'   Corner for Barcelona and they take their time. 
90'+3' Dembele on for Suarez. 
90'+2'   He starts an attack and Suarez gets it from Messi. He sends it across the goal but it's blocked for a corner.
90'+2'   Corner sent in and Ter Stegen grabs it.
90'+1'   Vidal dives in on Man and he gets the ball. Corner. Vidal goes to tap him on the head and he puts a hand on Vidal's face. 
90'   Five minutes of added time.
89'   Liverpool trying here but they're exhausted. 
87'   Can Liverpool get their goal? They lump it forward. 
85' Milner off for Origi.
84'   Liverpool with the best possible chance. Shot comes in and it was cleared off the line as Firmino shot. It fell to Salah and he drove it against the post. 
82'   That is simply incredible.
82' GOOD GOD! What a finish. Free-kick and he absolutely buries it. 
81' Suarez booked for talking to the ref too! Incredible.
81' Fabinho booked now for colliding with Messi. Messi lucky not to be penalised for leading with a fist. 
78'   Messi causing trouble again. He plays it forward but it was offside.
75'   Firmino ready to come on.
75'   Messi played it into the middle and it fell to Suarez nicely after Semedo fought for it. Messi chests it down and finishes. 
74' GOAL! GOAL! GOAL! GOAL! Suarez hits the post and Messi gets the finish. 
73'   Messi to Vidal and he plays back to Alba. Barcelona cheer. Not for the pass. But because Dembele is out warming up. 
73'   Foul by Joe Gomez on Rakitic. 
71'   Fabinho goes through the back of Messi after Barcelona start a counter. 
69'   Ball sent into the box and it hits the back of Robertson. It bobbles back to Ter Stegen. Barcelona under pressure. 
69'   Messi slides in and concedes a free after Suarez is picked off by Van Dijk.
68'   Joo Gomez picks it up outside the box and decides to shoot. Terrivle decision in the end as it goes over the bar and wide. Miles over and miles wide.
67'   Barcelona fans not happy with Liverpool's dominance on the ball. They whistle very loudly. 
66'   Liverpool with the ball again. They lose it though as the ball gets kicked back to Alisson by a defender and he grabs it. 
65'   Busquets caught by Fabinho and it's a free. Way out the field as Messi stands over it. No chance of a shot as he plays back to Pique.
64'   Messi absolutely brilliantly puts it through to Vidal and he plays it across instead of driving it at goal.
63'   Van Dijk sees Semedo out over the endline. It's a goalkick. Lovely ball from Messi but really nice defending from the Dutchman.
62'   Valverde all sorts of animated on the sideline now. 
61'   Ter Stegen kicks clear under pressure from Liverpool and it's a throw. 
60' Coutinho coming off for Semedo.
59'   So, so close. Milner again. Lovely pass into the middle and the stepover from Mane was perfect. He drives it straight at him but that was a lovely move from Liverpool.
57'   Ball cut back and Pique clears. Liverpool win it back.
57'   Mane with a push on Sergi Roberto as Liverpol nearly break. They've taken the game to Barcelona since the second half started.
55'   Coutinho justs stops as Barcelona break. He seemed afraid of Van Dijk. Lenglet remains on the ground and the referee halts play.
54'   Vidal with a foul now on the edge of the box. He takes down Mane. 
53'   Ter Stegen denies Salah. Lovely strike low and with his left. Corner.
52'   Liverpool taking the game to Barcelona now. 
50'   Semedo warming up for Barcelona. Unclear now as to who he even comes on for.
48'   Alba sure he should have won a free by Salah skips away. Liverpool continue their good start to the half but ball over the top to Mane is too close to Ter Stegen.
47'   Save from Ter Stegen. Lovely strike from Milner after Salah moves across the penalty area and gets it out to him via Wijnaldum. Corner!
46'   Suarez caught in the back by Matip. Didn't look like much at all. 
46'   No changes for either side. We get back underway for the second half.
98,299 at the Camp Nou tonight. Record attendence for the season.
What a finish.
45'+3'   Goal kick Barcelona. We finally get a breather. That was incredible. 
45'+1'   Messi plays forward to Suarez, who is offside and just stays away, and Barcelona win it again. 3 minutes of added time.
45'   Coutinho goes down and he's told to get up by Liverpool and the ref. Nicely lofted ball from Suarez. 
43'   Messi thrown to the ground by Milner after he had won the throw. No yellow for Milner. No free. Referee says he didn't do anything. 
42'   Ball out to Robertson and Messi gets it. He's fouled. 
40'   Mane pulled back but the referee says he had already lost the ball. Barcelona start again.
39' Lenglet pulls Salah back and he gets a yellow. 
37'   Liverpool attack again. Robertson sends it across the field and Salah gets a shot away but it's blocked. Milner picks it up and he drives it wide.
35'   Liverpool work it out from the back and Suarez nearly picks it off. Liverpool attack and it's a perfect cross to Mane. He skies it! What a chance. What a pass. Henderson delivers. 
33'   Ball deliver in from the right and it's headed out for a corner. Lofted in and Ter Stegen punched it into the air and he grabs it himself. 
31'   Robertson just left Vidal for dead and crosses. Pique blockes it out for another Barcelona attack. Messi our ro Alba. Another Messi touch in the box and he loses it. 
29'   Livepool go at them again. Messi down in his own backline and wins it back. Three seconds later and he's up causing problems for Liverpool's defense.
27'   That was an exquisite finish from Suarez and will settle Barcelona perfectly.
26'   GOAL! GOAL! GOAL! Suárez. Ball in from the left and Suarez just pokes it over Alisson. 
25'   Another Barcelona attack is broken up and Liverpool win a throw.
25'   Liverpool launch forward after a Barca attack is foiled but the home side control it and calm things down. 
24'   Foul on Suarez. 
23'   Ball across the box. It nearly falls to Salah but Barcelona block it away. They look so dangerous. 
22' Henderson comes on for Keita.
20'   Henderson will replace him.
20' Keita can't continue. His groin is giving him trouble since a challenge with Rakitic earlier. 
19'   Salah with a little dinked ball forward now after that free is headed clear. It was really well worked but Matip mistimed his jump. Offside from Salah's chip inside.
19'   Milner to deliver this. 
18'   Pique fouled for a tackle on Mane. He grabs him around the waist and it's a free from a dangerous position.
17'   Barcelona starting to get into this. Liverpool remain lethal on the break and way more room for them to operate in.
17'   Coutinho has a crack. He hits it wide though and there was an offside there too. 
16'   Messi drives forward now and he loses it. Liverpool surround him and he loses it. This is an incredible game already.
14'   Ball in from the left for Messi. He can't get a shot away but he wants a penalty for hand ball. They lose it and Salah drives forward. He leaves Vidal for dead. Ball inside is cut out. 
13'   Pique intercepts a pass across the middle. Barcelona trying to get into this a little more now. No chances for them still though.
11'   Salah drives forward and leaves Lenglet for dead. He plays inside and Mane races past the ball. Suarez hit the ground and no free as Barcelona try to counter.
10'   Keita back up on his feet after taking a knock. He's okay to continue.
8'   Barcelona have the ball in the middle now. Ball inside to Suarez and he dives in on Milner. Probably lucky not to get booked there. 
7'   Things seem to have settled down. Liverpool have started really well. 
6'   There will be plenty of debate over that but Pique is lucky there. 
5'   Mane gets in front of Pique. He gets bundled over and it's no penalty. What a start.
4'   Corner sent in and Suarez heads it into the side netting. That was close.
3'   Salah ball into Wijnaldum and Barcelona attack. This is a hectic start. Ball into Rakitic and he cut and it's blocked by Matrip for a corner.
2'   Salah races into the box, cuts inside and shoots. It's off a Barcelona arm. No penalty as Barcelona survive.
1'   Liverpool presss Barcelona really high but they manage to get out and attack. Coutinho to Messi to Suarez and a cross is grabbed by Alisson.
1'   We have kick-off Liverpool get us started. 
    Liverpool in their grey strip and they shake hands and greet their opponents down the line! Blah blah blah.... WE WANT FOOTBALL!
    Bjorn Kuipers ready to lead the two teams out onto the field.
    Here we go! Barcelona is buzzing and the teams are in the tunnel waiting for action.
    10 minutes to kick-off. Time to put the kettle on! 
    Mane getting to play at Camp Nou like his hero Ronaldinho tonight. Here's what he had to say about his hero yesterday: "Ronaldinho was one of my heroes and I really love watching him play, especially here [at Camp Nou]. I would love to play against him, but tomorrow he is not here. I still love him and he's still my hero forever. [I liked] his skills, smiling for sure. Maybe I'm not smiling on the pitch [and] people think I'm angry, but I'm not! I would love to have his smile but I think we are not similar in this side. That's it."
    The Firmino situation was slightly strange. He was rested at the weekend as Liverpool dismantled Huddersfield but there were murmurs that the injury was serious. He trained yesterday, however, and obviously Klopp didn't think he had recovered sufficiently. But he does start on the bench.
    The big news in Barcelona's side is that Arturo Vidal starts. Loads, and loads of attacking talent and options on their bench with Dembele and Arthur. Valverde obviously very careful in the middle and has placed Vidal there to make sure Busquets is not overrun. 
    Liverpool XI: Alisson, Gomez, Matip, Van Dijk, Robertson, Fabinho, Milner, Wijnaldum, Keita, Mane, Salah.
    Barcelona XI: Ter Stegen; Sergi Roberto, Piqué, Lenglet, Jordi Alba; Busquets, Rakitic, Arturo Vidal; Messi. Luis Suárez, Coutinho.
    Carragher: "Lionel Messi is the best player I have ever played against"

    Graham Hunter, over on Champions League's website, gives details on how to stifle Sergio Busquets: "In a contest as epic as this, there will be key battles all over the pitch, right across at least 180 minutes. Most analysts will fixate on Messi v Virgil van Dijk, others on the rampaging of Trent Alexander-Arnold and Andy Robertson matched against the high positional play of Jordi Alba and Sergi Roberto."
    Hello and welcome to our live coverage online of the Champions League semi-final clash between Barcelona and Liverpool. Kick-off coming your way at 21:00 CEST.
Barcelona vs Liverpool live online: preview
If last night was the underdog semi-final between Spurs and Ajax, this is very much the main event as two of Europe's elite teams play each other for a place in the final at the Wanda Metropolitano in June. Barcelona with Messi, their shining light, are keen to win what he described earlier in the season "that beautiful cup" and have set their minds on toppling Real Madrid as Europe's best team. Madrid did that to themselves but now Barcelona are playing against a team many people consider the worst type of team to play them. Liverpool are aggressive, fast, confident and intense. They've already made it to the Champions League final last season and while they lost that, Klopp and co. have pushed City all the way in the Premier League and exceeded expectations again in the Champions League. There is a feeling that they have nothing to lose here with Barcelona desperate to recapture the title once more before this ageing team, potentially, breaks up and starts again.
All eyes will be on Messi, of course, but anyone not interested in the very best player in the world will be keeping tabs on Coutinho. Ernesto Valverde kept his faith in the Brazilian during a poor spell earlier in the year and while he hasn't completely arrested the slump, he remains in Valverde's plans. He should start tonight ahead of Ousmane Dembélé and he will need to be as active as ever to keep Liverpool at bay. The only absence for Barcelona is Rafinha, who suffered a knee injury and is out for the year. Klopp does admit, however, that it's not just about Messi and while Carragher says he is the best player he has ever played against, Barcelona do have options other than the Argentine and they'll have to be tactically perfect tonight.
Jurgen Klopp, the effervescant coach, said "a draw would not be the worst result in the world" in the press conference before the game, but he might be using this as a plot. To be fair to the German, however, he is right. The only injury concern for them is Roberto Firmino and his status is up in the air. He didn't play against Huddersfield and there were reports it was a serious injury but Klopp said he trained and a decision needs to be made. That would make a huge difference to how both sides play if he does miss out.