Doctors fear Iker Casillas' sporting career could be over
Porto's Spanish goalkeeper suffered a heart attack in training on Wednesday. Juan Antonio Corbalán doesn't think he will return to play football again.
The footballing world was rocked by the news that Porto goalkeeper Iker Casillas suffered a heart attack in training on Wednesday. Fortunately, club medical staff reacted in time to get the 37-year-old goalkeeper to hospital in time to be treated and now he is out of danger. "All under control here; a bit of a shock but I'm full of strength. Thanks very much to everyone for the messages of support and love" Iker wrote on social media from his hospital bed. 
With Casillas' responding to treatment and recovering, the big question is when and if he will be able to resume his career and return to the field of play. Medical experts consulted on the matter are not sure that the keeper will ever play professionally again.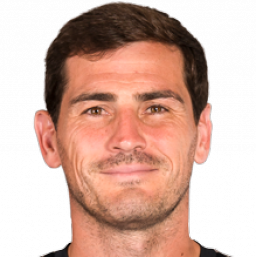 Casillas must take things easy for six months
Here at AS, Doctor José González preferred to remain cautious before giving a difinitive diagnosis. He explained: "We will have to wait to wait to see how his body heals and then study the results of the rigourous medical tests he will be put through. His heart could return to function as normal and he might have the chance to return to his profession.". 

In Cadena SER's El Larguero programme, cardiologist José Calabuig explained that the player would have a stent inserted then later, depending on the results, might be able to return to football but he was cautious about his chances. "Physically, if there is no scarring then there's a chance the muscle wall will heal. Within a timeframe of 3 to 6 months the situation can be assessed" he said. "If all goes well then he will certainly be able to return to work". 
But former Spain basketball international and cardiologist Juan Antonio Corbalán was less optimistic about Casillas resuming his career. He told RTVE that the catheterization procedure would impede Iker from playing professional football again in the football. "You cannot play football with a stent - and that particularly applies to a goalkeeper. Iker will end up returning to enjoy a normal life but I very much doubt he will play professional football again," he warned. 
CSD cardiologist Manuel Marina agreed: "The first 24 hours will be key. When he is discharged from hospital he will have to live life at a more relaxed pace and take things easy, he'll also be on medication and then see how things develop from there," he told El Partidazo.