Tim Howard doesn't want Liverpool to win while he's still alive
Colorado Rapids current goalie has no doubt about which team he wants to lift the Premier League title this season.
Loyalties run deep for former Manchester United and Everton goalkeeper, Tim Howard, as the US international hopes to see Manchester City win this season Premier League title over Liverpool.
Howard spent nine years playing with Everton, Liverpool's city rivals, which is why he has no doubt when choosing to see Pep Guardiola's team lift the English league title over Klopp's side. Despite it being hard to see the Citizens win when you're a Red Devils fan, for current Colorado Rapids goalie, that's better than seeing Liverpool win.
In an interview with CNN, the 40-year-old keeper said he doesn't want to see the Reds win the Premier League trophy during his lifetime; "I hope Liverpool never win a title while I'm still breathing," were Howard's words.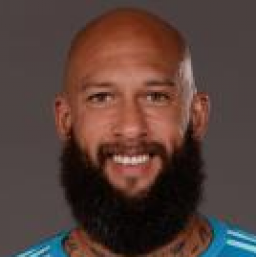 Man City or Liverpool
The Citizens currently lead the table above Liverpool by one point with just two more games left to play in the 2018/19 season, meaning Guardiola knows that his team needs to win against both Leicester and Brighton to ensure they retain the title.
Any slip from Manchester City will allow Jurgen Klopp's team the chance to overcome Guardiola's side to win their first league title in 29 years.