Florentin Pogba on his brother Paul: "Things will happen this summer"
The Atlanta United player spoke about growing up in Paris with his two brothers, their hopes to be signed by Barcelona, Real Madrid or Arsenal and his brother's future.
Florentin Pogba is one of three footballing brothers: his twin Mathias and his younger sibling Paul. Florentin, now 28, is currently playing in the MLS with Atlanta, while Mathias is with Tours in the French National League (the third tier). Paul Pogba of course is the most famous of the three and is currently with Manchester United; though after a difficult year - including the sacking of coach José Mourinho, who he fell out with - rumours of a summer move have been swirling for some time, with Real Madrid in particular apparently keen to make a move.
Florentin Pogba, who plays as a centre-back, pursued his dreams in Spain at the start of his career, when he moved to Celta de Vigo, in the northwest of the country. But left after two years in the junior ranks without ever breaking into the first team.
He then had spells at Sedan in France, Saint-Étienne and Gençlerbirliği in Turkey, before his move to Atlanta. He plays his international football for Guinea, having pledged his international future to the country where he was born back in 2013.
You and your family moved to France from Guinea when you were eight months old. How do you remember your childhood?
It was good, in Paris, always with my two brothers. The three of us started there, in small teams, trying to be professional players, doing our best so the big teams would come to see us.
Did you play with Paul or did the age gap stop that happening?
No, only with my twin brother. Paul is three years younger and we were never in the same team.
But you played in the street together…
Of course, of course.
Who was the most competitive?
To be honest, all of us.
And you also like table-tennis?
Yes, but that was before football.
Who did you dream of being?
We like the Brazilian Ronaldo a lot, Ronaldinho, Zidane, Henry… We were always watching, on TV and YouTube.
And which teams did you want to play for?
Barcelona, Real Madrid, Arsenal…

Who did you support?
Barcelona.
Paul too?
Yes.
Was it obvious that Paul was really good, the best, that he'd go further?
Since he was little he could do stuff that not everybody can do, but we didn't think it would all happen so quickly.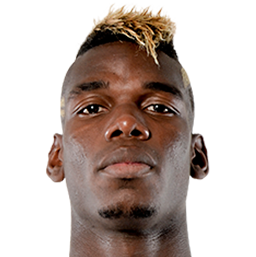 You said in this newspaper a few months ago that your brother would only leave Manchester United for three teams: Real Madrid, Barcelona or Manchester City. How do you see things now?
I don't know what'll happen. We'll see…
Who would you prefer?
For him to be playing, that's enough.
No preference?
No. At the moment [all I want] is for my brother to be happy, to be playing like he knows how to say and that's it.
He doesn't seem happy at the moment; it's been a tough year for him…
Yes, but, in my opinion he's done a good job and we can see Manchester are going to have it tough to qualify for the Champions League. We'll see how it turns out…

If they aren't in the Champions League, will it be impossible for him to stay there?
I don't know. A lot of things can happen in football.
What about Zidane, who tried to sign him before he went back to United, could that be important?
I could tell you one thing today and another thing tomorrow…
And today?
Things are going to happen. Summer's coming. We'll see if he stays, if he goes…
When did you last talk?
Two days ago. He chooses.
This summer you have the Africa Cup of Nations to spur you on...
We've a good enough team to win it, but we know how difficult it is. Having a good team sometimes isn't enough. We're ready.
You think you'll be called up?
Yes, of course.