Modric: Real Madrid boss Zidane starting to have doubts
Zinedine Zidane is unhappy with Luka Modric's performances and is beginning to have doubts about the Croat's future at the LaLiga club.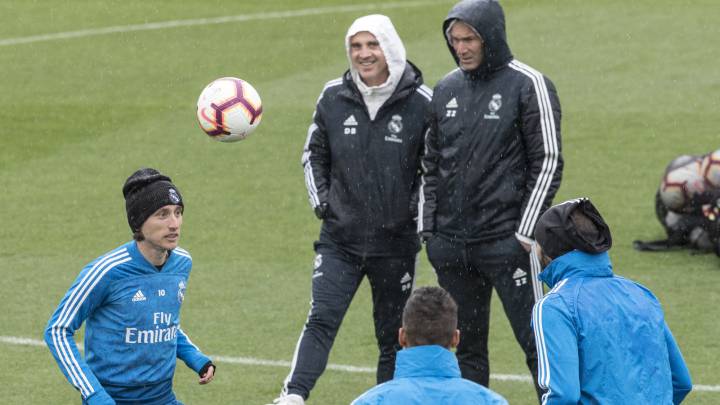 Last week, Real Madrid coach Zinedine Zidane held a meeting with senior dressing-room figures as part of his attempts to turn Los Blancos' poor form around. Making plain his unhappiness at recent performances, he sought to stress the players' duty to give their all right to the end of the season.
It was a pep talk that had little to no effect, though: days later, Madrid slumped to defeat at lowly Rayo Vallecano, and a visibly angry Zidane slammed his side's display in his post-match press conference.
Modric displays have left Croat under microscope
Zidane returned to the Bernabéu in early March having already formed a clear idea of which players he wanted to get rid of in the summer. Indeed, he even went as far as saying that the games Madrid had left this season would have little bearing on who would be surplus to requirements.
However, the team's below-par displays have led 'Zizou' to reassess who will be shown the door - and one man he is starting to have doubts about is Luka Modric.
Modric's performances since Zidane's re-appointment have led the Madrid boss to reconsider the Croat's future at the club, with the 46-year-old beginning to suspect that the midfielder has passed his peak once and for all, and won't be capable of recapturing his best form next term.
---
Read also: The key players in Real Madrid's bid to sign Pogba
---
Zidane's Modric misgivings are further fuelled by the fact that Los Merengues have an agreement in place with Tottenham's Christian Eriksen, who occupies the same position as the Ballon d'Or holder.
Madrid's board retain confidence in Modric's abilities and want him to stay; however, having until recently deemed him a player who was not for sale, the club would now not stand in the 33-year-old's way were he to be offered a move.
10


Ballon d'Or winner doesn't want to leave Madrid
For his part, Modric does not want to leave the Spanish capital. Last summer, an approach by Inter Milan did cause him to consider a departure, but he was finally persuaded to stay after being handed an improved contract.