Man United's failure brings Pogba closer to Madrid
Aside from the prospect of not competing in the Champions League next season, Pogba will also see his salary cut by 25% should he remain at Old Trafford.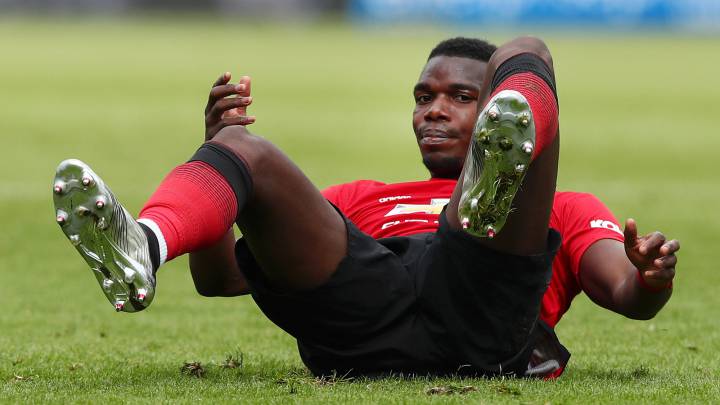 One of the most poignant images from Manchester United's 1-1 draw with Huddersfield on Sunday, a result which leaves them out of the running for a Champions League spot, was that of Paul Pogba covering his head with his shirt.
Failing to finish in the top four will be a monumental failure for the Red Devils, a failure which brings their French star even closer to a Real Madrid switch this summer.
Aside from the prospect of not competing in the Champions League next season, Pogba will also see himself significantly out of pocket should he remain at Old Trafford. As reported by the British press last month, Pogba and several other stars at the club have a condition in their contracts which stipulates that their salary be cut 25 percent if they do not qualify for European club football's premier competition.
Furthermore, ESPN last week cited sources that said that Pogba's team mates expected him to push for a summer transfer if United didn't qualify for the Champions League.
Pogba criticism
After being harshly criticised for failing to greet the United fans in Goodison Park after their 4-0 loss to Everton two weeks ago, the French midfielder came in for more criticism for his performance against Huddersfield.
"Paul Pogba when he gives the ball away, he just doesn't look bothered. His body language isn't right," said former Hull City coach, Phil Brown on BBC Radio Five Live.
Consequences for United squad
There has been much talk of late about what will happen to United's squad this summer. And after the disastrous result at Huddersfield, United's own manager Old Gunnar Solskjaer admitted that there will be consequences for some of his players.
"I can't talk about individuals now, but there is the chance you have seen the last of players," said the Norwegian after Sunday's game.
"Every performance has an impact on who you want to keep and let go, that's simple."
As it stands, Manchester United's plans for its pre-season tour in China could be ruined by Watford. If Javi Gracia's side manage to win the FA Cup final against Manchester City in two weeks' time, they will qualify directly for the Europa League. That would leave the the Red Devils having to play Europa qualifying fixture on July 25, the same time they are supposed to be playing in China.
Pogba part of Madrid's planned €540m summer spend
While Zinedine Zidane played down talk that Madrid would sign Pogba on Saturday, the club's move to sign the French World Cup winner is understood to be already underway.
The club know it will have to break the bank to bring in all the players it wants this summer and they plan to spend 540 million in order to do so. A large portion of that spend will go on signing Pogba, who is valued at 150 million euros.