Liverpool stun Barcelona with incredible comeback
Two doubles, from Origi and Wijnaldum, saw Liverpool produce a night of European magic at Anfield to knock a stunned Barcelona out.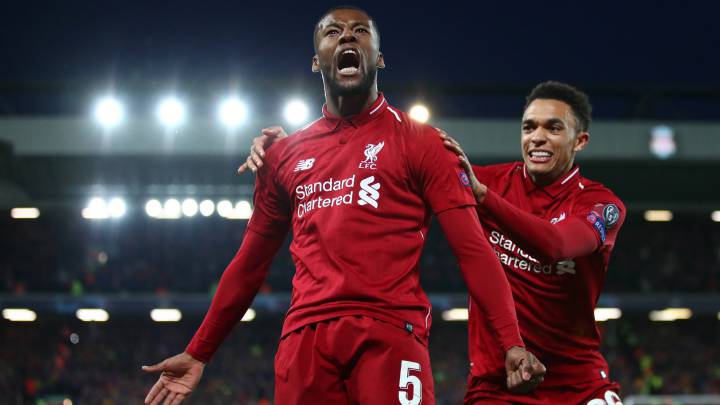 Liverpool 4-0 Barcelona: match report
Liverpool stunned Barcelona at Anfield on Tuesday night conceding two in either half to seal a historic comeback after losing 3-0 in the first leg at Camp Nou. Klopp said they were happy with their performance in the first leg and just needed another display like that and they'd be happy.
"We will have to be perfect," said the German before the game, admitting that without Firmino and Mo Salah it would be an almost impossible task. With two of the world's top striker out, Liverpool were given scant chance by everyone including their own players.
"We're not stupid," said Henderson. "We know we will need a miracle."
They got just that as Divock Origi scored after Ter Stegen palmed a Henderson shot into his path after six minutes to make it 1-0. The belief that Liverpool fans tend to have even in the worst situations was starting to blossom albeit tentatively.
Barcelona got to grips with the task at hand and had chances with Coutinho forcing a save from Alisson and Alba putting one on a plate for Messi before Van Dijk intervened. The left-back might have gone for it himself but opted to look for the Argentine, who was surprised himself to receive the ball.
The second half started and Andy Robertson was replaced by Wijnaldum after turning his ankle in a tangle with Luis Suárez.
The replacement needed just nine minutes to make his mark. He drove a shot under Ter Stegen after Jordi Alba was dispossessed by the Trent Alexander-Arnold.
Two minutes later and he had Liverpool level. He looped a header beyond a statued Ter Stegen and Liverpool's hope was starting to seep into every corner of the stadium. It hung like humidity in the air.
Barcelona still just needed one goal but with Anfield behind them and a whole city behind them beyond the confines of the stadium, Liverpool looked more likely and Barcelona knew the momentum was gone against them.
Trent Alexander-Arnold was good for the second goal and he was excellent for the fourth. He waited and waited and won a corner of Jordi Alba on the right-hand side. With Barcelona getting ready for the cross, he sent it in quickly to Origi, who turned it home as a shell-shocked Barcelona looked around at each other wondering what happened.
A tired and weary Liverpool had 12 minutes to hold on, and five minutes of added time. But Barcelona barely threatened. They sent a couple of miserable crosses into the box but aside from that, they never looked like scoring.
For the second year in a row, they collapse from a dominant position in the second leg. For the second year, Liverpool are going to the Champions League final.
There will be fall-out at Camp Nou after this and it's difficult to see how some of the older players pick themselves back up for another season after they had pledged themselves to the cause of winning the Champions League this season.
For Liverpool, however, their season is at it's most critical point. One night after Vincent Kompany all but ended their Premier League title challenge, they picked themselves up and put on one of their finest European displays. And for Liverpool, a club whose history is pocked memorable mid-week nights, that's saying something.
Liverpool vs Barcelona live online: minute-by-minute
90'+5' It's over. It's over! Liverpool have done it.
90'+5'   This is it. Another free for Liverpool and it's over. 
90'+4'   Fabinho played it perfectly and he hits the ground. Messi the fouler. 
90'+4'   Into the fourth minute. Barcelona can't even get the ball into the box.
90'+3'   Malcom on the left. He is defended perfectly and Liverpool send them out the field again. 
90'+3'   Liverpool clear it.
90'+3'   Pique with a dive in the penalty area as the ball wouldn't fall to him. 
90'+2'   Liverpool countered and there was an offside from Mane. So close to being a perfect counter but Mane strayed offside. 
90'+1' Can Liverpool hold on? 
90'+1'   We are going to have five minutes of added time.
90' Sturrridge comes on for Shaqiri.
90'   Fabinho taken out and it's a free for Liverpool.
89'   Klopp going crazy on the sideline. He wants to make his last sub. Ref won't allow it yet.
89'   Malcom clips it forward. Sent out by Liverpool. Going to be relentless for the next couple of minutes. 
89'   Semedo down the right and he cuts back. Cut out by Liverpool. So, so close. The tension is incredible.
88'   Cross comes in and Alisson grabs it. No hurry from him as he cradles the ball and relaxes. 
88'   Barcelona threatening. 
88'   Barcelona with a couple of minutes now to win this. 
87' Origi off for Gomez.
86'   Game becoming very sloppy.
86'   Ball whipped in Van Dijk clatters into the back of a defender. Ball sent back in and Shaqiri heads over. Van Dijk remains down. 
83'   So, Shaqiri is coming off for Gomez but Origi is down and injured so there might be a change of substitution.
83'   Origi down injured. 
82'   Alexander Arnold wins another corner. Alba looked to have handled that. 
82'   Fabinho with a perfectly times tackle on Messi. Barcelona need a goal. 
80'   What is going on?
79'   Alexander-Arnold with the quick thinking and he takes a quick corner. Nobody from Barcelona alive to it and Origi finishes.
78' Origi with the finish. Good lord! 
78'   Alexander Arnold wins a corner. 
76' Semedo gets himself a booking. Mane races clear and Semedo grabs him. Yellow.
75'   Arthur on for Vidal.
73'   But Suarez was offside. The tension is palpable. 
73'   Liverpool force them back and the ball into Suarez is out by Van Dijk.
72'   Semedo back to Roberto and Barcelona look for a way through.
72'   It's Arthur coming on actually.
72'   Valverde bringing on Malcom.
71'   Semedo back to Busquets. Liverpool have backed off a little bit here. 
70'   Another cross. Origi can't reach it.
69'   Mane down the left again and he crosses. Pique puts it out for a throw.
68'   Messi with the strike. Tough angle and it's rejected by Alisson. Corner.
67'   Messi free is straight into the wall. Out for a corner.
66' Matip fouls Messi as he wriggles free. Yellow card and a free in a dangerous position.
65'   16 shots to Liverpool and 10 to Barcelona.
64'   Fabinho goes in on Suarez and doesn't catch him. No free either.
63'   Sent in and it's headed out for another throw.
62'   Vidal with another hand ball. It's a free for Liverpool to whip in. 
61'   But Liverpool on the ball. Sent in again and Wijnaldum nearly reaches it.
61'   Game seems to have settled down.
59' Semedo on for Coutinho.
59'   Semedo coming on for Coutinho, it looks like.
58'   Henderson with the cross and it's grabbed by Ter Stegen.
57'   Valverde on his feet now. He doesn't know what just happened.
56'   So we are even! Cross came in and Wijnaldum with a lovely curling header.
56' Wijnaldum with the third! 
55'   Can they?
53'   GOAL! GOAL! GOAL! Alexander Arnold wins it back and he sends in the cross to Wijnaldum. Under Ter Stegen. 
51' Yellow for Rakitic. Mane sends the ball forward and it's blocked cynically by the Croatian. 
51'   Straight up the other end and Messi puts Suarez in. Alisson saves it.
51'   So, so close. Corner comes in and it's backheeled into Ter Stegen. Lovely effort by Van Dijk and a nice save from Ter Stegen. 
50'   Mane races forward and takes it down perfectly with his knee. Sergi Roberto puts it out for a corner.
48'   Cross sent in from the right and Wijnaldum nearly gets a head to it. Cleared though and Liverpool back in possession.
46'   Corner is cleared and Henderson recovers to get there in front of Coutinho.
46'   We are back underway!
Milner to left-back.
Wijnaldum coming on for Liverpool. He is replacing Robertson.
Liverpool back on the field to massive cheers. 
45'+4'   Half-time.
45'+4'   What a pass to Alba from Messi. 
45'+4'   Another corner. Vidal slides in on Origi. One last chance before the break.
45'+2'   Messi drives a shot wide after a terrible mistake by Shaqiri gifts it to Sergi Roberto.
45'+2'   Four minutes added on.
45' Fabinho caught on the jaw by Fabinho and he gets a yellow. Might consider himself slightly lucky there but replays show he caught him with his back.
44'   Barcelona counter. They've lost it and Liverpool attack.
43'   Vidal launches himself at a shot by Robertson. Looked like handball but it's out for a corner instead.
42'   Shaqiri clips one into Mane and he nearly gets there. Piqué gets a foot to it and back to Ter Stegen. So close again.
39'   Robertson back up now. 
39'   Mane races back and turns Messi from going towards goal, Liverpool win it back through a throw. Robertson hits the ground after colliding with Suárez off the ball. Looks like his ankle.
38'   Shaqiri sends a cross in after Mane's one is sent to the back post. Grabbed by Ter Stegen.
37'   Vidal catches Milner in the chest. Free for Liverpool. 
36'   Van Dijk rejects two crosses from Sergi Roberto. 
34'   Henderson has been absolutely brilliant. He wins it off Messi and Liverpool break. Mane pushed off it by Mane and no free. Looked the right decision.
33'   Origi puts it out for a throw. Since the goal, he has added almost nothing.
33'   Henderson is back up. 
31'   Took a knock from Lenglet. It looks like the right knee though. Doesn't look good for now but hopefully it's nothing for his sake. Wijnaldum warming up.
31'   Henderson down now after hurting his knee. He is in real pain here. 
30'   Lenglet back up but he's not entirely comfortable. He continues. Jordi Alba is fine.
30'   Lenglet and Alba collide and they're both down. Referee stops play and it looks like Lenglet is worse off here. 
28'   Liverpool want a free Fabinho checked by Coutinho outside the box and ref says play on. Messi clips it into Alba and it's put out for a throw. Dangerous again from Barcelona.
25'   Robertson cuts out a perfect pass over the top in search of Messi. That was top class defending and a lovely touch to send it back to Alisson.
23'   Mane down the left again. He cuts back and Robertson drives one at Ter Stegen saves!
23'   Another chance for Liveprool. Robertson cuts one back and Henderson shoots. It's headed up into the air and Barcelona survive.
21'   Suarez hits the ground now as Milner clatters into him. 
20'   Henderson launches into a challenge with Busquets and wins the ball and then on Sergi Roberto and he concedes the free. 
20'   Messi sends in the corner and it falls to Messi. His left-footed effort drags just wide.
19'   Barcelona have really improved. 
18'   Another chance. Messi breaks free and Coutinho shoots. Alisson saves and it's Barcelona back on the front foot. Alba sends it across to Vidal and it's out for a corner. 
16'   Van Dijk nicks the ball off Messi. Barcelona are through on goal! Alba could have just slotted it home but instead passes to Messi and he tries to round the defender. That was the game, ladies and gentlemen! 
15'   Barcelona exert some control on this one now. 
14'   Lovely pass out to the left by Vidal. Cuts inside from Coutinho and Messi lashes it over with his left. It was on target but saved by Alisson.
13'   Barcelona try to take control and Piqué passes back to Ter Stegen. Liverpool want it back.
13'   Game finally calms down for a minute. 
11' Yellow now for Fabinho a he slides in on Suarez. Fairly meaty one from the Brazilian.
10'   Mane skips by a challenge and he wants a penalty. Roberto caught his leg but referee says no chance. 
10'   Another mistake as Origi nearly jumps it. Ter Stegen remains cool.
8'   Fabinho told to calm down. 
8'   Fabinho and Suarez fighting now. The Brazilian wants him to take the corner quickly and Suárez tells him to slow down. 
8'   If any team can do this, it's Liverpool.
7' GOAL! GOAL! GOAL! Origi with the finish. Alba with a poor header back to Lenglet and Henderson jumps in front of it. He strikes, Ter Stegen saves and it's onto Origi, who finishes. 
7'   Corner whipped in and it's cleared by Barcelona back to Alisson. 
6'   Mane down the left and Vidal comes back to help out. Corner! 
4'   Ball down to Ter Stegen and he grabs it and calms it down. They work it out but in a risky manner. Liverpool win it back and then Ter Stegen picks it up again. Liverpool squeezing the life out of them.
3'   We have some agro. Messi hit the ground from that challenge and Robertson pushed his head while he was on the ground. Highly unneccesary from the defender.
2'   Straight up the other end and Mane pulls it back to Shaqiri and he mishits it. Almost falls to Henderson and it's out for a corner.
1'   Messi races towards goal and he is taken down. Ref says they got the ball.
1'   We are underway. Suárez booed as he kicks off.
    We are ready for the game now as the atmosphere really heats up.
    You'll Never Walk Alone rattling the rafters at Anfield.
    We are almost ready for action. Barcelona have done their pre-match huddle and headed back inside for one last pep talk before hitting the field. 
    Messi has scored seven in 15 on English soil. Has scored two on Spurs, City and Arsenal and one against Chelsea.

    Van Dijk starts despite missing training and being somewhat of a doubt heading into the game.
    Liverpool bench: Mignolet, Wijnaldum, Lovren, Gomez, Sturridge, Brewster, Woodburn.
    Liverpool XI: Alisson; Alexander-Arnold, Matip, Van Dijk, Robertson; Fabinho, Henderson, Milner; Shaqiri, Origi, Mane.
    Barcelona bench: Cillessen, Semedo, Umtiti, Vermaelen, Arthur, Aleñá, Malcom.
    Barcelona XI: Ter Stegen, Sergi Roberto, Piqué, Lenglet, Alba, Busquets, Vidal, Rakitic, Messi, Suárez, Coutinho.
    Klopp admits Liverpool have to be perfect tonight. 

    As if things couldn't get any worse for Liverpool, they have Salah and Firmino robbed from them. Van Dijk is another doubt for the game. We will have team news coming soon.
    Hello and welcome to out live online coverage of Barcelona's trip to the cauldron that is Anfield as Liverpool hope for a miracle. Kick-off is at 21:00 CEST.
Liverpool vs Barcelona live online: preview
It's mission highly improbable for Liverpool at Anfield on Tuesday night as they welcome Barcelona after being shredded apart by Lionel Messi and co. last week in the first leg. Their former hero, Luis Suárez, scored the opener before Messi scored a quick brace to leave the Reds' hopes of making a second consecutive final hanging by a thread.
Liverpool
Klopp says Liverpool will have to be perfect but admits that to beat Barcelona by three goals is a huge task especially given the absence of Roberto Firmino and Mo Salah, who suffered a concussion at the weekend. Jordan Henderson also admits that Liverpool are not stupid and knows they need a miracle. Divock Origi and Xherdan Shaqiri could replace the pair and if anyone can rattle off a couple of quick goals, it is Klopp's team, but to keep Barcelona scoreless with Messi in such fine form does feel like a bridge too far even for a side as good as this Liverpool one. Virgil Van Dijk is another injury doubt having missed training on Monday as Klopp's outlook ahead of the game is grim. It also gives them a 'nothing to lose' outlook as the German says it will be a festival filled with fighting spirit on Tuesday night.
Barcelona
Barcelona are without Ousmane Dembele, who will likely miss the rest of the season, after suffering a muscle injury against Celta Vigo. He was unlikely to start but his speed could have really hurt Liverpool on the counter. Instead, Valverde is likely to go with Coutinho on the left. That will mean two former Anfield fan favourites will start in attack for Barcelona although Suarez says he won't celebrate if he scores on the night having wheeled away in delight after his first at Camp Nou. From the get go, they have been intent on winning the Champions League having endured watching Real Madrid pick up the trophy for the last three years in a row. They have a chance to move one step closer to recapturing the title for the first time since 2014-15 when they beat Juventus in the final.