Zidane wants to bring Achraf back early from Dortmund loan
Real Madrid's coach has been impressed with how Achraf has fared at left-back and sees him as the ideal alternative to Marcelo. His loan contract could be a problem.
Zidane continues developing his proyect for the new-look Real Madrid and one thing he is convinced about is that he urgently needs a player who can provide competition for Marcelo at left-back. He has asked the club if it would be possible to recoup Achraf Hakimi who is currently out on loan at Borussia Dortmund - the only problem is that the Moroccan defender is still only halfway through his loan arrangement. He is due to return to Madrid next summer by which time he will have just one year left on his contract. If the operation goes ahead as Zidane hopes, it would effectively open the door to Theo, who would be sold to another club, and also to Sergio Reguilón, although he is more likely to go out on loan or be sold with a buy-back clause. Reguilón has enjoyed a decent debut season and hasn't lost hope of persuading Zidane he deserves a place in the squad.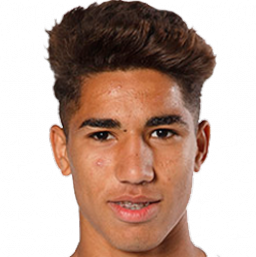 Dealing with Dortmund
Achraf's contract is a stumbling block for Zidane: Dortmund want the 20-year-old Morocco international to see out the final year of his loan deal and the German club doesn't have an option to buy him outright when the loan comes to an end - nor is their clause which would permit Madrid to terminate the loan after the first year. So if Madrid are to recover Achraf, they would need to reach an agreement with Borussia Dortmund, and that will not be easy. If that doesn't make Zidane's task hard enough, Dortmund are hoping to buy Achraf when his loan expires next summer. Fortunately for Madrid, they enjoy a good relationship with the German side although for the time being, the player is keeping his options open.
Able to play on either wing
Despite being a natural, right-sided defender, Achraf has spent most of the season at left-back - a position he also occupies with Morocco. He has not only adapted to the left-back role with ease - he has flourished playing on the opposite flank and being able to fill in on either wing is an asset as far as Zidane is concerned, even if he already has three players: Carvajal, Odriozola and Militão competing for the right-back place.
Over 1,000 minutes playing time
For everyone concerned, Madrid, Dortmund and the player himself, Achraf's loan has been a great success - although he did succumb to injury late on in the campaign. After barely being used at the start of the season, he gradually won a place in the side after veteran left-back Marcel Schmelzer fell injured. He quickly settled into the position, making three appearances in the Champions League and 14 outings in the Bundesliga. In the league he has scored three goals and dished out seven assists before his season was cut short by a fractured fifth metatarsal in his right foot, which required surgery.