Moura hat-trick leads Tottenham to stunning comeback against Ajax
Tottenham produced an incredible second half to turn the tie around from 3-0 down and go through on away goals. Lucas Moura bagged all three, with the last coming in the 96th minute.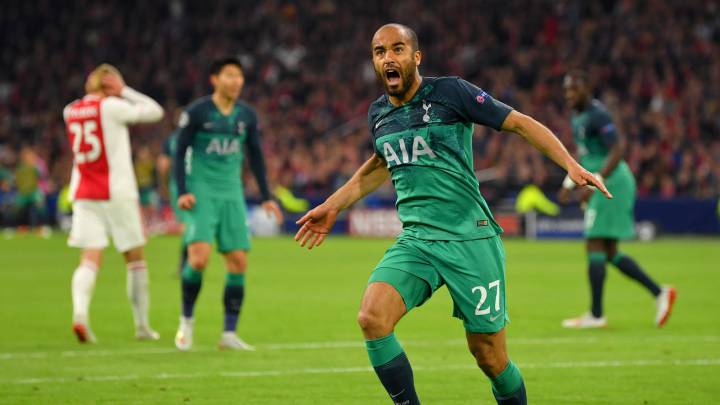 Ajax 2-3 Tottenham Hotspur: match report
Spurs stunned Ajax on Wednesday night in what was the most astonishing comeback in the Champions League since Liverpool hit Barcelona for four 24 hours earlier. The story here is Spurs' refusal to lie down and their final meeting with Liverpool but it's also how both teams got there. In a day's worth of football, we saw two of the most astonishing comeback in the history of the competition.
Ajax took a 2-0 lead in the first half but Spurs fought back with Pochettino bringing on Fernando Llorente to switch things up having watched his side fail to make an impact in the penalty area in the opening 45.
Coming into the game a goal down, Spurs knew they would have to score at least one. That total doubled when De Ligt headed home from a corner when he lost Kieran Tripper after five minutes.
After coming into the game through Dele Alli's direct running and Son's slippery runs in the final third, Ajax hit them again. This time it was Ziyech with a clean strike beyond Lloris after Tadic fed him the ball from the left.
Pochettino acted at the break by bringing on his big Basque striker. And Spurs almost immediately improved. They had the first of the three they needed when Lucas Moura finished of a flowing move. Rose nutmegged De Ligt and played it forward to the eventual goalscorer, who tappied it onto Alli.
Alli played it back to Moura and suddenly there was hope. Not bundles of it but it was something to hold onto.
Moura had his and Spurs second after 59 minutes when Trippier sent a cross into the area low and hard. Llorente couldn't finish and when Onana went to grab it, Schöne got in his way. Moura capitalised and he wriggled free to drive home to compound the hope Spurs were feeling.
A valiant effort but a losing one, it felt like, as time ticked away for Spurs. Lloris went up for a corner late and Ziyech hit the post which would have ended Spurs' insurection.
And as the fifth minute of injury time arrived, it was Moura who recieved the ball again from Alli after Llorente had tipped it on. He drove the ball into the net and in the same move wheeled away before being mobbed by his teammates and subs and anyone else who found themselves in the vicinity with a Spurs bent.
Ajax, the darlings of the Champions League, were left sprawled on the ground, in tears and out of the Champions League. Pochettino was in tears too as he struggled to contain himself and believe what he had just seen.
Next stop for this Ajax team is unknown as they are likely to be picked apart by clubs with a lot more money than them in the coming weeks after capturing the hearts and mind of football fans all over the world this season with their unlikely run to the last four. Next stop for Spurs, however, is Madrid where they meet Liverpool in an all-Premier League final.
Ajax - Tottenham Hotspur live online: match updates
90'+5'   What a finish.
90'+5' IT'S OVER! 
90'+5'   Llorente touches it down to Alli and he plays it to Moura, who played it out to Moura and he drives it home.
90'+5' GOAL! GOAL! GOAL! Lucas Moura finishes. What a finish. It's over and Spurs are through.
90'+5'   MY GOD!!!!!!!!!!
90'+5' Yellow for Onana for time-wasting.
90'+4'   Llorente heads it over the bar.
90'+4'   Eriksen shot. Blocked and out for a corner. Lloris up for the corner.
90'+3'   Shot from Ziyech is saved by Lloris and Tadic shoots from the rebound. Miles wide. 
90'+2'   They make a mess of the short corner and it's out for a goal kick.
90'+1'   Tadic breaks and feeds it to De Jong. Wrong option by the midfielder gets a foot to it and it's out for a corner.
90'+1'   Five minutes of added time. 
89' Magallan on for Van de Beek.
88'   Eriksen sending a free in. He's way out but they need to send the ball into the box. 
87'   What a chance. Maybe that was THE chance.
87'   He was free! There was a scuffle in the box and Alli and an Ajex defender ended up on the ground. 
86'   Vertonghen misses a clean header. It hits the post and comes back to him and he misses again. 
86'   Son takes it in the penalty area and shoots. Blocked and deflected out for a corner.
85'   Spurs win it in their own penalty area and attack. Eriksen to Alli. 
84' Ben Davies caught Ziyech and he gets booked.
83' Ben Davies on for Rose.
82'   Eriksen crosses. Blocked out and Spurs on the attack again. Ajax look flat out of juice here.
81' Lamela coming on for Trippier.
81'   Ziyech with another foul on Rose. 
79'   Ziyech hits the post. Spurs survive another scare. They counter with Sissoko, who is dispossessed.
78'   Llorente catches Blind with an arm to the face. Free to Ajax as Blind grabs his jaw.
77' Rose involved in everything. He gets caught by Ziyech now and the Ajax man is booked.
75' Rose handles the ball and then he punches the ball away and gets booked. Very cheap yellow.
75'   Sissoko with a great run forward. He plays it out to the right to Moura and he cuts back to.....nobody. Well, nobody in a Spurs jersey. Ziyech offside from the counter and Spurs attack again.
74'   Alderweireld gets a header to it and he glances it just wide.
72'   Alli down the right and he runs out of options so he just kicks it out of the defender for a corner. The big hitters arriving on the scene.
71'   Cross comes and Lloris gets a weak hand to it. De Ligt drives it across the box and Lloris saves again nearly into the path of an attacker. Spurs survive.
70'   Ziyech chips one into the box. Tadic chests it down and it's taken off his toe by Trippier. Corner.
69'   Ziyech and Dele Alli get involved in a little skirmish. Alli kicked his ankle after he got the ball. 
67'   Change for Ajax. Dolberg on for Sinkgraven.
66'   Cross in from Trippier after a lovely move from Spurs again. ajax at sixes and sevens. Corner in the end for Spurs. 
64'   Another chance for Spurs. Out for a corner. That was another really good chance. Llorente's header from the corner and it's headed over by Llorente.
64' Veltman on for Schone.
63'   Ziyech with the effort now as it goes just wide. Ball sent in from the left and he hit it first time. So close. 
62'   Corner for Ajax. Ball falls to Blind and it's just over. Looked like Lloris got a touch to it but he didn't.
60'   All of a sudden, Ajax look very wobbly. 
59'   The referee has a check but says we are good to go!
59' GOAL! That was the craziest goal possibly ever. Ball Trippier with the pass across to Llorente, who should finish but doesn't. Moura wins it back and does a little dribble before striking it home. What a finish! 
56' Moura with the finish! Rose with a lovely nutmeg of De Ligt and Alli plays to Moura, who finishes just lovely. 
55'   Spurs' best chance of the game. 
54'   Alli with the shot. Ball whipped in from the left and it bounces up lovely for him. He fires it at Onana and it's saved and out for a corner. 
52'   Eriksen sends it in. Headed out at the front post.
51'   Cross in from the right and it's headed out for a corner. Llorente offering a threat up front now but Spurs need to be careful not to put all of their eggs in that basket.
50' Rose is caught late by Dolberg and he gets a booking. 
49'   Rose with a nice run forward but his pass inside is dreadful. That's really disappointing from a promising position.
47'   Spurs corner comes to nothing and Ajax counter. That comes to nothing too. 
47'   Corner for Tottenham. Alli to take... no wait, he's not. Eriksen comes over as Alli moves inside. 
46'   Spurs need a quick goal here! 
46'   We are back underway! 
Wanyama off for Llorente is confirmed.
Llorente out warming up.
45'+2'   That's it for the first half. 
45'+1'   Ziyech fouls Rose and he hurries to get the ball back. Ball sent in by Alderweireld and Onana grabs that one. Nowhere near good enough.
45'   We will have two minutes of added time. 
43'   Another free for Ajax. Ziyech stands over it and sends it in. Out for a corner by Sissoko.
42'   Lloris pass out from the back is cut out and Ziyech passes forward for Mazrouai. Too much speed on that one too.
40'   Spurs need a response. They haven't been able to muster anything up yet.
38'   Spurs win a succession of throws on the left. They're really struggling to get the ball into the box.
35' WHAT A GOAL! Ajax, who have been slightly stunted by Spurs more recently, unleash a lethal attack and Ziyech slams it home. Tadic passes it to him after recieving it down the left and cuts back inside to his teammate and he slams home.
34'   Moura tries to get a run on Blind but the defender wins it back and Ajax attack. Blind pass inside is blocked by Eriksen and Spurs attack. 
32'   The referee getting his microphone taped to his back again. A slight technological malfunction but we are ready for action again.
31'   Tadic with the first Ajax attack in a while. He gets around Alderweireld and strikes from a tight angle. Just wide! Wanyama down injured as he lost the ball earlier in the move. 
28'   Corner is headed up into the air and Moura strikes. Ambitious. He sends it a mile and a half wide.
28'   Alli, who has been really good so far, finds Son out wide. His cross can only find De Ligt though. Spurs back on the attack and Rose wins a corner.
27'   Ajax fans want the ball back as they whistle Spurs' possession.
25'   Trippier is limping and doesn't look entirely comfortable. He plays on for now.
24'   Spurs picking it up. Moura with the pass back after a decent run. Eriksen shoots and it's into Onana's chest.
24'   Much better from Spurs. Alli plays it into Son and he finds some space before poking one towards Onana. Lovely pass.
22'   Son shot from outside the box is blocked and Ajax clear. Spurs being forced into those kind of shots. They haven't had many touches in Ajax' penalty area as Ten Hag has this one well planned out so far.
21'   Spurs counter and Eriksen's pass inside finds Son but he is dispossessed. Ajax do well to break up that fairly dangerous looking counter but Son might have been header nowhere. 
20'   Another foul by Sissoko. He has to be really careful. Van de Beek the victim this time. Chance for Ajax to whip on in as Schone lines it up.
19'   Ziyech with a nice idea. He looks for Tadic, who has made a move down the left but it's way too heavy a pass. 
18'   Ajax soaking up the pressure well and playing some nice football when they get the chance. 
16' Sissoko launches himself into a challenge on Tagliafico, who had went to ground too, and he gets himself a booking.
16'   Dolberg catches Vertonghen and it's a free to Spurs. 
14'   Spurs taking charge of the ball now. They haven't really troubled Onana yet though.
13'   Eriksen clips one inside and Moura heads it back up into the air as Onana grabs it.
11'   Ajax on the attack again. Tagliafico inside and it's back out to the left. Cross comes in and Rose chests down to Lloris.
10'   Dele Alli moves forward and De Jong slides in. Eriksen passes to him this time and he's offside. Not a bad effort though. Replay shows he was just off.
9'   Into the back post and Alli sends it back towards goal but Ajax get it away.
8'   Blind fouls Sissoko as he collapses grabbing his thigh. He's back up as Eriksen lines it up. 
6'   Son down the left and strikes. Nobody was expecting it and he hits the base of the post. It comes back out to Eriksen and he can't get a strong foot to it. 
5' GOAL! Just like that and De Ligt heads home. He rises above everyone and nods home. Trippier lost him.
4'   Tadic arrives down the left and cuts inside. He shoots and it takes a deflection off Trippier. Lloris pulls off an excellent save. Out for a corner.
3'   Ajax building nicely. They have a chance now as Van de Beek strikes but it's blocked. Spurs counter and lose it. All Ajax so far.
2'   Onana with with the ball out to the wing and it's out for a corner. Spurs back in possession. 
1'   We have a very late change. Kasper Dolberg will replace David Neres in Ajax's starting line-up.
1'   Spurs set to kick us off. And they go just that. We are underway!
    Teams are in the tunnel, chatting about some last minute tactics, and ready for action! 
    Ten Hag's comments before the game: "During the last hour [of the first leg] we did good things; the organisation of the team in defence was excellent. We need to do more in an attacking sense. We have to read the game and see what's required and that's the challenge.The away goal was important last week. We will play in an arena with an incredible atmosphere and we hope that will help us. When you play against a Premier League team, the intensity is higher. We will have to push our boundaries again."
    Spurs form: LLLWLLWWWL
    Ajax's form: WWWWWWDWWW
    The only change for Ajax is Veltman out and Mazraoui is in at right-back. 
    Spurs line out as expected. Vertonghen returns after suffering a nasty head injury in the first half last week. He was replaced early by Wanyama as Pochettino was forced into a change. 

    The official Champions League website have Schöne and De Jong versus Eriksen and Sissoko as the key battle. Here's what they say about it: "Schöne and De Jong shackled Eriksen in the first leg, and allowed Ajax to impose their devastating combinations going forward – Schöne played a key part in Donny van de Beek's goal. The introduction of Sissoko, however, allowed Spurs to put the brakes on the Dutch club's lightning midfield transitions and build some forward momentum of their own."
    Ajax XI: Onana, Mazraroui, De Ligt, Blind, Tagliafico, Schöne, Van de Beek, De Jong, Ziyech, Tadic, Neres.
    Spurs XI: Lloris, Trippier, Alderweireld, Vertonghen, Rose, Wanyama, Sissoko, Eriksen, Dele Alli, Lucas, Son.
    Linked with Bayern, Erik ten Hag is suddenly among Europe's hottest coaches. But how has he masterminded Ajax's Champions League campaign?

    Hello and welcome to our live online coverage of Ajax versus Spurs in Amsterdam. The hosts hold a 1-0 lead but Pochettino and co., with nothing to lose, are likely going to come out all guns blazing on Wednesday night!
Ajax vs Tottenham Hotspur live online: preview
Ajax and Tottenham Hotspur square off to see who will join Liverpool in the Champions League final at the Wanda Metropolitano in June. Ajax carry a slender lead into the tie after winning 1-0 at the Tottenham Hotspur Stadium last week but have reinforcements back in the shape of Heung-Min Son and Jan Vertonghen seems to have recovered from his head injury suffered in the first leg that forced Pochettino into an early substitution and rejigging of his tactical system.
Ajax will likely stick with the same eleven they went with in London. They had plenty of success during that game but did suffer a little bit in both halves once Spurs got to grips with them. That didn't stop David Neres from rattling one off the post that would have given their opponents a mountain to climb in the second leg. They had oodles of talent and play an attacking game, which has been the talk of Europe this season, so it should be open and exciting. Manager, Ten Hag, says they don't need any motivation tonight as they look to make their first European final since 1996.
Pochettino still doesn't have Harry Kane or Harry Winks and is without Davinson Sanchez also for the game. He does have Son back, however, who scored early against City and set the tone for the game. They lost to Bournemouth at the weekend but all eyes are on the Champions League. The Argentine admitted that he might have to consider his future if they were to win the competition and also admitted that saying no to Real Madrid was difficult when they came knocking. If he manages to get to the final against Liverpool and win it, he could have his pick of club.