Dortmund not backing down over Achraf: "He's staying here"
Zidane has asked that Achraf be called back to play at full-back but Borussia Dortmund's Michael Zorc was conclusive in his assessment of that possibility.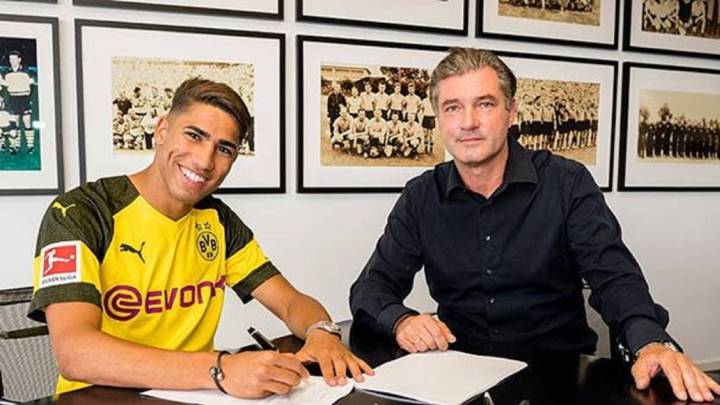 Real Madrid, at the insistence of Zinedine Zidane, want to try to bring Achraf Hakimi back to the Santiago Bernabéu this summer. The manager has been watching his development in Germany and believes he is ready to contribute in his squad for the coming season as he tries to build competition for Marcelo at left-back.
The Moroccan has played well at left-back this season but also offers an option on the other side of the field. Zidane wants a solid defender, which Achraf is, with a propensity to attack and he believes the youngster has the perfect balance between the two. Sergio Reguilón, who looked like he might usurp Marcelo in the long term with a strong run under Santiago Solari, will likely leave on loan although he wants to stay and fight for his place in the team.
Madrid face the obstacle of Borussia Dortmund, however, who they loaned him to until the end of the 2021 season. There is no clause to cut the loan off and no option to buy the player and the Bundesliga have all the cards to win the fight. They have expressed a desire to buy the player at the end of the loan but that is a discussion for further down the line.
No chance of Achraf return
Michael Zorc, the sporting director for the German side made it clear what he thinks about the possibility of Achraf going back to Real Madrid this summer. "I think it's outside out of the question. We have had contact, his representative was here for a visit. There is no scenario in which he is not playing for Borussia Dortmund next season."
In fact, Zorc announced on Thursday that the defender landed in Germany to see the last game of the season for his side. He is recovering frm a right foot injury in Spain but will watch Dortmund versus Fortuna Düsseldorf in the final home game of the season on Saturday.