Christian Pulisic to say goodbye to Dortmund after five years
The US midfielder closes the Germany chapter of his life and, en route to England, opens the next one as he joins Chelsea and the Premier League.
It's been five years, five years since a young boy made a drastic change leaving his family and friends behind to one day fulfill a dream. At 15, Christian Pulisic arrived in Germany, at Dortmund's Signal Iduna Park, where he learned the beauty of soccer, a place he now says goodbye to as a man, on and off the pitch.
The US international will play his last game in black and yellow, his final game as part of Borussia Dortmund's squad, on Saturday, May 11 against Düsseldorf. He will say goodbye to the 'yellow wall', putting an end to a team that embraced him as a child, and where he has spent the best years of his life.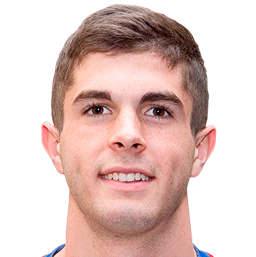 Pulisic, now 20, will look forward to a new challenge, a new team, a new city, and a new country, and as of next season he will be part of Chelsea. A move to take a step up in his career and to fulfil an ambition - the Premier League is the next step.
"I can still remember when a teacher at school asked me what I wanted to do; I was 13 or 14. I said that I wanted to be a professional footballer. She said that chances were very slim for that to happen. I answered by saying that I'd come back in seven or eight years, and we'll talk again then. I'm excited to do that; I definitely want to do it," were Christian Pulisic's words in an interview with Ruhr Nachrichten agency.
Borussia Dortmund
BVB became the ideal place for Pulisic to learn how to achieve his ultimate goal of being a professional footballer, arriving in Germany with nothing but a dream.
"I've always been given huge support here, it all started with the coaches — First Hannes Wolf, who always helped me. Then Jürgen Klopp, who was always very caring. Just like all the coaches in the first team. My teammates all took me on board as well. It always gave me such a good feeling."
Saying farewell
Because of the bond that joins Dortmund and Pulisic, his farewell on Saturday won't be an easy one.

He described it as "painful" and said that it will probably hit him when they reach the stadium, where the final home game of the 2018/19 season for Dortmund will be played; for him, the last game in a place he has been calling home.
"I think there will be quite a lot of emotions involved. That won't be easy at all. It's the best stadium I've ever played in. I'm going to miss that atmosphere. It's hard for me to explain. Even when I see the Südtribüne today, I just think 'how crazy is that' they are just amazing. But most of all, though, I'll miss the people in Dortmund. It was the best five years of my life," Pulisic concluded.