PREMIER LEAGUE
Liverpool finish second despite victory over Wolves
Sadio Mané's double earned a 2-0 Liverpool win at Anfield, but Man City's victory in Brighton denied the Reds the title.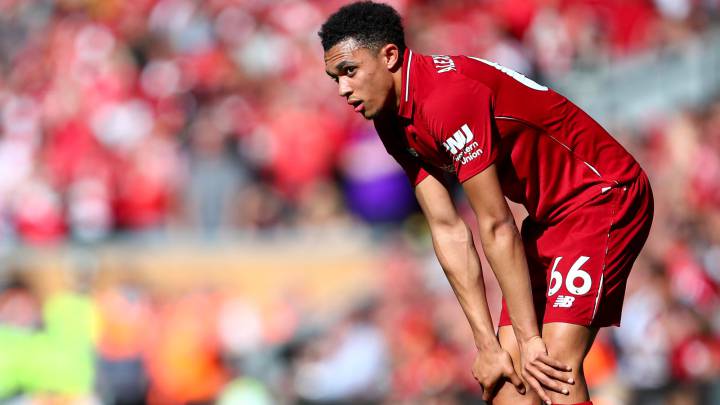 Liverpool 2-0 Wolves: match report
Liverpool's 29-year wait for a league title will continue after they had to settle for runners-up spot behind Manchester City despite Sadio Mane scoring twice in a 2-0 win over Wolverhampton Wanderers on the final day of the Premier League season.
The victory for Juergen Klopp's side on Sunday became irrelevant to the title outcome as City won 4-1 at Brighton & Hove Albion to ensure their second straight league crown.
It will be hard to stomach for Liverpool after such an excellent campaign but Klopp's men, beaten just once in the Premier League this season, finished one point behind City with 97, a record total for a team coming runners-up.
The midweek drama of Liverpool's 4-0 win over Barcelona, ensuring a place in the Champions League final on June 1 against Tottenham Hotspur, removed much of the sense of disappointment from the day which ended with a lap of honour from the Liverpool players and their families.
But the day began with the possibility that a first title since 1990 could be secured if a remarkable week of football ended with another upset, this time at Brighton.
Liverpool certainly played like they believed that could happen, especially when Mane put Liverpool ahead in the 17th minute, meeting a low cross from Trent Alexander-Arnold and sweeping home from close range.
News of Brighton taking the lead against City, brought inevitable roars from the crowd and even with Pep Guardiola's side quickly replying, for 21 minutes until City got in front, Liverpool were temporarily in the top spot.
But as news of their rivals' progress at Brighton filtered through, Liverpool's intensity gradually faded.
Wolves keeper Rui Patricio was alert to keep out a 20-metre blast from left-back Andy Robertson and Mohamed Salah volleyed over the bar from the edge of the area.
But after the break, it was the visitors who looked the more likely to add to the scoring, with Matt Doherty hitting the bar and, in the 69th minute, Liverpool goalkeeper Alisson having to react quickly to foil Diogo Jota after a ball over the top
Liverpool eventually made sure of the win when Mane added his second in the 81st minute, again assisted by Alexander-Arnold whose deep cross was nodded home by the Senegalese at the back post.
Liverpool strikers Salah and Mane both ended the season on 22 goals, sharing the 'Golden Boot' award with Arsenal's Pierre-Emerick Aubameyang.
Liverpool 2-0 Wolves live online: as it happened
90' GAME OVER! Manchester City beat Liverpool to the punch and seal the Premier League title.
88' Wijnaldum off to applause as Oxlade-Chamberlain.
84'   Van Dijk nearly ends it completely with a looping header that comes off the post. 
82'   Ball deliver into the box from the right by Trent Alexander-Arnold. 
81' Mane with the header. A lovely glancer to give them a 2-0 lead. 
80'   Adama Traore comes on for Wolves. 
72'   Liverpool haven't had a shot on target in the second half. They've been flattened by the game in the middle of the week and the City result. Obviously they've been briefed on the score and know they'll be pipped at the post.
69'   The final day turning into a bit of a non-event.
65'   Ball out to the right again and it falls to Raul Jimenez. He hits it but slices it badly wide. Poor effort. 
65'   Mahrez pretty much hands the title to City.
64'   Mane inside and it bounces nicely to Origi. He blazes over with the help of a deflection.
63'   Cross whipped in from the right and it can't find the target. A couple of Wolves players in the box as Liverpool counter.
61'   Milner coming on for Liverpool. 
59'   Liverpool comfortable here. Looks like the drama won't be happening at Anfield today. Whatever about it happening elsewhere. 
53'   Wolves knocking on the door. Effort comes in from Jonny and it's blocked. Backheel by Raul Jimenez is into Alisson's chest.
48'   Yellow card for Jota as he fouls a couple of Liverpool players in a row right under the ref's nose. 
46'   We are back underway at Anfield! 
45'+1'   And it does! Ref blows for half-time and Klopp races into the dressing room.
45'+1'   Wolves attack breaks down and Liverpool win it back. That should do it.
45'   We will have one minute of added time.
45'   Moutinho sends the ball in and Liverpool manage to get it away.
45'   Cross in from the right and it's headed up into the air and away for a corner.
44'   What an effort. Ball inside and Jota sends it out to the right before Doherty slams it off the crossbar. Alisson was at full stretch. Wolves improving before the break.
41'   Liverpool still need to hold up their end of the bargain and they are. Liverpool fans break into song. 
38'   Laporte gives City the lead. Title out of Liverpool's hands.
37'   Wijnaldum back tO Mane and he searches for Henderson. Throw for Wolves as that is completely overhit.
36'   Ball crossed in and Raul Jimenez gets a head on it but it bobbles kindly to Alisson. 
34'   Corner is headed up into the air and Salah hits it on the volley. Nicely struck but it's over the bar.
33'   Mane crosses and Coady puts it out for a corner with his chest. 
31'   Mane wins a throw. Coady tries to bundle him out of the way but he's strong and wins the throw in.
29'   It's all gone very tame here. 
29'   Okay, City have equalised. Aguero.
29'   Liverpool are winning the Premier League as it stands.
27'   GOAL for Brighton.
27'   That was fun for a couple of seconds. 
26'   Everyone's going nuts at Anfield! They think Brighton have scored but it's a false alarm.
24'   Liverpool really comfortable on the ball. Lovely move by Fabinho into the box and it makes its way out to Robertson. His effort stings the gloves of Rui Patricio and bounces out to safety. Lovely strike.
23'   Manc City ansd Brighton still drawing for now. 0-0.
22'   Dendoncker with the cross into the box. Alisson wins it and clears up the field to Salah. Mistake at the back as the Egyptian races in on Rui Patricio, who grabs it first. 
20'   Salah with the ball in the box and he has it nicked off him before Robertson wins it back. Salah tries to take it back of Robertson and they lose it. The left-back is not happy with his teammate and rightly so. He was in the better position.
19'   AS IT STANDS!!! Liverpool are winning the Premier League.
17' GOAL! That goal was coming. Mane finishes from a cross. Cross in from TAA is deflected into his path. 1-0.
15'   Wolves haven't threatened Alisson at all. 
15'   Wolves battling back into this but everything happening in the middle of the field so far. 
12'   No real chances though at the moment.
12'   Origi presses Rui Patricio. He clears up field and Liverpool win it back before sending it down towards him again. Liverpool really are dominating completely here.
11'   Fabinho kicks Raul Jimenez with the ball in the air. Free for Wolves and a breather for them.
10'   Origi wins another free as he is pulled back after winning the ball on the wing. Free for Liverpool as Henderson gets ready to launch it into the box.
9'   Ball into the box and it's just behind Mane. He records and pokes it backwards in the general vicinity of Henderson but he can't reach it. Liverpool keep it though. They are dominating this.
8'   Liverpool starting to increase the pace here.
6'   Really nice turn by Origi and he frees up Salah down the right. He has to turn back and Fabinho's cross is too deep.
5'   Van Dijk fouled by Raul Jimenez and Liverpool take the free quickly only for Origi to be called offside. Klopp not happy with the sloppiness. 
4'   Long ball down to Origi and he does well to take it down on his knee before striking into Rui Patricio's arms.
2'   Liverpool take the ball up the field. They're probing early on.
1'   We are underway at Anfield! 
    We are just under 10 minutes away from action. The teams are back in the dressing room and getting one more team talk before we get underway!
    Divock Origi has just 11 starts in the Premier League this season. He started last week against Newcastle and scored and then scored the most important goal, or one of them at least, in Liverpool's European history. He starts again as his influence and status continues to grow at Liverpool.
    Follow Rob's live feed over here as he guides you through the Brighton versus City game.
    Salah with the chance to put this into action today. But it's all down to the Brighton and City game really provided Liverpool do win.

    Wolves XI: Rui Patricio, Doherty, Bennett, Coady, Boly, Jonny, Dendoncker, Neves, Moutinho, Raul, Diogo Jota.
    Salah is back in but Firmino misses out once again.
    Robertson starts after being taken off midweek. Wijnaldum also gets the nod from the start too after his double against Barcelona having come off the bench. 
    Liverpool XI: Alisson, Trent, Matip, Van Dijk, Robertson, Fabinho, Henderson, Wijnaldum, Mane, Salah, Origi.
    13 games won in a row by City and the only game Liverpool have lost this season is against City. They have been phenomenal.
        Liverpool have to manage the emotional aspect of things after that crazy game during the week, says Klopp.

    Hello and welcome to our live online coverage of Liverpool vs Wolves in the Premier League's final game of the season! There are games elsewhere but the big two are City and Brighton and Liverpool and Wolves. Kick-off is coming at 16:00 CEST and we will have team news and build-up coming your way beforehand.
Liverpool vs Wolves live online: preview
Lightening never strikes twice in the same place but with this Liverpool team under Jurgen Klopp and their ability to make it rain goals, nothing can be completely ruled out. On Tuesday night, Anfield witnessed what many say was their best night in Europe ever after they trounced Barcelona so convincingly that they have forced the Spanish club into an existential crisis. Four goals was exactly what they needed on that night but just one will do against Wolves on Sunday in the final game of the season. They will be, however, relying on goals, or a lack of them, elsewhere to clinch their first Premier League title ever and their first league title in 29 years. Manchester City travel south to Brighton where they will be hoping and needing Chris Hughton's side to take something from the game.
Mohamed Salah and Roberto Firmino should return to boost Liverpool's chances after missing the heroic comeback midweek. Divock Origi and Xherdan Shaqiri replaced them on that occasion but the pair will be rested and ready to carry Liverpool's slender Premier League hopes on their back. Andy Robertson is considering questionable after suffering an ankle injury against Barcelona when he had to be removed at half-time. Naby Keita is out after injuring himself in the first leg of the Barcelona tie as his season is over.
Wolves have nothing to play for aside from pride and the chance to play a part in the proceedings. They are sitting seventh with not chance of moving up or down the table after accumuating 57 points on their return to the Premier League. They have no injury concerns but Nuno Espirito Santo could opt to give younger players the chance to experience the hustle and bustle of the league ahead of next season.