City hit four in Brighton to pip Liverpool to league title
Goals from Sergio Agüero, Aymeric Laporte, Riyad Mahrez and Bernardo Silva cancelled out Glenn Murray's opener as City retained the Premier League title.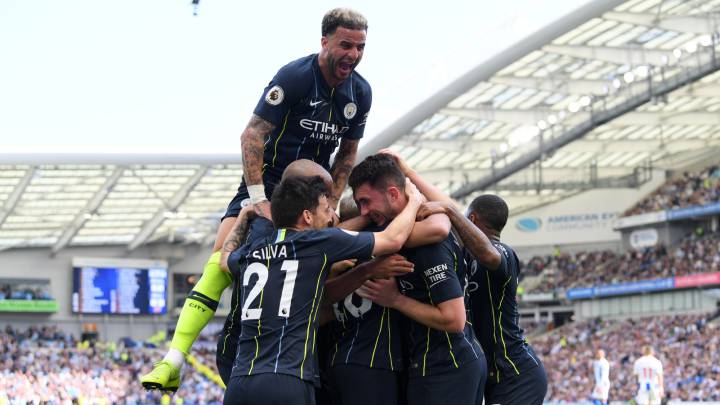 Brighton 1-4 Manchester City: as it happened
90'+2' Game over at the Amex. City win 4-1 to secure back-to-back Premier League titles for the first time since Manchester United a decade ago. Ole Gunnar Solskjaer's side, meanwhile, slump to a 2-0 defeat at Old Trafford against already relegated Cardiff. That's how big the gulf has become. 
90'+1'   Tick tock, tick tock... the whistle goes at Anfield. Ederson, for some reason, indulges in a spot of time wasting... and that's it! City retain their Premier League title! 
90'   Two minutes added. 
88'   Agüero! But the Argentinean won't get his moment in the sun here as he did so famously in 2013-14. he scuffs his shot and as it stands will miss out on the Golden Boot to Mané, Salah and Aubameyang, who all have 22 to Kun's 21. 
87'   Motion-going-through o'clock on the south coast now. Three minutes remaining, there won't be a lot added on. 
85' Another free to City as Otamendia prepares to come on for what will be his final game for City in all likelihood. Kompany goes off, handing the armband to Agüero. The Belgian is another who may have played his last game and the way he goes off hugging his teammates and Guardiola suggests that his final goal for the club against Leicester, which got City to this point needing just to win today, will go down in club history. 
83'   Meanwhile, City are just stroking it about now, Brighton still chasing balls but not with any real hope of turning this on its head. The champions are minutes away from retaining their title. 
80' An emotional substition for Brighton as captain Bruno, who has been at the club for seven years and will retire after this match, heads off, handing the armband over symbolically. The entire stadium rises to salute the Spaniard. 
78'   Sterling pickpockets the Brighton screen and plays in Agüero, who charges into the area, rides a couple of challenges and is eventually floored, but no illegally says the ref, to the Argentinean's disgust. He'd have fancied a penalty there. 
76' Agüero and Duffy both down in agony after an accidental clash in midfield. David Silva the man to make way for the Belgian trickster. 
75' Here comes Kevin de Bruyne... 
72'   The Germany international steps up and curls an absolute pearler past Ryan and into the far corner! There was no stopping that! And there's no stopping City now either. That is game, set and match whatever happens in Anfield. Brighton need three in the final 17 or so minutes to level this up.  
71' Gooooooooooooooooal! Gündogan! What a strike! 
71'   Free kick to City on the edge of the area... 
69'   Zinchenko fancies getting his name on the score sheet but he'd have needed a Kompany-type hit to beat Ryan from there. As it is he doesn't even beat the nearest defender and it ricochets out to safety. 
67' Double change for Brighton. Jahanbakhsh and Murray make way. Locadia and Andone on. 
66'   City have got the bit between their teeth now and Gündogan lets rips from outside the area, high and wide. 
65'   There are still 25 minutes to go in the Amex but it is difficult to see Brighton pulling two goals back. As we've seen in the last couple of weeks though, never say never... 
63'   The Algerian, who has been on the periphery for much of the season, hammers an absolute beauty past Ryan from the edge of the area and that could well be the goal that seals the title! 
63' Gooooooooooooal! Mahrez! 
62'   City camped in the Brighton half now... 
61'   Sterling and Agüero combine on the left and Dunk is forced to intervene again as the ball is dinked into the area. Corner to City... 
60'   Sterling! The City winger, who has had an incredible season, finds himself in a position to put his side 3-1 up but rarely for the England man, he scuffs his shot and it's an easy stop for Ryan. 
58'   City adopting a more patient approach now, aware that possession is nine-tenths of a Premier League title. Keep the ball away from Brighton as much as possible is the order from the touchline. The home side have shown they can get at the City back four. 
56'   Brighton work the ball about nicely around the City half but the final pass if too close to Ederson and the keeper gathers with Murray looking to get his head on the ball. 
54'   Knockaert cranks up that left peg of his and finds Dunk unattended at the far post but the defender can't get guide his header on target. 
53'   Free kick to Brighton in mixer range as Walker commits a foul.... 
51'   Good work from Dunk at the back to get Walker's long throw under control and hoof it clear. Respite for Brighton. 
48'   These are crucial moments for Brighton and for Liverpool... a City goal early in the half could finish this and the title race off. If Brighton can keep it interesting until the 80th minute or so though... 
47'   City turning the screw early in the second 45 as a cross is aimed at Agüero. Duffy is there to thump it behind for a corner. 
46'   Mahrez powers forward and tries his luck but his shot is deflected. 
46'   We're back underway at the Amex! Is there another twist in the tale of this extraordinary Premier League season? 
45'+1' Nope. That's the half. 2-1 to City it remains and, as it stands, Pep Guardiola's side are Premier League champions. Join us for the second half after a word from our sponsors. 
45'+1'   Dunk with it and it's well struck, focring Ederson to tip over the bar.... will be there time for the corner? 
45'   Free kick in a very interesting area for Brighton, just outside the area, certainly worth a crack from here. It'll be the last kick of the half... 
43'   Brighton pushing for an equaliser before the break, but Mahrez does a bit of defending on his flan kand concedes a throw. City clear and thump it upfield to safety. No time for the old tiki-taka this, just whack it away and wait for the whistle. 
41'   City come again through Mahrez, who shows his speed to get away down the right. He pings it in, not sure oif it was meant as a cross or a shot, but it winds up thwumping into the gloves of Ryan at his near post. 
39'   Pep's taken his cardie off. We're getting serious now. 
37'   That was a nice run from the City defender, who arrived on the edge of the six-yard area to meet Mahrez's corner completely unmarked. He makes no mistake and buries a header past Ryan. 
37' Gooooooooooooooal! Laporte! 2-1 City
36'   Uffffff. A horrible mistake by Duffy gifts City a chance but Ryan blocks Bernardo Silva's shit at the near post. 
35'   Taken short, swung in by Gross, met by Duffy, flops onto the top of the net. Decent enough chance but he couldn't get over the ball to keep it down. 
34'   Free kick to Brighton and Agüero is pulled up for a trip in midfield. 
32'   Bernardo Silva and Agüero combine in the area but a provident Brighton boot is swung out and the danger cleared. Tricky patch for Brighton here, who will want half time to come as quickly as possible now. Go in level and anything possible. Go in behind and you fancy they'll struggle to get back on terms again. 
30'   Another Mat Ryan save as Zinchenko finds Mahrez on the far side of the box. His header is straight at the Aussie though and he gathers easily enough. 
28'   Corner to City. The belief is suddenly flooding back into the visitors at the Amex. You do rather suspect, from Liverpool's point of view, that Brighton might have needed to hang onto that lead for more than a minute to have a hope of winning this. 
27'   Absolutely sensational as City take it straight up the other end from the kick-off and feed Agüero in the area. He's in his preferred hunting ground on the left of the box and slots the ball past Ryan to level the scores! 
27' Goooooooooooooooal! Agüero! 
26'   The no-nonsense striker piles into a header and beats both Zinchenko and Ederson to the ball! Brighton take the lead! Extraordinary! 
25'   Glenn Murray! Goal to Brighton! 
24'   Brighton try to work something out on the right with Pascal Gross but have to settle for a throw... 
22'   Mat Ryan is going for a Man of the Match award here as he gets another excellent hand to a fizzing Mahrez cross. City still being frustrated here. 
20'   City have subtly stepped up a gear since that Liverpool goal and have Brighton pinned back for a few minutes before the Seagulls manage to get out of their half. It's a brief respite though as City come again... but Bernardo Silva lofts a ball to Agüero that heads atraight out again. Nerves beginning to show? 
18'   Sterling clips in a cross from the right and Ryan does well to palm it to safety. The news has definitely reached the City fans in the Amex as they crank up the volume to urge their side on. 
There's been a goal at Anfield... Sadio Mané has put Liverpool ahead and as it stands the Reds will be crowned champions! We're pretty sure Brighton fans will let the City players know about it. 
16'   Zinchenko whips in a dangerous cross but it is unhindered by any hue of shirt and zips straight out for a goal kick. 
14'   Gündogan delivers but the Seagulls are unflappable when it comes to the aerial stuff. Mahrez has a speculative pop from distance and Ryan gathers with Agüero looking to steal in and get a toe to it. 
13'   Corner to City as Zinchenko's cross is cut out by Knockaert. 
12'   Sterling has a little mutter to himself as David Silva pings a ball straight out for a goal kick. Lack of comms between the two there. 
10'   Good work from Bernardo Silva on the right to carve out a cross but it's firmly met and thumped away to safety by Duffy. 
8'   Brighton break on the right through Knockaert and Laporte is forced to charge across the pitch and make the challenge. The City defender feels he was tripped by the Brighton winger and gets a free kick. 
6'   It's pretty even so far, both sides playing on the front foot. Brighton aren't going to make this easy, that's for sure. 
4'   Brighton win a corner from Murray's deflected effort but City clear. It's pinged back in but the flag is up for offside. 
3'   City probing the Brighton back line, which holds firm for now. Bernardo Silva bursts into the area but overruns the ball and Mat Ryan smothers the danger. 
1'   City pressing hard early, forcing Brighton back into a corner. There'll be plenty of that in the early exchanges as the visitors seek that all-important early goal. 
1'   And we're off! Gross gets the ball rolling! 
Guardiola and Hughton share a few words. The City manager, who said earlier he barely slept last night, looking a bit dishevelled. Doubt his job is on the line though whatever happens here today. 
Teams in the tunnel... Vincent Kompany looking as cool as ice. Brighton lining up in a 4-3-3, which is a bit of a surprise. 
Just a few minutes to go now until kick-off at the Amex, where City have the title in their own hands... Can Brighton pull off what would be the story of an already remarkable season? 
Liverpool can still be crowned champions today even if they are held to a draw at Anfield. All they'd need is Brighton to beat City by four goals or more.... 
Brighton don't have a bad record against City on the south coast, having lost just once in their last five in all competitions at the Amex. They've drawn three of those, which will do Liverpool nicely if they overcome Wolves. 
    13 wins in a row for City. Last time they lost was against Newcastle in January. That's just insane. No draws in their either. All wins! 
    Nervous? Most fans are but Pep says he's feeling good and even lucky to be here! 

    Hello and welcome to our live online coverage of Brighton vs Brighton in the Premier League's final game of the season! There are games elsewhere but the big two are City and Brighton and Liverpool and Wolves. Kick-off is coming at 16:00 CEST and we will have team news and build-up coming your way beforehand.