Real Madrid: Has Keylor Navas' wife given a clue about his new club?
An Instagram post by Keylor Navas' wife could be a clue as to where the Real Madrid keeper will end up next season.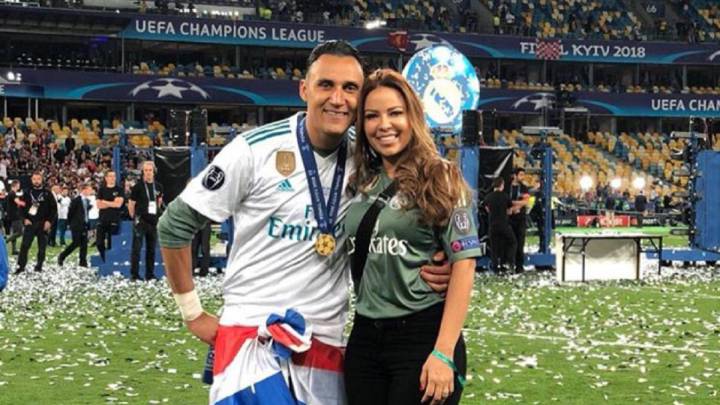 After five seasons at Real Madrid, Keylor Navas is set to leave the club with a string of honors under his belt including three Champions League titles.
The 32-year-old keeper's future at the Bernabéu became uncertain after the signing of Thibaut Courtois from Chelsea last summer. The Belgian keeper is now considered Los Blancos' indisputable starter for next season and beyond. And coach Zinedine Zidane has already informed Navas that he is not part of the club's future plans.
The Costa Rican keeper had previously considered staying on to fight for his place following Zidane's return in March. But after his meeting with the French coach, he now knows that he must find a new club, with the Premier League and Serie A being touted as possible destinations.
But has Navas' wife given a clue as to another destination?
Portuguese daily A Bola, who spotted an interesting photo on Andrea Salas' Instagram, seems to think so.
While in the Portuguese city of Porto (home, of course, of another Real Madrid legendary goalkeeper, Iker Casillas), Andrea Salas posted a photo from a Porto beach with the message: "Nos Quedamos!", which, in English, translates to: "We're staying!".
Navas to replace Casillas?
Navas' move to Porto would certainly seem like a realistic option, considering that it now looks likely that Casillas will retire after suffering a heart attack two weeks ago.
While nothing has been confirmed, several medical sources have stated that the former Madrid keeper will be unable to continue playing football due to a coronary stent he had implanted as a result of his heat scare.
This will leave the Primeira Liga club without a first-choice keeper and they could certainly see Navas as a fitting replacement to Casillas, as he proved to be at Real Madrid when Casillas left the Spanish capital for Porto in 2015.