Santi Cazorla: "Never in my wildest dreams could I have imagined this"
Santi Cazorla says he still cannot believe the phonecall he received to tell him he was back in the Spain squad: "I'm going to enjoy it, and give the best I've got".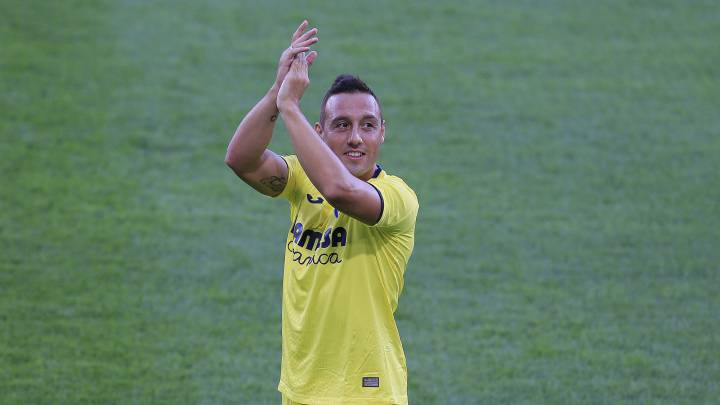 Santi Cazorla said he keeps pinching himself to make sure his recall to the Spain squad is really true - "It's still sinking in," the Villarreal midfielder said this afternoon on learning he features in Luis Enrique's 23-man squad for next month's Euro 2020 qualifiers against the Faroe Islands and Sweden. "You always dream that one day you might return to the national team but after two years of injuries, it was something that for me, what very difficult to imagine ever happening again," the player explained. "I'm very thankful to everyone who believed in me and helped me through the dificult moments".
Cazorla on finding out he'd been recalled by Spain: "I found out through my team mates, at the end of the training session, I heard them chanting my name but I had no idea why. When they all started congratulating me I realized".
Cazorla 77 caps for Spain
Great feeling to be back with the national team: "I'm really happy about it, it's still sinking in to be honest and I've been reading all of the nice messages people have been sending me. In my wildest dreams I couldn't have imagined this. I'd like to thank all of the people who were always there during the difficult moments - Juan Carlos Herranz, all of the medical staff, Mike Sánchez en Vitoria... and my family, without them this would have been impossible".
Moment to savour: "I'm going to enjoy it, I plan to give my best as I always have done with the national team; This had already been a really nice season but I didn't expect it to end this way. If someone had told me this was going to happen, I wouldn't have believed them. I was out injured for two years and after something like that it is very hard to return to the top level. I'm at a certain age and I knew that it would be complicated for me to return to the national team. But I've been able to get back to my best level thanks to my team mates and coaching staff who have helped me to do it".
Memories of debut under Luis Aragonés
Better than the first call-up: "It's a bit like the first time, in that it was totally unexpected and I'm going to enjoy it to the full".
Changing holiday plans: "I'll be changing my holiday plans for something just as nice - I'm still excited about playing and enjoying my football. I haven't had the chance to answer all the messages I've received but I'll be doing that this afternoon while it all sinks in".