Hazard father could play key part in negotiations with Real Madrid
Thierry Hazard has been granted his agent's licence from the Belgian football union and could now be the intermediary in negotiations between his son Eden and Real Madrid.
It looks set to be a busy summer for the Hazard family.
Eldest brother, Eden (28), has seemingly decided he will leave Chelsea. The Belgian international has given several winks towards Real Madrid and towards Zinedine Zidane in particular. And all indications are that he will make the move to the Spanish capital this summer. Chelsea will make the move difficult but if all goes according to plan for Madrid, they will secure the winger's services for a figure between 100 and 115 million euros.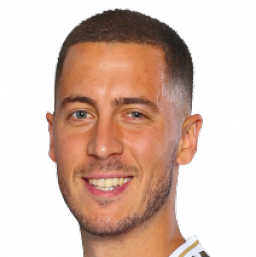 Meanwhile, his brother, Thorgan, seems to have an easier move on the cards. The 26-year-old will leave Borussia Monchengladbach for Dortmund for around 40 million euros – a high price relative to general transfer costs in Germany.
Thierry Hazard granted agent's license
And in light of these prospective movements, the father of the Hazard family has decided to take the step back into the world of football by becoming an official agent enrolled with the Belgian Union, so reports Belgian daily DH.
As such, Thierry Hazard, a former semi-professional player, will likely become the official intermediary in negotiations for Eden and Thorgan and will, subsequently, pick up some handsome commissions from the transfer fees that will reach a combined total of around 140 million euros.
Kylian and Ethan Hazard
And the Hazard talent factory does not stop with the two eldest brothers. Twenty-three-year-old Kylian is also a professional footballer who will return to Belgian club Circle Brugge this summer after a one-year loan spell with Chelsea's Under-23s.
And below Kylian is the youngest sibling, Ethan. The 15-year-old is reportedly of interest to Chelsea on the back of his performances with Belgian club Tubize. Though a move to Stamford Bridge could be determined by the decision of his older brother, Eden. But whatever happens, Thierry Hazard will be the one to safeguard the interests of his family from here on in.