Man City outclass Watford 6-0 to secure historic treble
It was an even contest for 25' but once David Silva opened the scoring, there was no way back for Watford who were simply out played by City.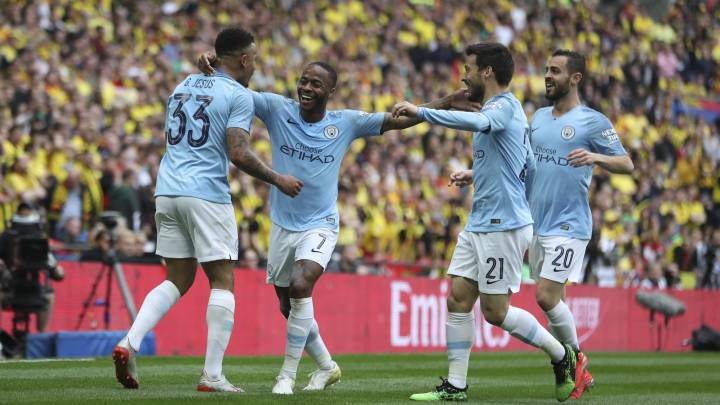 Manchester City vs Watford: FA Cup final as it happened
A whitewash from City who simply had too much for a poor Watford. 
That's it ... City win 6-0 and take their place in the history books with a domestic treble.  
90'   Fine drive form Sane who strikes on the half volley  
Stones almots makes it 7... Great work from Sterling but Gomes blocks the effort
90'   2' of time to be added
City looking for more ! 
Ball hits the post and Sterling is on hand to tap in
and there it is ...City equal the record ..Sterling on target again 
86'   City are just one goal away from a record in the final with Blackburn in 1890 and Bury in 1903 
City 5' away from their sixth FA Cup win. 
Great effort from the Watford fans, 5-0 down and making plenty of noise and flag waving despite the result.
City 5-0 Watford
Cruel on Watford who have been outclassed as City look for a sixth.
Unmarked at the back post, Sterling slots home with ease following excellent work from Bernardo Silva. 
A fifth .... Sterling drives home for 5-0 
80'   10' remaining at Wembley. A City fifth looking a liklier option than a Watford opener?
Stones on for Silva ..final change for City
Manchester City manager Pep Guardiola looking relaxed with the 4-0 scoreline

76'   City just playing 'keep ball' now as the clock runs down.
74'   City just over 15' away from bagging the first domestic treble
73' Hughes-Cleverley change for Watford
Sane on for City with Gundogan making way for the German. 
70'   A long 20' in store for Watford.
Another quick breakaway as Watford push on....Cool finish from the Brazilian after a fine ball on the half way line from De Bruyne. The Belgian having a major impact on the second half with an assist and goal  
It's 4 ! Gabriel Jesus again 
Pererya off for Watford with Success his replacement
Deulofeu off-Gray on for Watford
65'   "Blue Moon" time again from the City fans 
De Bryune looks hungry tonight after his recovery from injury.
64' The goal is a real blow to Watford just as they were starting to peg City back. 
Damage limitation now for Watford as City push again. 
Gabriel Jesus feeds the Belgian and after forcing Gomes to dive, slots the ball into the corner of the net.  
De Bruyne taps home on the counter.....
60' City make it 3...
59' Silva carded for a trip on Hughes
58'   Despite an improvement from Watford in this second half, Ederson yet to be called into action as Deulofeu goes close and watches his shot drift inches wide of the City goal.
57' City go close as a Laporte header drifts just wide of the Watford goal. 
55'   This is City's last official game using the Nike kit as the Manchester giants are set to use Puma next season as official kit supplier.
Change for City- De Bruyne on for Mahrez 
53' All Watford now as the yellow clad fans push their side on
50'   The swathes of empty seats right in the centre of the pitch (VIP sector) really does not look good on TV!
48'   Watford press and Deulofeu fires in a cross which City hack clear. Huge change in attitude from Watford !
The ball is in the Watford net but two players in an offside position... No goal
47'   Good from Watford with the final ball letting the Hornets down at the edge of the City area. A positive attitude from Gracia's men just as City break and Gomes is forced to save from Jesus.
46'   City get us underway in the 2nd half?
The teams return to the pitch. What has Javi Gracia said to inspire his side? No changes at the break....
Can Watford find a way back ? Join us in 12-15' for the second half of the 2019 FA Cup Final 
Mr Friend calls time on the first 45' as City head in at the break with a comfortable two nil lead.
45'   One minute of time to be added. Ederson fumbles but Deulofeu is unable to deliver the spill. 
44'   Into the final minute. Watford really need a strong start in the second half after a break and pep talk from Gracia as the Hornets win a last minute corner.
Kompany gets the ball 30m from goal with calls of "shoot" from the City fans !
41' Watford need a response...any response ... totally outclassed since the first Silva goal despite a positive first 25'. 
40'   Man City 2-0 Watford
Gabriel Jesus taps in and Sterling makes sure of it .... Can Watford find a way back ?  
Goooooool. It was coming.... City go 2 up ... 
37' 15' minutes now since Watford have managed any decent spell of possession with the goal realling delivering an emotional blow for Javi Gracia's men
36' Another City corner ...(5-0) as Guardiola's men maintain the pressure... How costly will the early Pererya miss prove to be for Watford?
32'   City almost sneak in for a second but it's certainly closer than a Watford opener as the Hornets have been pegged back in their own half since the Silva strike.
31' City pushing forward again with Sterling giving the ball away in the box as Watford are still on the ropes somewhat.
30' Possession on the half hour mark: City 72-28 Hornets (%)
28'   "Blue Moon" rings out from the City fans ....
28'   Sterling wins a corner as it's the City fans making all the noise now.
The shot did take a deflection to catch out Gomes in the Watford goal.  
Man City 1-0 Watford
25'  25'  Goooooool Silva fires City ahead 
23' Danger from City but the ref. blows for a foul on Gomes by Sterling. 
Big call for hand ball from the Watford team ....   Doucoure carded for protesting as the ball does hit Kompany but a good call from ref. Friend. 
19'   Watford fans seem to be the noisier of the two at present...
15' Possession after 15': City 69-31 Watford (%)
14'   Good play from Deulofeu but the Catalan player is called back after an early incident. Free kick for Watford.   
12'   City dominating early proceedings but the best chance of the evening falling to the Hornets.
10'Pereyra is through ...one on one with Ederson and opts for placement but the Brazilian stopper saves well. Best chance of the game so far...
Not good to see empty seats at Wembley today. Appear to be in the central corporate sector too. Hope this is investigated by the FA.
5' Gabriel Jesus goes close as Watford block a goal bound effort by the Brazilian, City piling early pressure on now.
5' Pep looks on from the City bench as Watford loft a high ball into the City box that is no problem for Ederson. 
5' City looking calm and composed in possession with a tremendous din being made by both sets of fans at Wembley. 
4'   Laporte (inspired by the recent Kompany strike) has a speculative long range drive but hits over.
2'   Both sides sounding each other out with Watford enjoying early possession.
1' Kevin Friend is our match official today as City win an early corner.
1' Watford get us underway ....
We're ready... the 138th FA Cup final .... Treble for City or first major silverware for The Hornets?
Both teams in their traditional kits today. Watford in yellow and black. Man City in their classic sky blue as "God Save the Queen" rings out.
Royal presentation as Prince William is formally introducted to players from both sides.
A volley of fireworks as both sides take to the pitch led by Pep Guardiola and Javi Gracia for City and Watford respectively. 
The trophy is brought to the pitch and placed on it's plinth. Watford fans wave red and yellow flags as the players are about to take to the pitch.   
The pre FA Cup classic 'Abide with me rings out' at a packed stadium... Wembley looking spectacular with one side decked out in sky blue with the other a sea of yellow.    
Former Watford icon Luther Blissett outside the stadium before the match.

Ideal playing conditions this evening at Wembley. Temps. of 17-18C ahead of kick-off....perfect conditions for players and fans alike. 
Here's how the bookies see the FA Cup final .... City clear favourites: Manchester City: 2/9 Draw: 11/2, Watford: 12/1
Hello and welcome to our live coverage of the 2019 FA Cup final as Manchester City face Watford.
Manchester City vs Watford: preview
Can Manchester City become the first English side to claim the domestic treble becoming winners of the domestic championship and both League and FA Cup?
Watford stand in the way of Pep Guardiola's men writing a new chapter of history in the annals of the English game. Meetings between both teams this season in the Premier League auger well for the Sky Blues with a 1-2 win at Vicarage Road and a 3-1 home win for Guardiola over Javia Gracia's Hornets.
City start as firm favourites ahead of the Wembley showpiece final something acknowledged by Hornet's Troy Deeney who stated:
"We're massive underdogs, but at the same time, I'm hugely proud of the achievement," Deeney added. "For me, it's no fear. Look at everything we just spoke about. Football isn't going to scare me or playing against City... because of everything I've been through."
Watford lost 2-0 to Everton in 1984 in their previous appearance in the FA Cup final. City will be looking for their sixth FA Cup with the last title coming during the 2010-11 season.