Real Madrid: "Zidane in eye of the storm, Juventus fans dreaming"
In the wake of Real Madrid's defeat to Betis, there is talk in the Italian media of Zinedine Zidane jumping ship and taking over at Juventus.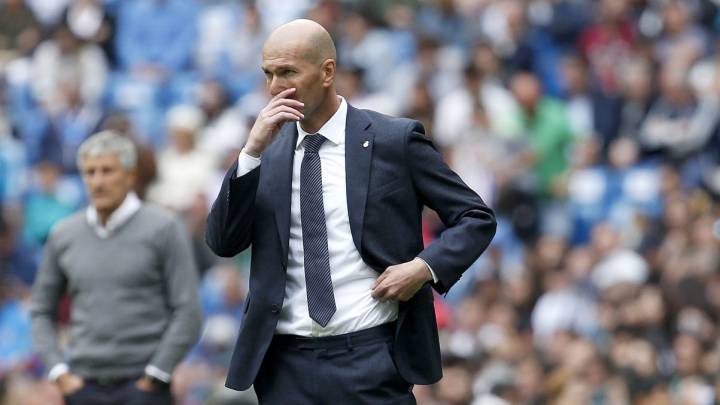 Zinedine Zidane's so far unsuccessful return as Real Madrid coach continued on Sunday as Los Blancos rounded off a bad season by losing 2-0 at home to Real Betis - a result that saw the 13-time European champions finish an unprecedented 19 points behind champions Barcelona in LaLiga.
Zidane the Juventus fans' choice to replace Allegri
And according to Tuttosport, Madrid's failure to turn their form around since the Frenchman was re-appointed in March has raised hopes in Italy that he could be tempted back to Serie A, with the media outlet proclaiming: "Zidane in the eye of the storm - Juventus fans dreaming".
Having lifted the trophy three times in his first spell as Madrid boss, Zidane is the past decade's most decorated coach in the Champions League - a tournament that has become an object of obsession in Turin.
And given that the one-time Juve star also boasts a track record of bringing the best out of striker Cristiano Ronaldo in Europe's premier club competition, fans of the Bianconeri are following the difficult times at Madrid with no little interest - even if, concedes Tuttosport, it is something of a long shot.
Host of names in frame for Juve job
Following the recent confirmation that Massimiliano Allegri is to leave as Juventus coach after five years in charge, several names have been tipped to take over, with club chiefs thought to be looking at Chelsea's Maurizio Sarri, Lazio's Simone Inzaghi and Bologna's Sinisa Mihajlovic.
Meanwhile, France coach Didier Deschamps, Tottenham Hotspur manager Mauricio Pochettino and the seemingly Inter-bound Antonio Conte - who, like Deschamps, is a former Juve boss - are three outside contenders to take the job.
Among the tifosi, however, the choice would be Zidane...