Barça: De Ligt cooling on Camp Nou move
The Ajax captain has a raft of offers on the table and has demanded a guaranteed starting place and more money to join Barcelona.
They may be inseparable friends but Matthijs de Ligt is displaying more of a cool business head than Frenkie de Jong, who signed for Barcelona without a moment's hesitation due to a deep sense of belonging steeped in the history of Johan Cruyff and total football.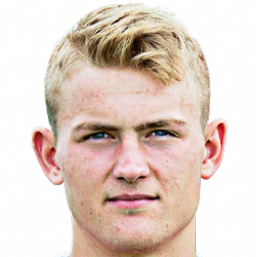 In the case of the Ajax captain, who has been in impressive form all season for the Dutch side and has already amassed 15 senior Netherlands caps, Barça have suddenly lost their optimism that the 19-year-old can be lured to Camp Nou on sentiment alone.
Barça wage bill a stumbling block for De Ligt
Whereas De Jong was reasonably easy to persuade – despite the negotiations taking some months and the late entry into the chase of PSG and Manchester City it always seemed inevitable that Barça would come out on top - De Ligt appears to be a tougher proposition.
Barcelona and Ajax reached an agreement in principle in April, according to Catalan broadcaster Esport3, but the defender has now hardened his financial stance with Bayern Munich, Manchester United, PSG and a raft of other clubs interested in his services and, crucially, able to offer more money.
Barça are hamstrung by a crippling wage bill – the highest in world football – and can only go so far on the economic front while guaranteeing a place in the starting XI to a 19-year-old, howver accomplished he may be, is unlikely to please Gerard Piqué, Clément Lenglet or Samuel Umtiti.
That leaves Barça president Josep Maria Bartomeu with a decision to make: acquiesce to the demands of De Ligt or focus his attention elsewhere while the rest of Europe scraps for the in-demand Ajax captain.