Ronaldo asks for Vinicius loan deal at Valladolid
Ronaldo has once again asked Real Madrid to release Vinicius for a loan spell at Valladolid next season, but the young winger will hope to be part of Zidane's plans.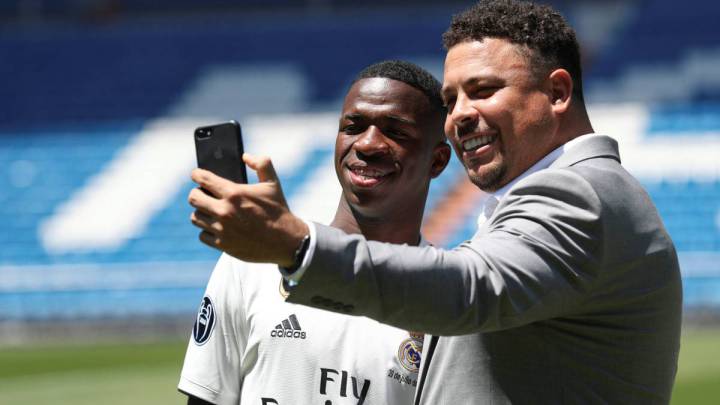 Ronaldo Nazario, president and main shareholder of Real Valladolid, has once again asked Real Madrid to allow Vinicius join Los Pucelanos on a temporary loan deal next season.
Since his return from injury at the start of the month, Vinicius has made two cameos and one full appearance for Zinedine Zidane, who has so far shown little faith in the young Brazilian. As such, Ronaldo hopes Madrid will agree to a loan deal, which would allow him to gain valuable experience and minutes in top flight football at the Estadio José Zorrilla.
The Valladolid boss is also hoping his warm relationship with the 18-year-old will also play a factor in getting the move to happen. Ronaldo was present at his unveiling at the Santiago Bernabéu last summer and acted as a guardian figure upon his arrival in the Spanish capital.
"Hopefully, we can have him at Valladolid. I can't pay his wages. If Madrid loaned him out, we would embrace him very well. He is very talented, like Rodrygo. Madrid have reinforced with lots of young players," said the Los Blancos legend at an event a few weeks ago.
Ronaldo has tried to sign Vinicius twice
This is not the first time the Valladolid chairman has tried to secure the teenage winger's services. He also asked Madrid to release him last summer and in January, but to no avail.
Ronaldo is currently on holiday with the Valladolid squad in Ibiza for a well-deserved summer break before the pre-season, and will wait to hear the plan of action of club sporting director Miguel Ángel Gómez upon his return.
Vinicius attends advertising events in Japan
Having been left out of Brazil coach Tite's squad for the upcoming Copa América in June, Vinicius has travelled to Japan this week to participate in a series of marketing events for watch brand GaGà Milano, which also counts Neymar among its ambassadors.
The 18-year-old winger, who finished the season with Madrid last Sunday, was greeted by a large crowd at Tokyo's Narita International Airport, where he spent 30 minutes signing autographs and taking selfies. Later he had some time to rest at this hotel, before heading to a sports centre to oversee a football workshop with a group of young children, where they practiced dribbling, juggling and other skills.
Vinicius' pre-season mission: convince Zidane
Once his marketing events in Japan are finished, Vinicius will begin his holidays before returning to Madrid in July.
From there he will travel to Montreal on July 7 with the rest of the team to start the pre-season, with the aim of convincing Zidane that he is worthy of his place in his team next season. But if Ronaldo has his way, the youngster could be plying his trade at Valladolid for the 2019/20 campaign.