Real Madrid: Analysing Florentino Pérez's 73 signings as president
AS looks over the 73 first-team signings made by Real Madrid president Florentino Pérez during his two stints at the Bernabéu helm.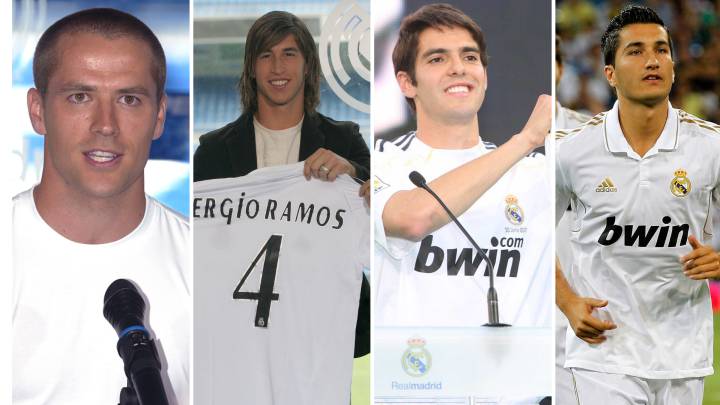 From Luis Figo in 2000 to Éder Militao this year, Florentino Pérez has so far signed a total of 73 players as Real Madrid president. Here, AS takes a look over the Bernabéu chief's transfer activity during his two spells in charge of the LaLiga giants (2000 to 2006, and 2009 to present), and attempts to pinpoint the characteristics that define a footballer as the quintessential Pérez purchase.
Over-30s not welcome at Pérez's Real Madrid
When it comes to Pérez's signings, the most revealing statistic relates to their age. Only two have been in their thirties: Ricardo Carvalho, who was 32 when he moved from Chelsea in 2010, and Diego López, who in 2013 rejoined from Sevilla at 31. Under Pérez, Madrid seem to have a fully-blown aversion to players the wrong side of 30 - so those fans keen for Los Blancos to go after the likes of Robert Lewandowski, Kun Agüero, Edinson Cavani or Iago Aspas this summer can forget it.
Only two players over 30 have been signed: Carvalho and Diego López
At the other hand of the age spectrum, meanwhile, no fewer than 11 players have been brought in while still in their teens: Sergio Ramos, Sergio Canales, Raphael Varane, Martin Odegaard, Jesús Vallejo, Marco Asensio, Federico Valverde, Theo Hernández, Vinicius, Andriy Lunin and Rodrygo.
Judging by Pérez's transfer track record, a typical purchase would look something like this: non-Spanish, around 24 (the average age of his signings is 23.45), predominently right-footed (only 19 have been left-footed), and at an average cost of around 22m euros. Such a fee does not reflect the going rate in today's market, though, and is well below some of the figures Pérez has himself forked out.
99m euros a season on signings
Indeed, the amounts shelled out during the 72-year-old's presidency range from the 1m euros paid to re-sign Lucas Vázquez from Espanyol in 2015, to the 96m and 101m spent on Cristiano Ronaldo and Gareth Bale, respectively. The most expensive Spaniard is Xabi Alonso (34.5m), followed by Asier Illarramendi (32m). In total, Madrid have stumped up 1.59bn on players under Pérez - 99m a year.
Real Madrid's 10 most expensive signings (in euros)
| | |
| --- | --- |
| Gareth Bale | 101m |
| Cristiano Ronaldo | 96m |
| Zinedine Zidane | 77.5m |
| James Rodríguez | 75m |
| Kaká | 67m |
| Luis Figo | 60m |
| Éder Militao | 50m |
| Ronaldo | 45m |
| Vinicius | 45m |
| Rodrygo | 45m |
In Pérez's 16 campaigns as president, Madrid have picked up just the two free transfers: Albert Celades in 2000, and Hamit Altintop in 2011. Meanwhile, a similarly low total of three loan signings have arrived at the Bernabéu: Emmanuel Adebayor (2011), Michael Essien (2012) and Javier 'Chicharito' Hernández (2014).
Costa Rica, Norway, Colombia, Turkey, Italy...
Pérez's 73 signings have come from 21 different countries, with non-Spanish players in the overwhelming majority (overall, 24 Spain-qualified footballers have joined during his presidency). For every two Spaniards, one Brazilian has come in: Flavio Conceiçao, Ronaldo, Robinho, Julio Baptista, Cicinho, Kaká, Casemiro, Lucas Silva, Danilo, Vinicius, Militao and Rodrygo make up Pérez's dozen recruits from a nation that provides his favoured foreign transfer target.
France comes second to Brazil, with five - Claude Makelélé, Zinedine Zidane, Karim Benzema, Varane and Theo - followed by Portugal's four: Figo, Cristiano, Carvalho and Fabio Coentrao.
Nearly 30 midfield signings under Pérez
The midfield has been the most regularly strengthened area of the pitch under Pérez, with 29 signings made during his stewardship - ranging from successes such as Xabi, Sami Khedira and Luka Modric, to flops like Pablo García, Thomas Gravesen and Silva. Elsewhere in the team, Pérez has overseen deals for 22 forwards, 15 defenders - with Militao the most expensive - and six goalkeepers (César Sánchez, López, Kiko Casilla, Keylor Navas, Thibaut Courtois and Lunin).