Real Madrid: Odegaard suggests sale with buy-back option
The Real Madrid player, who has excelled on loan at Vitesse this season, is keen for continued regular game time, with Ajax tipped to swoop.
Real Madrid's Martin Odegaard is due to sort his future out in the coming weeks.
Having made giant strides in his development while on loan at Eredivisie club Vitesse Arnhem this season, the 20-year-old is keen to continue playing week in, week out, and Dutch champions Ajax are reportedly ready to offer him the opportunity to kick on further at the Johan Cruyff Arena.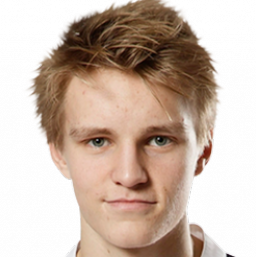 Sale with buy-back clause "could be a solution"
First, though, he must reach an agreement with his parent club over his next move - and appears to have a good idea of what the best plan may be.
"Real Madrid often sell [players] with a buy-back option included in the deal," he told an interview published in Dutch newspaper De Telegraaf on Friday. "That could be a solution. Another way forward is a loan, but it depends on how they feel about it, and the interest of other clubs."
"We need to see what Real Madrid want"
Odegaard's priority is regular game time. "I have to keep on getting minutes at a high level," the Norwegian said. "This year has been good for me. I want to take the next step in my career, because I want to play even better."
Ajax are shaping up as a likely option, not least because the Champions League semi-finalists are expected to lose several stars in the wake of their fine campaign.
"I don't know if they are really interested, that is not my focus right now," Odegaard said when asked about an Amsterdam switch. "My agent will inform me after the season. We need to see what Real Madrid want and make a joint decision. "