Gameiro, Rodrigo down Barça to secure Valencia Copa del Rey win
Two first half goals for Valencia proved to be enough for Marcelino's men with Lionel Messi offering hope for Barça pulling a goal back in the 73rd minute.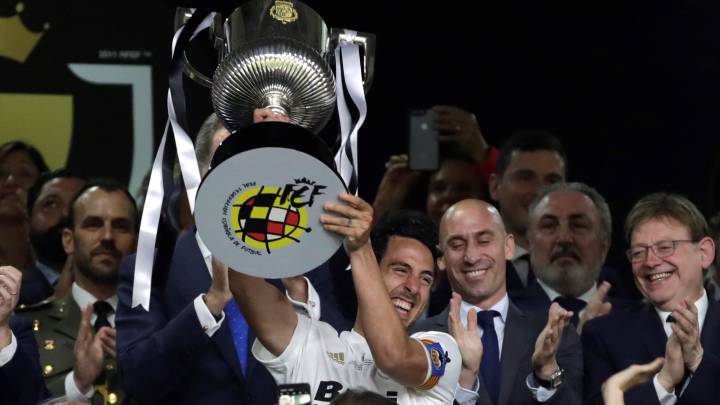 Barcelona vs Valencia: Copa del Rey Final: as it happened
Valencia beat Barcelona 2-1 to win the Copa del Rey on Saturday in Seville, ending the Spanish champions' four-year winning streak in the competition and denying them a domestic double.
Kevin Gameiro and Rodrigo Moreno struck first-half goals to give Marcelino's dominant Valencia control of the final in Seville's Benito Villamarín stadium.
Record 30-times Cup winners Barcelona struggled without injured duo Luis Suárez and Ousmane Dembélé but Lionel Messi pulled the Catalans back into the game with a finish from close range.
Gonçalo Guedes missed a gilt-edged chance in stoppage-time for Valencia but they held on to win their first major trophy since last lifting the Cup in 2008.
Barcelona played their role... But the focus will be on Ernesto Valverde and I fear that the impact of the Anfield defeat coupled with tonight's game will run and run.
So a 4th place in LaLiga and Copa del Rey win for Valencia...not a bad season for the club in their centenary year. Well done VCF ! 
Parejo in floods of tears !
Great, great game with drama right to the end ..... Messi's goal gave the game an injection of life and the final 15' were pure drama   
That's it...all over...Valencia win the 2018-19 Copa del Rey
90'+5'   Guedes misses with Cillisen up the pitch...
90'+5' Valencia break again ...  3 v 1 and they still manages to mess up... corner for FCB... the Barça keeper is up....
90'+3'   Guedes free...one on one and blazes wide ...terrible miss
90'+2'   Paulista throws his body on the line to block a Messi effort !
90'+1'   Corner for Barça.... Valencia cling on
90'   Into the final minute.... time to be added will be 5' 
89'   Messi to take the free.... Kondogbia clears and Valencia survive
89' Vidal carded for a lash out at Wass
Diakhaby on- Rodrigo off (VCF) 
87'   Corner and a brief respite for Valencia
84'   Malcom has been good tonight for Barça .... Wins a corner for his side
84'   Messi latches onto a Malcom delivery but nods wide....5' for Valencia to hang on....
82'   Pique now playing as a forward !
80'   10' to go.... Valencia now all out defence making limited forrays into the Barça half... Question of hanging on really for Marcelino's men
Messi and Paulista both down following a collision... both players seem ok to carry on ...."Vamos mi Valencia" sing the VCF fans    
78'   Vidal finds himself in front of goal but the flag is up
Aleña on for Rakitic (FCB)
15' to go...Messi pulls the Catalan side back into contention. Emotional battle for Valencia now as they try and hold on. 
75'   Cooling break !
Who else....

Barça 1-2 Valencia
Messiiiiiiiiiiiiiiiiiiiiiii pulls Barça back into the game tapping home after Jaume saves... 
72'   Barça win yet another corner as they seek a way back into the game  
Piccini for Gameiro (VCF change)
71'   Valencia now opting to sit very deep and strike on the break as Pique almost grabs a goal for Barça
Kondogbia carded for a challenge on Lenglet 
Pique down following a poor tackle from Rodrigo, play resumes and Rodrigo lucky not to be cautioned. 
Piccini poised to entrer the fray for Valencia
67'   Coutinho gets a shot off for Barça... Straight at Jaume. Messi (now in different boots) still looking like the brightest player for the Catalan side
Kondogbia to replace the VCF captain
63'   Parejo looks in trouble and signals to the bench... seemed to have pulled a muscle as he struck the ball in the free kick moments ... calf muscle !
62' Poor strike from the Valencia captain....high and over, seemed to slip as he struck the ball
62'   Parejo to take 
Busquets carded for a trip on Rodrigo
Kondogbia poised to make an entrance for Valencia
Possession on the 60' mark: Barça still in control possession-wise: FCB 73-27 VCF (%)
57' Messi hits the woodwork and Vidal blazes over the rebround... shocking from the Chile international 
56'   Valencia very, very (too) deep
Gamiero almost feeds Rodrigo but sees his ball cut out ... Great chance for the men in white to lauch a counter.  
53'   Gaya carded .... first of the night
It's his Copa .....El Rey ! 

50' The Argentine takes...the the ball takes a deflection from the wall.... 
49'   Barça win a very, very dangerous free-kick on the edge of the Valencia box. Messi primed!
48'   Guedes goes close for Valencia linking up well with Rodrigo ... inches wide from the Portugal international
Barça win a corner, now attacking the goal behind where their supporters are located.
46'   Can the changes make any difference for the Catalan side? It was only really in the last 5' or so that we saw Barça turn up the heat. 
Semedo and Arthur the players making way ...  
Malcom and Vidal on for Barça at the break. 
Half time in Seville: Barça 0-2 Valencia ...Gameiro and Rodrigo putting Valencia ahead and the Catalan side only really coming to life in the final minutes of the first period. 
2' of time to be added 
46'   And again .. Jaume forced into action again saving well from Rakitic this time. 
45'   Excellent drive from Messi who does catch it this time and forces a fine save from Jaume who palms the ball away with a sterling stop.
44'   Messi gets a shot off but the ball is struck straight at Jaume in the Valencia goal. Tame effort from the Barça No. 10.
42'   Nice neat play from Barça around the box with Coutinho and Messi combining well. A free on Coquelin breaks the move down and gives Valencia a chance to breathe.
39' Pass, pass, pass, move the ball around but no end product has been the story of Barça's evening ....
What a player ...Dani Parejo !

34' Barça 0-2 Valencia
Great play initally from Parejo as he finds Carlos Soler who finds Rodrigo unmarked to nod home...
31' Goooooooooooooooooooool...... Valencia make it 2 ... Rodrigo heads Los che 0-2 ahead 
Cooling beak time ...quick pàuse in the action to combat the high Sevilla temperature 
27'   All the noise now coming from the Valencia fans in the North stand of the Benito Villamarin. 
27'   Jaume still yet to be tested in the Valencia goal as we head towards the 30' mark.
Valverde and Marcelino share a few words ahead of the game

24'   Barcelona totally bossing the game in terms of possession (86-14) but it's Valencia with the vital statistic with the scoreboard reading 0-1.
Barça 0-1 Valencia 
Gooooooooooooool... Kevin Gameiro drives home to put Valencia ahead ... unmarked and drives past the unsighted  Cillessen
21' Valencia enjoying a better spell of possession now as it's Barça's turn to sit deep. 
17'   Gabriel Paulista takes a knock and play held up as the Brazilian is tended to .... seems ok to carry on and we're back under way. Messi goes close with his unfancied right foot and wins a corner.    
13'   Possession after (almost) 15': FCB 90-10 VCF (%) 
11'   Good play from Soler and Guedes as Valencia break quickly with the move breaking down. Barça back on the ball again.
9'   Barça dominating possession as they win the first corner of the night.  
How much will Valencia rue that miss ? Great play from Valencia captain Dani Parejo in the build-up. A real joy to watch the Valencia captain do his thing.
6' Valencia almost go one up as Rodrigo rounds the keeper but just fails to connect as Pique saves the ball from the line.  Great chance for Los Che to take an early lead...
4'   Barça now in their patient build up passing game groove...Valencia sitting deep... 
2' Patient start with Barça enjoying more possession in the opening minutes
1' Off we go.... Barça start the action .... Undiano Mallenco sounds his whistle and we're off
All set in Seville... it's FC Barcelona vs Valencia CF.... 
"United together" is the motto from the Barça tifo. (We'll try and get you pix of these as soon as we can ....) 
"Dreaming has no limits" reads the Valencia tifo from the north stand of the stadium 
Both teams make their way into the pitch ... Valencia in white shirts, socks with black socks...Barça in their classic azul-grana and navy shorts 
Both sides have played out two draws in ther league meetings: 2-2 at Camp Nou and a 1-1 draw at Mestalla.   
Can Barça really be thinking of terminating Valverde's time at the club should they not secure a win ?

Valencia fans in big numbers ahead of the kick off... the Benito Villamarin is a riot of colour as the game looms.

Plenty litres of the local tipple (Cruzcampo) consumed in large volumes by both fan groups in the Andalusian capital earlier today.

David Bisbal (Spain's Robbie Williams, Justin Timberlake....ish) takes to the stage with a quick medley of his greatest hits. Much indifference from the bulk of Barça and VCF fans it has to be said.  

Big night tonight for match official Undiano Mallenco who hangs up his whistle after the game. He oversaw Real Madrid-Betis last Sunday closing time on his LaLiga career. 

Valencia tonight in their special centenary kit of classic white.  

Both sides set to wear their traditional kits this evening. Barça the "home side" with their iconic azul-grana.

A warm pre-summer evening in the city of Seville today where temps. were over 30 degrees earlier. 

A Valencia triumph tonight paying out at 5/1.  
Barça firm favourites with the bookmakers to retain their Copa del Rey title with a payback of 1.50 euro per euro placed.  
Fans filling up the ground as kick-off looms closer....

Real Betis' Estadio Benito Villamarin is the venue for the final as Barça aim for five back to back cup wins. Valencia are aiming for their eigth Copa triumph in their history.

Hello and welcome to live coverage of the 2018-19 Copa del Rey final (from Seville) as FC Barcelona face Valencia CF with a 21:00 CEST start. 
Barcelona vs Valencia: Copa del Rey Final preview
Such is the current level of expectation at FC Barcelona, even a Copa del Rey triumph this evening for the Catalan side will be tainted and viewed by many Culés as an underachievement with the hangover to the Champions League defeat at Anfield still lingering.
Despite bagging the domestic league title some weeks ago, the defeat to Liverpool was the focal point of the Barça press conference last night where Gerard Piqué, Lionel Messi and Ernesto Valverde faced questions from the media with the Anfield defeat and subsequent fall-out the focal point of the questioning.
Valencia come into the game with a slightly more positive dynamic hanging around the club who celebrate their centenary this year. Despite elimination from the 2018-19 UEFA Europa League at the hands of arsenal in the semi-final, a subsequent fourth place in LaLiga thus guaranteeing Champions League football at Mestalla next season has been the perfect tonic for Marcelino's men coming into the final.
What they said, ahead of the game captain's from both sides analysed the Sevilla Copa del Rey final.
Lionel Messi (Barcelona): "This season we have put in some great performances and we have to give it all being aware of the importance of a final with the chance to win a trophy."
Dani Parejo (Valencia): "I've spent eight seasons at Valencia CF, and it hasn't been an easy journey or a bed of roses. Thanks to hard work and consistency, and to the people who have believed in me, I'm 24 hours away from playing in a final for the club. It's incredible and would be a dream for me to lift the cup with Valencia. It's a very significant year for us: We didn't have the best start to the season, even though we've achieved our objectives, and this next goal would be the icing on the cake of a great year."