Hazard on Real Madrid rumours: "I think it's goodbye"
Eden Hazard says he thinks that's it for him at Chelsea after he helps them to the Europa League title with Real Madrid transfer set to be announced soon.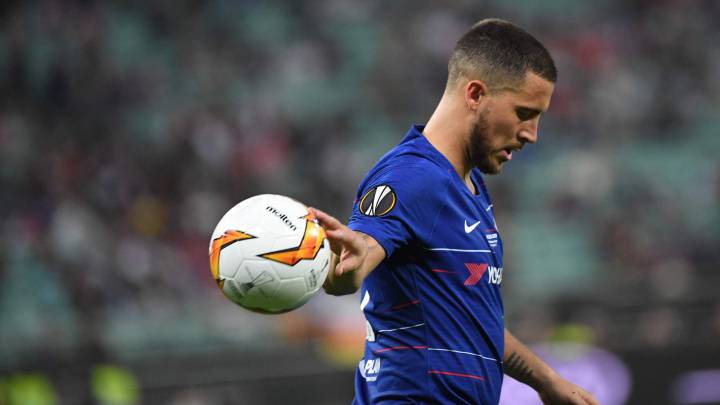 Eden Hazard says he thinks "it's goodbye" after helping Chelsea to the Europa League in Baku on Wednesday night. The Belgian attacker has been linked with a move to Real Madrid for months but neither Sarri or the player himself would say whether the rumours were true.
They hinted at the potential of the Europa League final being his final game and after the win in Baku, Hazard said: "I think it's goodbye but in football you never know. My dream was to play in the Premier League and I did this for seven years in one of the biggest clubs in the world and maybe it's time for a new challenge."
Real Madrid will present the player on 3 June as As reported before the final and Hazard all but confirmed that after an excellent display in which he scored twice and assisted Giroud for the opener. Hazard is seen as a major piece of the puzzle as Real Madrid look to get back to winning ways next season after a dreadful time of it last year.
---
Read also: "It'd be great" to play against Chelsea next season - Hazard
---
Hazard leaves a Chelsea legend
If this indeed is goodbye, Hazard will leave the club after 352 games and 110 goals. He signed with the London club from Lille in 2012 and won every domestic trophy in England.
Zidane's return to the bench improved the chances of Hazard's signing and Zidane himself has long been an admirer. They will team up for the first time next season as Real Madrid hope the past and present galactico can inspire the team back to success.