Real Madrid and Hazard: today is the key day for the transfer
Sources close to the negotiations told AS that Madrid will make what they expect to be their definitive offer today, Thursday.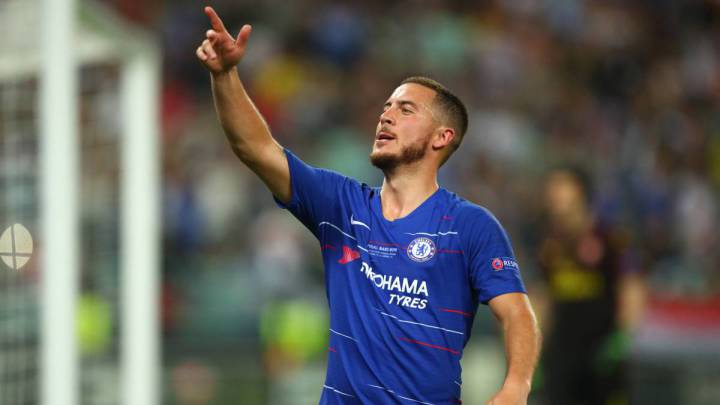 Today is the key day in the transfer of Eden Hazard (28) to Real Madrid. According to sources involved in the operation to bring the Belgian player to the Spanish capital, Madrid will this Thursday make Chelsea an offer that they believe will be definitive, and convince Chelsea to sell. The player, who won the Europa League with Chelsea on Wednesday night in Baku scoring twice in a 4-1 rout of Arsenal, will be kept up to date on the talks between the two clubs. He wants to travel to Madrid as soon as possible and if everything goes according to plan, he aims to arrive in Spain on Saturday.
Hazard: "I think it's goodbye"
Hazard himself made the situation clear at the end of the game when he was interviewed by BT Sport: "I think it's goodbye but in football you never know. My dream was to play in the Premier League and I did this for seven years in one of the biggest clubs in the world and maybe it's time for a new challenge."
"I've taken my decision already. Now it depends on the club. I'm just waiting like the fans wait, so you will know in a couple of days," he added.
"My target today was to win the trophy that's it, that's the only thing that was on my mind."
Madrid convinced today is the day
Real Madrid bosses have been in touch with Hazard over the past two weeks to settle his nerves about the deal and convince him that Chelsea will accept the offer they are going to make today. In spite of this, the Belgian's inner circle expressed some doubts yesterday - their relationship with Marina Granovskaia, the director of Chelsea, is good, but she is still known to be a fierce negotiator. What's more, Chelsea have a reason not to sell, as unless they are given a reprieve by the Court of Arbitration for Sport they will be unable to sign players in the next transfer window due to the FIFA sanction. However, there's another factor that may prove more decisive: Hazard's contract finishes in the summer of June 2020, and if he doesn't leave now, he'll leave for free next year.
Hazard's presentation set for 3 June
As this newspaper revealed on Wednesday, the plan devised by Real Madrid is for Hazard to be presented on Monday, 3 June, at the Bernabéu. Two sides of the deal are in agreement, now Chelsea just has to give their approval...