Galaxy get second road win as Zlatan reaches ten goals
Zlatan Ibrahimovic had a great night against Sporting Kansas as he gave the assist for the first goal and scored the second in Galaxy's win.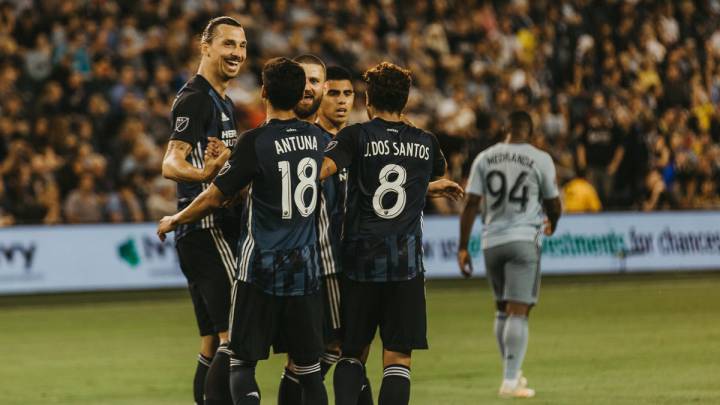 After breaking a seven-game winless streak last week against Seattle Sounders, Sporting Kansas hosted an LA Galaxy who welcomed back their captain Zlatan Ibrahimovic, for a game where Sporting KC wanted to claim a second successive victory, something that the LA side were looking to do too after ending a four-game losing sequence against Orlando.
Galaxy had an attacking look about them with the return of Zlatan, who missed the last two games after being suspended by the MLS Disciplinary Commission, but at the same time appeared a more balanced side. However, Sporting took the ball from the start, controlling most of the game, but the home team failed to open the scoring or even finish a play.
Galaxy took advantage of Sporting's lack of cutting edge, and in the second half, Favio Álvarez found the back of the Kansas net to put the game in favour of the LA side in the 56th minute after an assist from Zlatan.
Sporting tried to regain momentum and even though they were the better team on the field, Galaxy were the smartest squad, and despite having a clear chance that he missed after a slip, Zlatan was able to score late in the game to give the 2-0 win to Galaxy and add one more goal to his record.
Guillermo Barros Schelloto's team earned a valuable three points on the road, the second win in a row after falling to a four-game losing streak that they broke last week against Orlando City.