Real Madrid: Hazard says "it'd be great" to face Chelsea next year
Having already said it was probably "goodbye" to Chelsea, Eden Hazard went a step further in an interview on French TV on Wednesday.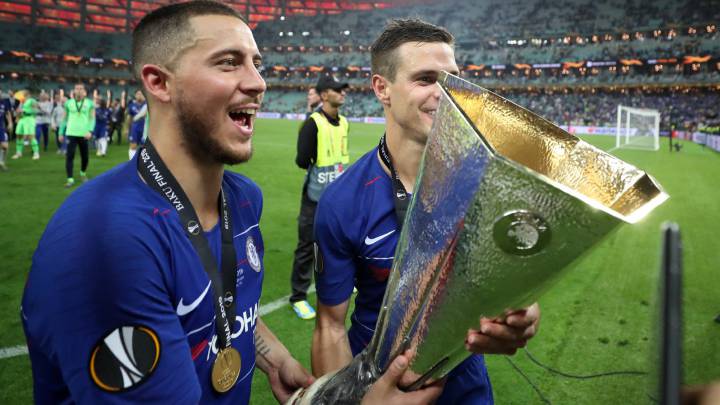 Eden Hazard grabbed the Europa League final headlines both on and off the field on Wednesday night.
"I think it's goodbye", says Hazard
After his two-goal display inspired Chelsea to a 4-1 win over Arsenal in Baku, the Real Madrid target conceded that he may have played his last game for the Blues, commenting: "I think it's goodbye, but in football you never know.
"My dream was to play in the Premier League and I did this for seven years in one of the biggest clubs in the world, and maybe it's time for a new challenge."
On facing Chelsea next term: "I hope so"
Later, in an interview with French television channel RMC, Hazard went one step further, declaring that it would be "great" to face Chelsea with Madrid in next season's Champions League.
Hazard's interview with RMC:
Reporter: "Chelsea will be in the Champions League next term, most likely without you. Could we be seeing you come up against them with Zinedine Zidane's Real Madrid?"
Hazard: "I hope so. Just as I hope to come up against [former club] Lille, who are also in the Champions League. It'd be great."
Reporter: "Congratulations, or, as they say in Spain, enhorabuena."
Hazard: "Gracias."