The art of football
In this interview published in the official 2019 Champions League final match programme, Madrid artist Rubén Sánchez says being asked to design the brand for the final was like a dream.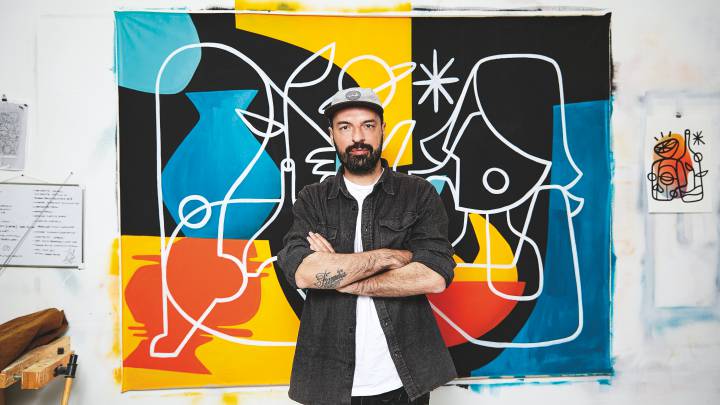 This interview appears in the official UEFA Champions League 2019 match programme for the final between Tottenham Hotspur and Liverpool in Madrid on 1 June. The programme has 124 pages full of stats, stories and stunning photography. You can get your own copy from European Nights, the home of UEFA's official club final programmes.
"The city of my soul" is how Rubén Sánchez describes his native Madrid. It shows in his work. Born and raised in the Spanish capital, the versatile artist was a natural choice to design the visual brand identity for the UEFA Champions League final, focusing all his talent on composing an image with a local's feel for his home town.
"Madrid is a magical city," explains Sánchez, who combined various iconic and symbolic elements in his homage to the capital. "What I tried to capture from the outset was the spark of Madrid: the twilight, the arts, the music. For people who have never been to Madrid before, when they land and see the image, I'd like them to feel a certain relationship and connection between the image and their experience in the city. I think once they've checked out the city, they'll understand it."
A fan of Real Madrid, Sánchez was nonetheless surprised to be chosen for the task. "It was like I was dreaming," he says. "But I love that, I love the unexpected." His shock is easy enough to comprehend. Long before becoming world renowned, Sánchez began his artistic career at street level, where he taught himself the ropes with a spray can before learning new skills and branching out to canvases, murals, sculptures and installations.
"I got into it the same way a lot of young people my age did: through graffiti in the 1990s in Madrid, going out into the streets. It came from skate culture – back then it was all pretty much interlinked. It was a countercultural movement. After that, I took up illustration and graphic design, and a bit later on I started mixing it together. With graffiti, I felt limited in just working with letters and tags, and I wanted to take it to a more creative level. Then I mixed illustration with graphic design and graffiti, which produced more or less what's known as street art."
Despite being self-taught, Sánchez has developed a vibrant style that draws inspiration from his predecessors. "You can see that there's quite a bit of Mediterranean influence, quite a few Spanish artists," he says. "There's a lot of colour, so artists like [Joan] Miró, the cubism of [Georges] Braque or [Pablo] Picasso, or Juan Gris. They are the sort of things you get to know when you go to school as a child; that's what your eyes are drawn to, so I've been observing them since I was young."
Echoes of those illustrious forebears resonate in Sánchez's design for the UEFA Champions League final, and although he toned down his typically vivid palette, he was given plenty of scope to express himself. "You have to stay within certain parameters, because the Champions League identity is very distinct," he says. "That was my first challenge because the colours I use are quite different. I thought it was going to be a lot stricter in many regards, but I had quite a bit of freedom and time to create."
While turning his skills to an elite football competition may have been a new departure, Sánchez was moved by how the game brings people together. "It goes beyond borders," he says. "I've been in distant countries and people come up to you and talk about the Champions League and about how Real Madrid are doing. It's a link, both between civilisations and cultures. That's been the case for me, anyway. It's helped me cross difficult borders in sensitive countries."
The popularity of the UEFA Champions League means that Sánchez's work will be viewed far and wide – to an extent that he is still coming to terms with. "I'm a bit scared, actually! I don't know if I'm ready for it. I've seen a lot of things already and I'm not sure I'm taking it all in. Right now, it's overwhelming. When I started seeing my work everywhere at Champions League events, I was like: 'Wow, is this mine?' I still can't believe it, but it's a real honour."
While the experience may be dizzying, he is thrilled to be leaving his stamp on the occasion, and relishing the chance to gauge how fans react to his personal take on the city closest to his heart. "I can't wait to see how the identity I've created is applied in different formats, how people start to arrive in the city and how we experience the event. I really can't wait to see it."