Sergio Ramos: "My intention is to retire at Real Madrid"
Real Madrid captain Sergio Ramos addressed the media from Valdebebas in a snap press conference to clarify his commitment to the club.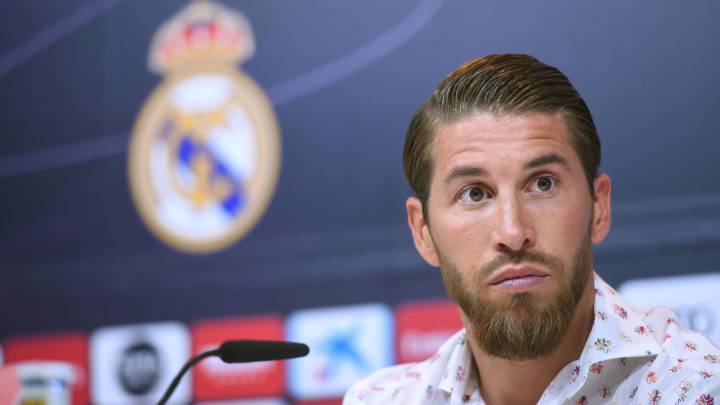 Sergio Ramos: Press conference: as it happened
Many thanks for tuning in this afternoon for the snap Ramos press-conference.  
That was the final question for a smiling Sergio Ramos who maintains his commitment to Real Madrid reiterating his desire to retire at the club.
Ramos: "I'd never decide in suggesting other players for the president to sign". "This is an area out of my domain. I'm the captain and there are other departments to oversee the likes of recruitment at the club". 
Ramos: "I'm not sure if I'd consider China as a future destination. I've always felt a warm welcome there but I really don't know....China...the US...I really down't know, we'll have to wait and see". 
Ramos: "I held a private meeting with the president where I informed him of the offer from China. This was a private conversation that has been leaked and the result is the specualtion we've seen over the past few days. Once again, this was my motivation in holding this press conference."
Ramos: "I still have the same desire to push for glory and win titles and am optimistic about the immediate future of the club with the new players that will arrive". 
Ramos: "My idea was to speak frankly today to ensure that no-one can doubt my loyalty to the club". "The fans whistle as they want a reaction from the players... I've had it ..even Cristiano was whistled.... sometimes things don't work out as we hope in the game of football".  
Ramos: "I really don't mind who wins the Champions League final and consider Eden Hazard to be a really, really top player"
Ramos: "It's wrong that people feel when these situations arise with me and the club that it's to do with money". 

"The Ajax game created a great deal of tension that's true and it was a time for us to reset things". "It's important that I feel wanted here at the club ...by the fans, team mates and of course the president."   
"I wanted to clear this up so we can all enjoy the summer and ensure that my name is not in the headlines". "I get annoyed to see stories circulating that are not true and that was the motivation for calling the press conferenece." 
Ramos: "I get frustrated by the amount of media coverage generated by this episode". "My relationship with the president has generally been good but like any relationship it does have some ups and downs" .  
Ramos: "My intention is to construct a new Real Madrid with the president and start to look to the future". "I still have the physical strength to play for the club, how long will this last ? I don't know ... 2, 4 6 years". When the time comes to move on I'll do so but in a place where I never have to face Real Madrid." 
Ramos: "Too many talk cheaply about Ramos and his desire to earn more money". "I'm getting married in two weeks and my plan was to clean this whole matter up" 
Ramos: "There is an offer from China and If I didn't feel wanted than it's an alternative, but at present my deal is with Real Madrid and my plan is to see out my contract". There has been too much speculation and I wanted to clear this matter up." 
Ramos: "We haven't discussed money and my intention is to talk about this in a frank manner with the president"
Ramos: "I have no intention of leaving the club and wish to retire here". "The relationship with Florentino is father-son and of couse that dynamic can have moments of conflict too".   
Ramos: "There has been too much speculation about my future and I wanted to reiterate my commitment to the club". My relationship with the president is similar to that of a father and son".
Questions..... from the media....
Ramos says he wants to clear the air and then answer questions afterwards
Here we go...Ramos has arrived
Our very own Robbie Dunne claims that Ramos has called the press conference to reprimand the media for stirring the situation and spreading false reports !
Murmurs of discontent growing slightly in the Valdebebas media room with the Real Madrid captain now 15' late for his press conference.  

Ramos is somewhere inside this building .... The press conference was called by Real Madrid at 16:03 (CEST), giving the media just 90 minutes to get to Valdebebas. The suddenness of the announcement has certainly caugh most people on the hop with the Champions League currently central stage for the sports media.  

Still no movement behind the grey door..... 
Sergio Ramos is Real Madrid's fifth most capped player with 606 appearances for the club... surely he can't turn his back on the Bernabéu outfit.....
Ramos' current salary is presently 10,4 GBP million, one would imagine that this would be enhanced should the Sevilla born player decide to remain with Madrid. 
Still no sign of the Real Madrid captain....Ramos' punctuality is on the line here! 
Ramos has recently turned 33 and if he is to stay this will possibly be his last major deal with Real Madrid... There is somthing about Sergio Ramos and China just doesn't sit right! 

Despite the generally feeling that this will be a cosy family photo type moment with Ramos declaring his long lasting love for the club whilst Florentino Perez shovels wheelbarrows full of cash through his front door, there are a few observers claiming that the Camas born defender is set to severe ties with the club.... He couldn't could he ?    
A sparse media room at Valdebebas with the snap press conference catching many members of the media by surprise. Ramos is scheduled to speak in 7' but these events are notoriously flexible when it comes to time keeping ....
Earlier today Jugones (La Sexta TV) reported that Ramos would stay with Real Madrid through to retirement.
Word on the street is that the Real Madrid captain will announce his intention to remain at the club. 

So... at 17:30 CEST at the media room at the so called Real Madrid City... basically the club's training complex at Valdebebas near the city airport,  club captain Sergio Ramos will reveal his plans for the future.... 
Hello and welcome to live coverage of Sergio Ramos' press conference from Valdebebas which is scheduled for a 17:30 (CEST) start.