"Bale will not win war at Madrid" - Teddy Sheringham
Sheringham says Gareth Bale needs to cut his losses and leave Real Madrid, where coach Zinedine Zidane is reportedly keen to get rid of him.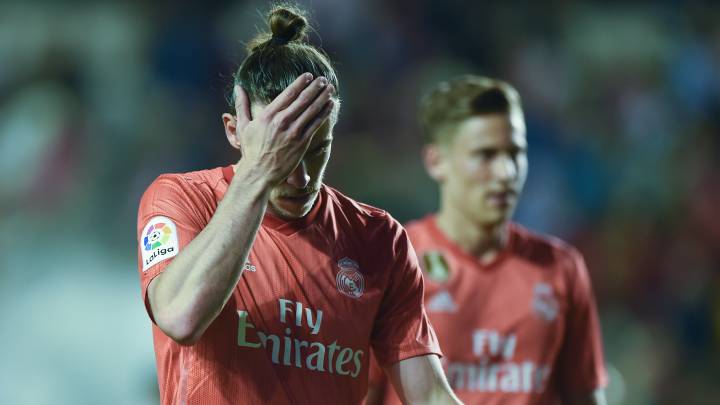 Gareth Bale needs to put money aside and leave Real Madrid for a club that really wants him, according to Tottenham and Manchester United legend Teddy Sheringham.
Since his return in March, Los Blancos boss Zinedine Zidane has shown little faith in the Welsman, who is understood to have no part in the French coach's new project that begins next season.
The ex-Spurs striker is reportedly one of a number of players Zidane wants to offload as he looks to rebuild his squad for the 2019-20 campaign; while a number of Galactico-level signings, namely Eden Hazard and Paul Pogba, are expected to be incoming this summer.
The 29-year-old is one of the highest paid footballers in the world with a salary worth 18 million euros a year. And the fact that he is unlikely to secure such a lucrative deal elsewhere is seemingly one of the reasons he is reluctant to leave the Bernabéu, with a source close to the player recently telling AS that he has no plans to leave this summer.
Bale is not going to win a war at Madrid - Sheringham
But fellow ex-Spurs player Sheringham believes that Bale needs to cut his losses and move on from the Spanish capital, where he is not in a position to win "a war" with Zidane and the club's hierarchy.
"Zidane has come in and has said in not so many words: 'I want to get rid of Gareth Bale'. If the manager doesn't bring him on as one his three substitutes when Real Madrid are losing, he's basically saying 'I want Gareth Bale to go'," the former England international told Betstars.
"Gareth Bale will be saying what a lot of the Manchester United players will say this season, with a cigar in his mouth sitting in the corner of the dressing room: 'Well, give me my money and I'll go then, otherwise I'm not going anywhere because I signed a long-term contract'.
"I don't think it is a war that Gareth Bale is going to win.
"If I came in to contact with Gareth Bale and had to give him some advice, I would say: 'Get yourself out of there. Don't worry about the £30 million that you're meant to be earning over the next two years. You will enjoy your life a lot more if you get out of Real Madrid and play football for a club that you want to play for and that's going to love you'."
During his six years at Real Madrid, Bale has won one LaLiga medal and four Champions League titles. But despite scoring memorable and crucial goals in finals that helped to secure two of those European titles, the Welshman has always struggled win over the majority of the Bernabéu faithful, many of whom will hope that he heeds Sheringham's advice and sees himself to the exit door this summer.