Hazard: Chelsea play hardball and delay Real Madrid plans
The Premier League club are standing firm regarding Eden Hazard, something that is worrying the Belgian and has Los Blancos changing presentation plans.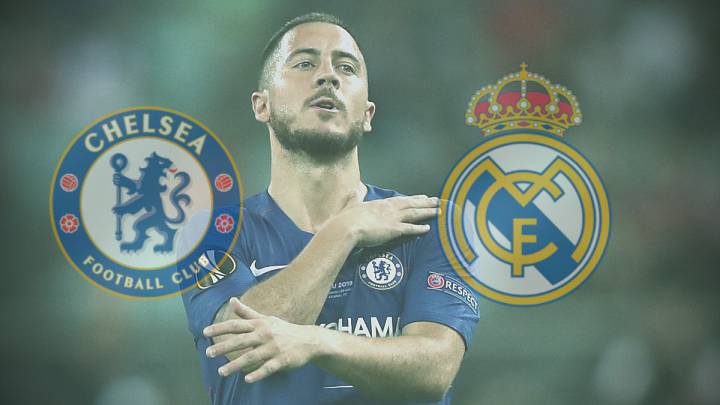 Thursday came and went. Real Madrid attempted to complete the signing of Eden Hazard from Chelsea but in the end were unsuccessful, and schedules have to now change. Chelsea, it is clear, are not going to make the move easy.
Warning signs for Hazard
The Spanish giants had been confident of getting their primary target over the line immmediately following the Europa League final on Wednesday evening. Sources close to the negotiation for the player had informed AS that comfort levels in making it happen were so high that plans were being made to present the Belgian on Monday, 3 June, after him aiming for touchdown in the Spanish capital on Saturday. This has now been put on hold with the player arriving back in London with Chelsea on Thursday.

As we have spoken about before, despite the desire from the player to make the move to Los Blancos, there has been some reticence on behalf of some of his entourage, as they know first hand how tough Chelsea's operations director Marina Granovskaia can be. As we understand, therefore, the clubs are still to find an agreement, and more patience is required from Madrid's negotiators, as well as Hazard himself. He remains adamant, though, that he will not extend his current contract at Stamford Bridge, one that expires in June 2020.
10


Hazard next stop: Belgium
Following victory in Baku, Hazard made it clear that he saw it as his farewell gift to a team he has served so well over the years, and now he awaited the two clubs reaching a deal. As they delay, his attention must turn to international duty as Belgium prepare to face Kazakhstan on Saturday, 8 June and Scotland on Tuesday, 11 June. Expectant madridistas will have to now watch this space...