Eriksen: Pérez, Levy come face to face as Real Madrid chase Dane
As Florentino Pérez bids to lure Christian Eriksen to Real Madrid, he and Daniel Levy met at UEFA's pre-Champions League final dinner.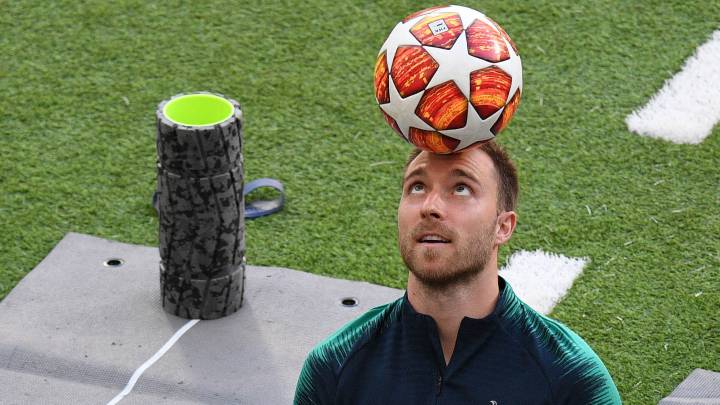 Despite playing no part in the game, Real Madrid still had plenty to gain from Saturday's Champions League final in the Spanish capital, as it served to bring club president Florentino Pérez face to face with Tottenham Hotspur chairman Daniel Levy as he eyes the summer signing of midfielder Christian Eriksen.
Levy and Pérez meet at pre-Champions League final dinner
The pair met at UEFA's official pre-final dinner at the headquarters of Madrid's city council on Friday evening, an event attended by representatives of Tottenham and Liverpool and a host of prominent footballing dignitaries.
Modric, Bale deals have seen Levy prove tough negotiator
Levy has driven a hard bargain in the two major deals that Pérez has done with Spurs. In 2012, at a time when the transfer market was yet to undergo its recent process of hyper-inflation, he extracted a 35m-euro fee from Madrid for Luka Modric, in a move that went down to the final days of the summer window and saw the Croat finally go on strike to push the switch through.
Then, in 2013, Madrid had to stump up 101m euros - more than they had paid for Cristiano Ronaldo, and at the time a world-record figure - to persuade Levy to part with Gareth Bale. As with Modric 12 months earlier, it was a signing that the North London club's chief pushed right down to the transfer-window wire.
Levy and Pérez are, nevertheless, widely understood to have had a good relationship ever since these two negotiations, although Tottenham's chairman was not happy with his counterpart's attempts to lure Mauricio Pochettino to Spain after Zinedine Zidane's resignation a year ago. Having publicly maintained that the purchase of Bale had cost 91m, meanwhile, Pérez was far from pleased that Spurs let it be known that he had in fact fetched a higher price.
Read also: Benfica reject Real Madrid bid for Joao Félix
Real Madrid braced for long, hard summer of Levy talks
It has not been revealed whether Levy and Pérez ended up discussing Eriksen, 27, who is out of contract at Spurs in 2020 and is seen at Madrid as the ideal successor to the now 33-year-old Modric. A long summer of talks is in prospect. The LaLiga club don't want to pay more than 70m for the Denmark international - but, as they know only too well, Levy will prove a tough negotiator.