De Jong: "I still haven't spoke with Valverde"
Barcelona's new signing Frenkie de Jong spoke about his role at Camp Nou in an interview on Dutch TV, where he refused to be drawn into talk about Ronald Koeman.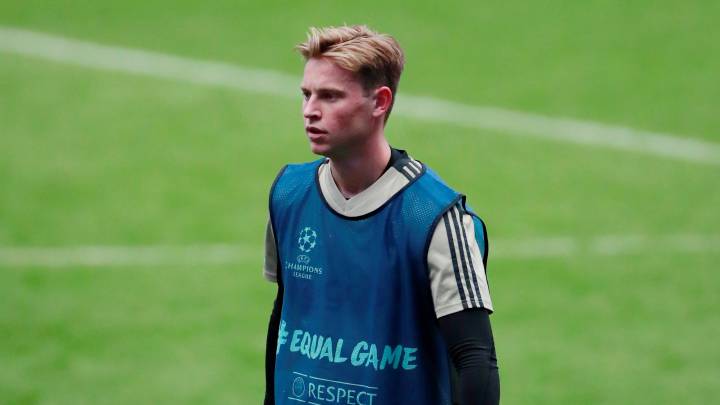 Barcelona is waiting to welcome new signing Frenkie de Jong with open arms.
As soon as De Jong finishes up with Holland after their upcoming Nations League and Euro 2020 qualifying fixtures, the Dutch midfielder is set to fly to Barcelona to be officially presented at Camp Nou.
And ahead of meeting up with his Holland team mates, the 21-year-old gave an interview to Dutch TV program Veronica Inside, in which he spoke about his role in Barcelona.
"They told me that I was signed to occupy one of the three positions in the centre of the field, let's see what happens. It won't be me who says in what position I want to play," said the ex-Ajax player.
De Jong on Koeman rumours
De Jong was also asked about the rumours about Dutch national coach Ronald Koeman replacing Ernesto Valverde on the coach's seat at Camp Nou, but refused to be drawn into the topic as a gesture of respect towards the current Barça.
"I would say that I see Koeman in the Dutch national team, and to say otherwise would be disrespectful to Valverde. Neither do I think as many things are happening as people are saying. It would not be good for me to speculate about this too," he said.
"I have not had any contact with him (Valverde) yet. You tell me that he is under pressure, but that pressue is also due to the media. However, I don't know how things are at the club."
De Jong on Van Gaal comments
De Jong also gave his opinion on the comments of Louis Van Gaal, who has claimed that the he will not be given sufficient game time at Camp Nou.
"I think he already said it before. Everyone can comment about it. I don't find it to be a controversial statement on his part," said the 21-year-old midfielder.
LaLiga Santander
*Update 2 de junio de 2019