Roberto Martínez: "Hazard is an old school footballer with very modern skills"
The Belgium coach was full of nice things to say about his star player who, he stresses, won't be distracted by rumours linking him to Real Madrid.
Roberto Martínez attended the media this afternoon to preview tomorrow's Euro 2020 group game against Kazakhstan. It was also an opportunity for the coach to sing the praises of star player, Eden Hazard.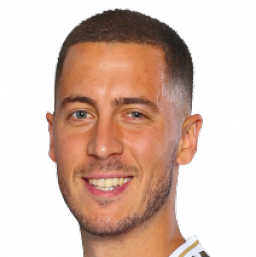 Hazard distracted by media reports about his future: "Those news stories have been going on since last year. But now he's here, with us. All of our players are focused on gaining six points from these two games to help us in our bid to qualify for the final stage of the tournament. Whatever might be being said on the outside doesn't enter here. Eden's the same as always, relaxed. Believe me, there's nothing for him to be worried about. Most players have to go about their job normally when rumours are doing the rounds. The plauyers have had 10 very intense months with their clubs, only [Yannick] Carrasco is still competing with his club and all of them are focused on getting all six points from these games. We're not thinking about anything else, tomorrow we have a very difficult match".
Years of experience
Hazard's evolution as a player: "With Eden, you really need to know him and how he is as a person. He has a great deal of experience: he left Belgium when he was still young and in France, as many of us expected, he won a league title. After that he went to another very demanding league - the Premier League and he's won trophies there too. Now he's 28 and with many international games under his belt so he's very relaxed. He's focused, like the captain he is. Whatever is written about will only end up helping him. It's very satifying to be the subject of  rumours and it's something else which will motivate him tomorrow".
Watching Hazard's development: "I think the thing that really stands out about Eden is his personality - apart from his footballing attributes. He's a team player, who is committed to what the team needs. On top of that, he has the kind of talent that you don't come across very often - he can shake off defenders and intelligence to find space; he is also able to deliver the final pass as well as his qualities in the final third… All of that means it's quite difficult to find his ideal position - he's not a player who has to play in a specific position. The most important thing I've noticed in recent years is the consistency he has found with his game, he doesn't tend to go through ups and downs, he's not an emotional player. He lives for football, he comes from a footballing family - his mother and father were both footballers as are his brothers… He lives football and enjoys it to the hilt. That's wonderful to see, and not something you see so much these days.Ubnfortunately, modern players don't have that. He's an old school player with very modern talents".