Real Madrid: Chelsea don't want Kovacic included in Eden Hazard deal
Real Madrid have tried to reduce the price of Eden Hazard but Chelsea are adamant that the Belgian will only be sold in a cash-only, straight transfer.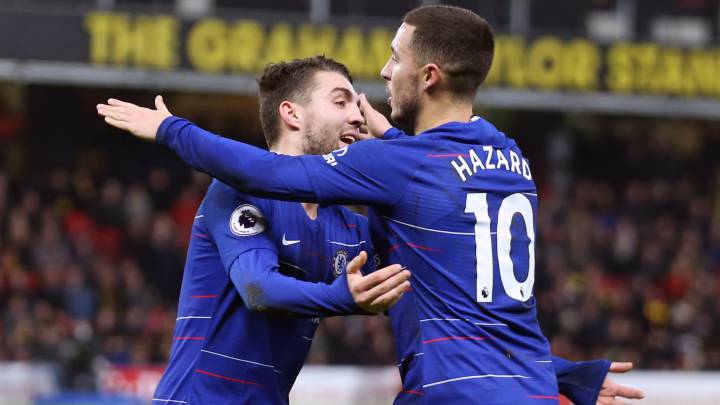 Real Madrid are smoothing out the last details of the operation to bring Eden Hazard to the Bernabéu this summer but they have been unsuccessful in their bid to persuade Chelsea to drop their asking price for the Belgian - 100 million euros plus add-ons. Madrid proposed including Mateo Kovacic in the deal but Chelsea prefer a straight transfer before they start negotiations for the Croatian midfielder, who spent last season on loan at Stamford Bridge.
It's a complicated situation as Zidane doesn't want to see Kovacic back in Valdebebas when the squad returns from their holidays. The club agrees that the best solution would be for Kovacic to move on. Whether Maurizio Sarri is still in the Chelsea job next season will have an influence on any decision but it appears that as it stands, Chelsea are in no rush to sign Kovacic. They even think there is a chance they could strike a better deal for the player, who is also on Antonio Conte's wants list at Inter Milan. Madrid are hoping to raise at least 50 million euros by offloading the Croatia international.
Transfer ban appeal
Chelsea would rather get the Hazard deal wrapped up as soon as possible then see what happens with their appeal against a FIFA transfer ban which would see them unable to sign anyone for the next two transfer windows. Judging by similar cases, Chelsea might be able to get their ban reduced to just one transfer window. In the meantime, they can gain time by seeking a temporary suspension - if successful, they would be able to sign this summer and serve the ban in January. Even if they don't, they would still be able to sign Kovacic because he was registered last season, and would not be considered a brand new acquisition.