Real Madrid: Third 'galáctico' project set to cost around 400m
Eden Hazard is the headline signing in what looks like being the LaLiga giants' third 'galáctico' era under club president Florentino Pérez.
"We've had to do in one year what we'd normally do in three." That was Florentino Pérez's verdict when, after returning as Real Madrid president in 2009, he oversaw an unprecedented summer spending spree that cost 264m euros and saw him purchase no fewer than nine different players: Cristiano Ronaldo (96m), Kaká (65m), Karim Benzema (35m), Xabi Alonso (30m), Raúl Albiol (15m), Ezequiel Garay (10m), Álvaro Negredo (5m), Álvaro Arbeloa (4m) and Esteban Granero (4m).
Having previously presided over an era of 'galáctico' signings in his first tenure as Madrid chief - bringing Luis Figo, Zinedine Zidane, Ronaldo and David Beckham to the Bernabéu - Pérez's transfer splurge this time 10 years ago was the start of a second such period at the club, in which Gareth Bale and James Rodríguez would also go on to be marquee captures, joining for 101m and 80m, respectively.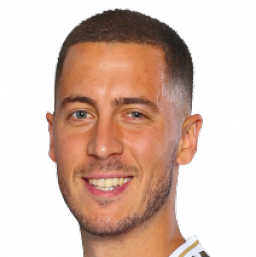 Now, in what is a project headlined by Eden Hazard, Madrid are busy recruiting a third wave of 'galácticos', and are set to spend around 400m in the process. Before this summer, Pérez could point to the side's three straight Champions League wins as a reason not to dig deep on reinforcements; but after a trophyless 2018/19, he could put it off no longer, and Hazard will be joined by Éder Militao and Rodrygo Goes, with Ferland Mendy and either Paul Pogba or Christian Eriksen to follow.
The next chief target is Pogba, who Zidane is eager to bring to Madrid. However, UEFA's financial-fair-play rules prohibit clubs from spending over 100m more on transfers than they make on player departures in a single window and, as United are not keen to let the midfielder go, Los Blancos have been told it'll take 160 to 180m to prise him from Old Trafford. With Madrid hopeful of bringing in around 300m from sales, Eriksen is an alternative who, at an estimated 70m, would leave their expected summer outlay at a more clearly FFP-compliant 375m. Pogba, on the other hand, would take this overall figure to at least 465m.
Hazard fee may end up rising considerably...
Football's transfer-market inflation and the emergence of clubs backed by billionaire owners or even, in the case of Manchester City and Paris Saint-Germain, entire states, has made Madrid's job harder - not only in terms of fees, but also when it comes to offering their stars competitive wages. According to Los Merengues' latest official accounts, they now shell out 280m euros in salaries...
Madrid's new kit deal with Adidas, which is set to net them 120m a year (up from 40m), will offer the club greater financial room for manoeuvre, however, as will the sale of the naming rights to their revamped stadium. Such income will help the club to foot a rising salary bill; after all, Hazard has gone straight into the same wage bracket as captain Sergio Ramos (12.5m net), and Pogba is asking for as much as 17m. Either way, Real Madrid's third 'galáctico' era is up and running...