Pintus leaving Zidane's side to team up with Conte at Inter
The strength and conditioning coach, who was sidelined with the arrival of Julen Lopetegui last season, will leave Real Madrid to return to Serie A.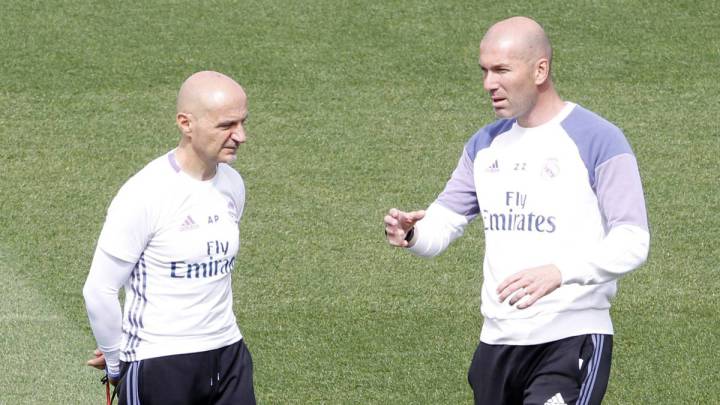 Zinedine Zidane will be re-configure his squad this summer in an effort to get Real Madrid back in contention for trophies next season. He will have to make changes within his backroom staff also with the news that Antonio Pintus, the team's main strength and conditioning coach, will leave the club to partner up with Antonio Conte at inter Milan.
Pintus has accepted an offer to get Inter Milan in shape. The coach is held in very high regard within the squad but he was demoted with the arrival of Julen Lopetegui last summer and returned to the his original role when Solari took charge and the players asked for his return.
Previously at Lyon, Pintus answered the call from Zidane in the summer of 2016 and signed for three seasons. The French club had given him an indefinite contract but the good relations between Florentino Pérez and Jean-Michel Aulas meant there was no tension with his departure. He was the physical trainer with Juventus and coincided with both Zidane and Conte during their spells as players there.
Pintus "a bit of a bastard" but got results
"It's important that the players see me working," said Pintus, who runs 20 kilometres daily and he was often seen running with Zidane around the pitches at Valdebebas. One of the most telling images was Marcelo sprinting to Pintus after he scored against Viktoria having returned to form. "He prepares us like fighter jets," said Isco.
Fernando Morientes also said "Pintus is a bit of a bastard, I've never been as hungry working with him" as he recalled how hard the coach made them work.
Zidane will have to find another trainer to fill in can cajole the players into working as hard as Pintus did.