Manchester United refuse to talk to Real Madrid about Pogba
The Bernabéu-based side have made contact with the English giants to find out the price for the French player. The answer: there isn't one.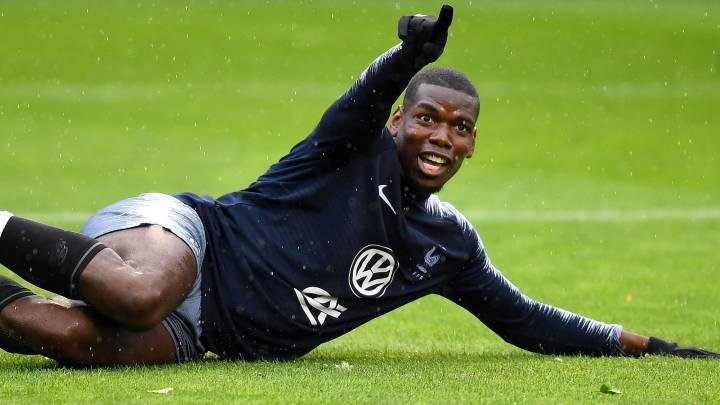 With Eden Hazard officially signed, Real Madrid's attention has turned to their new main target: Paul Pogba. Coach Zinedine Zidane has asked for the player directly and the club are willing to do whatever they can to bring him in. However, the initial contact with Manchester United has not gone well. The English club have told Real Madrid bluntly that Pogba is not for sale.
Man Utd refuse to discuss Pogba move
Real Madrid asked Manchester United for their opening price for the player in order to start a conversation, but the reply could not have been starker. There is no opening price, because there is no intention at Utd to let Pogba go this summer. He is the corner stone of Solksjaer's team.
Faced with this outlook, Real Madrid have just one option to force the move - a gesture on the part of the footballer. The only way Old Trafford bosses are going to be willing to start a conversation over a possible transfer is if the France midfielder openly states he wants to leave. If that doesn't happen it's impossible for the player to move to the Bernabéu, because Real Madrid believe they can't negotiate with a club which is unwilling to even name a price.
Pogba: 150 million euros? Or more?

Over the past few weeks, media speculation in England has put a price of around 150 million euros on the head of Pogba, a figure over and above what Real Madrid are hoping to pay for the 26-year-old, though the reality is that United have never even given an indication of what they might accept for their star.
Real Madrid are hoping for a similar gesture from Pogba to the one they received from Tottenham's Eriksen, who made a public come and get me plea to try and kick-start talks between the two clubs. Eriksen told Ekstra Bladet: "It needs Real Madrid to call Tottenham and say they want Christian. They haven't done it yet, as far as I know. It's difficult". Real Madrid are hoping Pogba will come out with a similar statement, meaning United have no choice but to sit down and talk.
It's possible Manchester United are in fact willing to sell, and their refusal to name a price for Pogba is simply a way of pushing the price up. That said, if it turns out they are disposed to allowing the move to happen the English club will be expecting Real Madrid president Florentino Pérez to make far more of a financial effort to land Pogba than the 100 million euros he splashed out for Eden Hazard...