US captain Rapinoe leads soccer's fight against inequality
In 2016 she followed Colin Kaepernick's lead in kneeling during the US national anthem, says she's a 'walking protest' and will debut at the World Cup on Tuesday.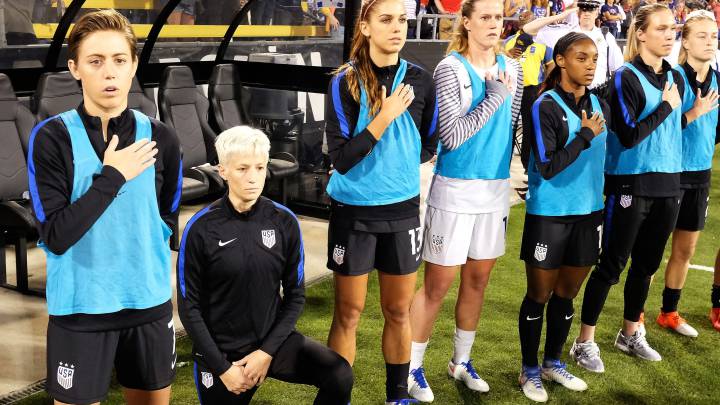 The US women's national team's 33-year-old midfielder Megan Rapinoe became openly gay in 2012 before the London Olympic Games, where the USWNT won gold. Since then, she has been the most LGBTQ+ active athlete, postulating herself as a defender of inequalities of all kinds. In March, she filed a lawsuit against the US Soccer Federation for gender discrimination and inequality in sports with the rest of her USWNT teammates.
Rapinoe defines herself as a 'walking protest' and hasn't stopped working to break all barriers. A month ago, she became the first openly gay woman to pose for Sports Illustrated's swimsuit issue, an edition the magazine presented as an excellent way to open up to a wider audience.
The Seattle Reign midfielder and one of the captains of the United States team will debut this Tuesday against Thailand in what will be her third World Cup, with all the spotlight focused on her, as she recently announced she wouldn't sing the national anthem again in protest at the current US Government's policies.
Anthem protest
Three years ago, Rapinoe became the first woman and white athlete to follow NFL quarterback Colin Kaepernick's protest against discrimination and racism amid the 2016 presidential campaigns.
"I will probably never put my hand on my heart again. I will probably never sing the national anthem again," were Rapinoe's words.
The US Soccer Federation introduced a rule that forces footballers to stand while the anthem is playing.