REAL MADRID | FERLAND MENDY PROFILE
Ferland Mendy, from a wheelchair to Real Madrid left-back
Real Madrid's new signing spent a year on the sidelines after suffering a hip injury which led to arthritis. He is an international for France since last season.
Real Madrid's latest signing Ferland Mendy turns 24 on Saturday. The French defender was born into a modest family - his parents are of African origin, from Guinea and Senegal. Last season with Olympique Lyon was by far the best of his career so far: he made a total of 44 games in all competitions, scoring three goals and setting up another three. But things looked very different for Mendy just a decade ago...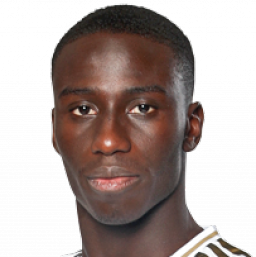 Overcoming health problems as a teenager
Ferland entered PSG's youth academy as a promising nine-year-old, with dreams of emulating his hero Ronaldinho. But just a few years down the line in Paris, he suffered a hip injury which led him to develop hip arthritis. He spent a year away from football - the first three months wearing a hip spica cast followed by another three months undergoing treatment at Necker-Enfants Malades hospital where doctors told him he would never play football again. It was there he learnt how to get himself about using a wheelchair. After leaving hospital, he was transferred to Bullion to undergo a long and painful rehabilitation - first learning how to walk again, building back lost muscle tone and eventually, returning to play football - proving doctors wrong.
Paris-Le Havre-Lyon
Once fully recovered, Mendy left PSG and joined Mantois 78, a club based on the outskirts of the capital where he showed that not only had he made a complete recovery, he was stronger than before his injury. He was noticed by Le Havre, who signed him in June 2013. It was a step up for the teenager, who was now learning his craft at one of the best youth academies in French football - one which has produced players such as Benjamin Mendy, Riyad Mahrez, Lass Diarrá, Paul Pogba, Dimitri Payet, Steve Mandanda, Pierre-Emerick Aubameyang... His progress didn't go unnoticed by Olympique Lyon who snapped him up on a five-year deal for just five million euros in June 2017. With Los Gones, he made the sports headlines when coach Bruno Genesio decided to bring him on during a Europa League tie against CSKA Moscow - the player he replaced Fernando Marçal wasn't too happy about being taken off and ended having a slanging match with the coach.
Debut with France
This season he realized another of his dreams when he gained his first cap for France. He made his debut in the meeting with Uruguay in November, playing in place of the injured Benjamin Mendy. For Ferland, it was the culmination of a lot of hard work and a reward for all the pain and tears he went through during his teenage years. Now he is with Zidane's Real Madrid, and if things continue going the way they have been, he could well make the left-back position his own with France at Euro 2020...