"Ancelotti is crazy about James": Italian coach wants Real Madrid midfielder at Napoli
A source close to the player has confirmed to AS that the Napoli manager sees Real Madrid's James as a key part of his project for next season.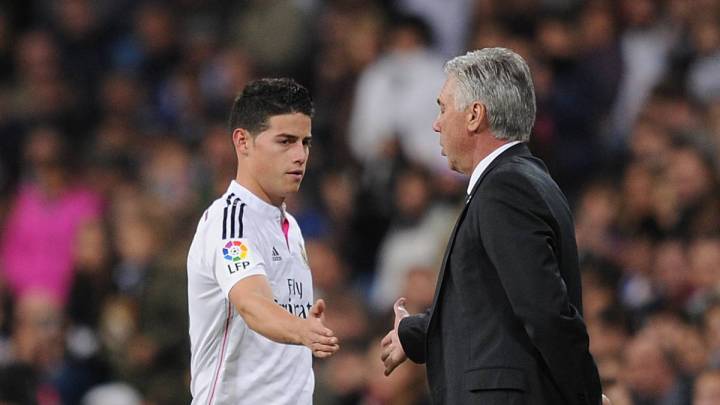 Not long after Napoli president Aurelio de Laurentiis acknowledged his interest in James Rodriguez ("I'm not going to sign Icardi, but we'll see about Lozano and James"), a source close to the player has confirmed to AS that the Serie A club's manager, Carlos Ancelotti, is extremely eager to sign the Colombian.
"Ancelotti is crazy about James," stated the source, who indicated that the Italian coach considers him a potential key figure in his new project for next season and has asked the Napoli president to prioritise his signing over all others.
As reported by AS a few weeks ago, Ancelotti has already personally called the Real Madrid player to convince him to make the switch to Serie A. The offer was immediately welcomed by the Colombian, who would look favourably on being back under the orders of a coach who has already directed him at Madrid and during his first season on loan at Bayern Munich.
Now that Ancelotti has received the thumbs up from James, the Italian coach is putting pressure on De Laurentiis to step up negotiations with Madrid president Florentino Perez in a bid to secure the Colombian's signature.
James waves goodbye to Bayern
This Saturday, the 28-year-old midfielder's two-year loan spell at Bayern Munich will officially come to an end, after the German club paid 13 million for his services over the past two seasons.
Bayern have the option to purchase him for 42 million euros, but have decided not to execute the transfer and as such James is due to return to the Spanish capital, where coach Zinedine Zidane will be waiting for him, albeit with an outgoing flight ticket ready to put in his pocket.
The French coach does not, and has never, seen James as part of his plans. Ancelotti, however, brought the best out of the Colombian international at Madrid in the 2015-16 season and wants to do same again at Napoli.
Perez expects to receive more than 40 million euros for the transfer, for which Napoli want to negotiate either an instalment-based payment plan or a loan deal with the obligation to purchase.
With all parties now looking to facilitate the move, all indications are that James could be plying his trade in Southern Italy next season.